Australian Medical Network – Open Letter to Atagi & TGA
Updated:

7 months ago

Reading Time:

79

Minutes

Post Words:

20216

Words

Fully-referenced grave concerns for vaccines in Australia from Covid Medical Network and Australian pathologists. Despite clear evidence from government-compiled data that the cure is worse than the disease, government officials continue the Safe & Effective Narrative.
Notes from the Open Letter to Atagi, TGA and the Federal Health Department where they are requesting an immediate withdrawal of the experimental gene-based treatments to the general public and especially children.
Covid Medical Network – 8 March 2022 | PDF | Annexures
I'm going to edit down their letter, keep their references, and add my own references & points (especially to any blog posts I've done about what they are bringing up).
My additions will be bullet points in this colour
If they've mentioned a video, I've embedded it.
If they linked to a url that has moved/changed, I've found the archive version and linked to that.
If you want to read their letter unchanged, please click here.
Questions to TGA/ATAGI are in this colour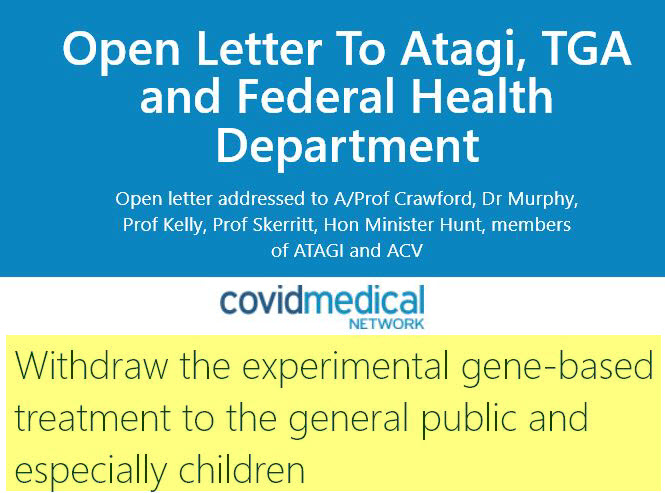 Site Notifications/Chat: 
Videos:
Penny... on Health
Penny... on Health
Truth-seeker, ever-questioning, ever-learning, ever-researching, ever delving further and deeper, ever trying to 'figure it out'. This site is a legacy of sorts, a place to collect thoughts, notes, book summaries, & random points of interests.
DISCLAIMER: The information on this website is not medical science or medical advice. I do not have any medical training aside from my own research and interest in this area. The information I publish is not intended to diagnose, treat, cure or prevent any disease, disorder, pain, injury, deformity, or physical or mental condition. I just report my own results, understanding & research.