Heart Damage: mRNA Vaccines (Pfizer/Moderna)
Updated:

3 months ago

Reading Time:

18

Minutes

Post Words:

5211

Words

Research valid as at 25 October 2021
Index of Downloadable Refs:
"List of Verifiable References"
DO NOT LINK DIRECTLY TO THIS WEBSITE.
DOWNLOAD THE FILES SEPARATELY FROM THE POST ABOVE.
Heart Damage: mRNA Vaccines (Pfizer/Moderna)
Side effects, including those that are serious or life-threatening, are still being learned about. The United States Centers for Disease Control and Prevention (CDC) announced on June 11th 2021, that an Emergency Meeting would be held to discuss reports of inflammation of the heart resulting from use of the Pfizer and Moderna vaccines in young males 16 to 24 years of age (Six months after the vaccines were authorized under an emergency use). Only now is this association being recognized.
There are many reasons why it is difficult to identify serious side effects that are rarer or that occur only over a longer period of time or in a specific population group or sex. These difficulties are due to many problems with the fast-tracked rapid distribution:
no long-term studies available yet
not closely-following everyone taking the vaccines
no long-term animal studies
the 'control/placebo' groups from the original trial were unblinded and offered the vaccine
under-reporting of Adverse events
the 'safe & effective' marketing campaign leading to many not connecting symptoms to the vaccines
the health regulators, media, governments, and pharmaceutical war on 'vaccine hesitancy'
each country having a different reporting method
many different groups of people left out of the original clinical trials (so only finding in the 'real world' the potential problems that weren't identified during the initial trials)
the trials were too small
the trials were setup to favour a higher efficacy end-goal point and not focused on safety
THEY KNEW, and didn't tell you!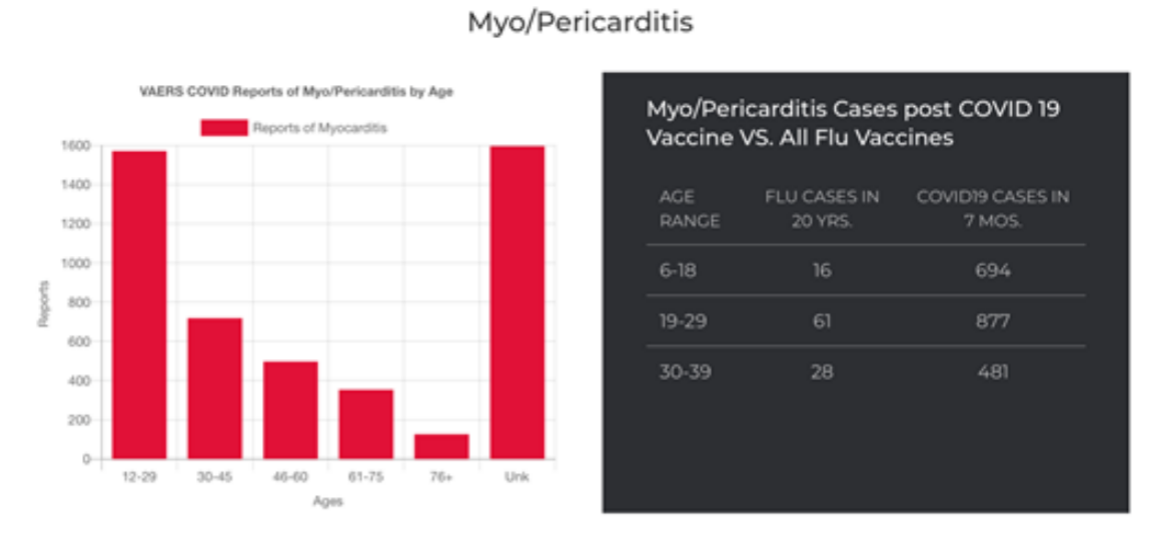 Classified as a rare disease, myocarditis is unlike most cardiovascular conditions in that it often affects younger, healthier people, enlarging and weakening the heart by making it work harder to pump oxygen and blood through the body. It can prove fatal, though most cases resolve on their own without recurrence.

~ told to a patient who had received a myocarditis diagnosis after vaccination
Browse posts tagged: Myocarditis
Site Notifications/Chat: 
Videos:

Penny... on Health
Penny... on Health
Truth-seeker, ever-questioning, ever-learning, ever-researching, ever delving further and deeper, ever trying to 'figure it out'. This site is a legacy of sorts, a place to collect thoughts, notes, book summaries, & random points of interests.
DISCLAIMER: The information on this website is not medical science or medical advice. I do not have any medical training aside from my own research and interest in this area. The information I publish is not intended to diagnose, treat, cure or prevent any disease, disorder, pain, injury, deformity, or physical or mental condition. I just report my own results, understanding & research.