Covid-Bots create "COVID Hysteria" to Manipulate Public Opinion & Govt Policies
Psychological Warfare techniques – as the world comes online, a new kind of warfare has emerged. Social media giants got us addicted to "social signals" – likes, comments, reviews, views, and popular-opinion. Social Media giants manipulate the views, add/remove likes, hide comments, silence audio, remove images to links, and instantly censor and add notices to our posts to use these social signals to "control" and "manipulate". It's unbelievable the power they have at the moment and how powerful this weapon is. It's just as powerful as the mainstream media weapon (maybe even more-so as people who are skeptical of the media, may turn to social media opinions if it looks like the "popular" opinion. They got people addicted to being liked & intelligent, and then manipulate "how" to be popular and smart by creating the content that makes them believe that.
Back when I was an internet marketer, I used to have access to software where you can post a message and it would be shared across millions of blogs and social media accounts. Another button, and you could get people to comment and like them. Another button, and all related-accounts would follow each other. That was a decade ago – and that was something I had access to from my little one-person business, with a tiny income. Imagine what those with unlimited funding have access to and what kind of advanced software they have – they don't even need humans anymore to do their dirty work and drive the narrative.
But they do use humans too – everyday humans like us. The same software I used as an internet marketer still exists – people "get paid" to post "other people's tweets", or comment on your video, or re-post your message to their accounts, or "like" your instagram post. People are corruptible – even everyday people that I know have joined those things to "make an easy extra buck" – they didn't care what they had to like or re-tweet.
They also have click farms – office buildings (video below) – full of people whose job it is to drive the Covid hysteria via social media interference. China, Russia, and who knows how many Agenda-driven people with an unlimited budget, can literally use these same tools for warfare – to disrupt countries and to drive everything from who you vote for and what you buy, to manipulating what you "think" is the common consensus – literally change your opinion and behaviours, and they can do it from anywhere in the world.
Covid Bots and Click farms have been carefully orchestrated and used to create the initial "COVID HYSTERIA" and was instrumental in getting the public support for "lockdowns" and "masks" by exaggerating the severity, and tricking countries into destroying their own economies, by "doing the right thing" – all by sending swarming "public opinion" messages to all the popular social media influencers, celebrities, and parliament leaders.
I first reported Covid Bots that were manipulating war on the world, on my post "Agenda-Driven Corrupt & Evil Programming – DO NOT TRUST THE MEDIA" but wanted to dedicate this practice into it's own post to start collating more evidence (as the above post was getting too big!).
January 2022 – the Covid Bots still going strong, this video highlighting messages to @POTUS demanding a 6 month lockdown (no work or exercise), permanent masks, and not letting anyone out for 6 months and forced boosters?! WTF.
I speak for the whole of America when I say we need a hard 6 month lockdown, none of this essential work or exercise crap from last time. Masks to be worn at all times, even at home. Strictly enforced. We can then begin a gradual easing but letting folks out a year after booster!
Direct links to Twitter statuses with this message that I looked up today (Jan 29, 2022) – it looks like some of the accounts re-post the same messages daily (sorted Alphabetically so we can see the repeats):
Click Farms & Marketing Campaigns
Full-time creating "meme's" and information for you to share to "debate" your "truther" friends and make you feel intelligent for having something to share (that you know nothing about because you didn't do the research). And the marketing campaigns – work WITH the Tech Giants – so only their marketing campaigns ever get to your screen. Only one narrative allowed.
Chinese Click Farms – View Fullscreen
Social Media comments and accounts created to attack and shape the emotions and narratives.
There are full centres operating this way, where they do this all day long.
Many by Click farms orchestrated by CCP China & Russia (see further down), however with so many tabletop exercises and data-harvesting and most social media giants being US-owned, we may just be being led up the garden path – told to "assume" that it's CCP/Russia, when it could just as well be DARPA or anyone who profits or gains from the pandemic or agenda's. For all we know – the very people creating the laws to lockdown the world – could be funding a campaign "against themselves" in order to "justify" their laws!
Yesterday my nearly 5month old beautiful baby boy was admitted to hospital with COVID! Nothing can prepare you for this! There is no excuse to not get your vaccination, just bloody do it if you haven't… no individual, or baby deserves this pain! #COVID19 #CovidVaccine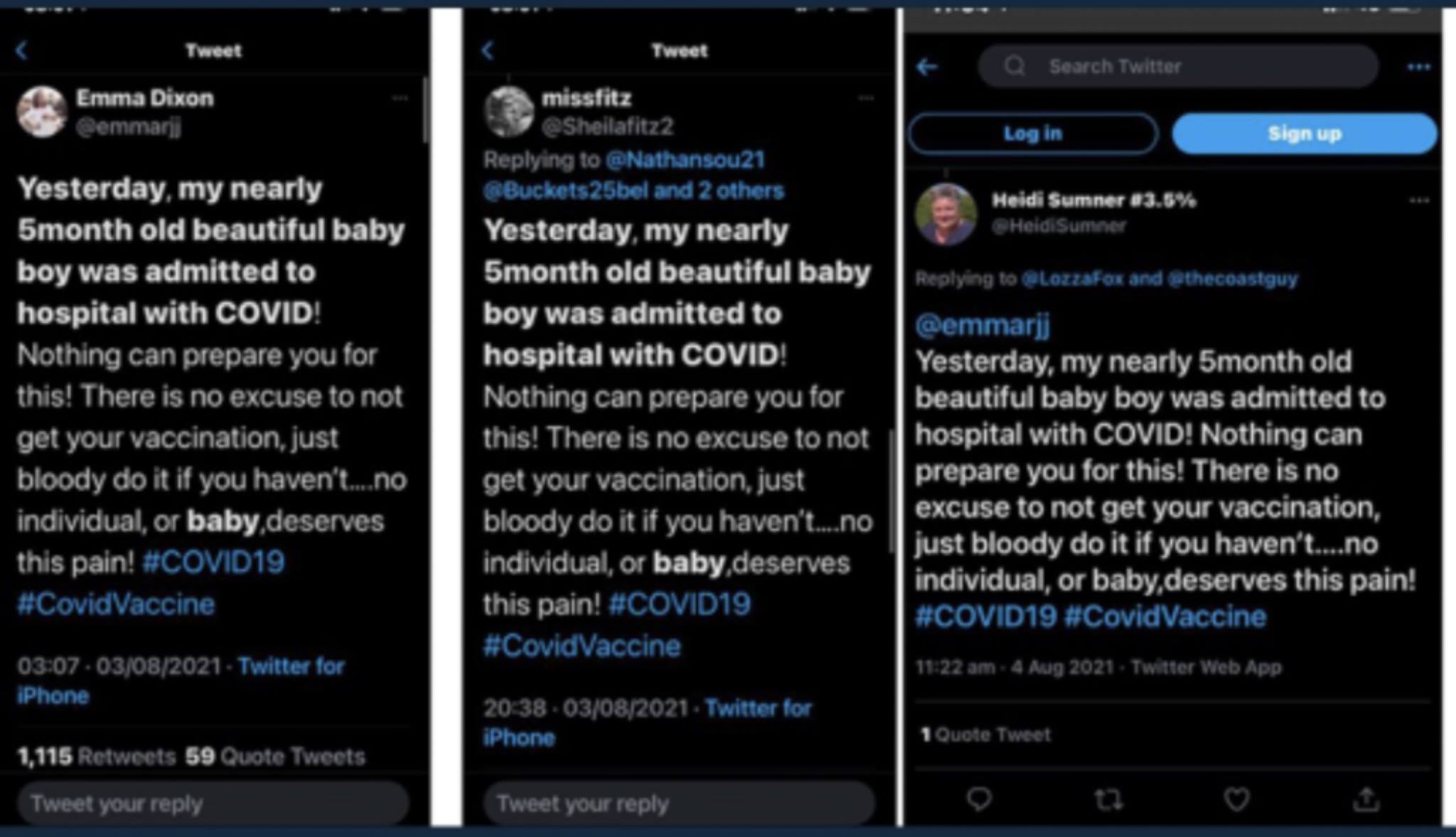 I just left the ER. We are officially back to getting crushed by COVID-19. Delta Variant is running rampant and it's MUCH more transmissible than the original virus. 99% of our ICU admits did NOT receive a vaccine.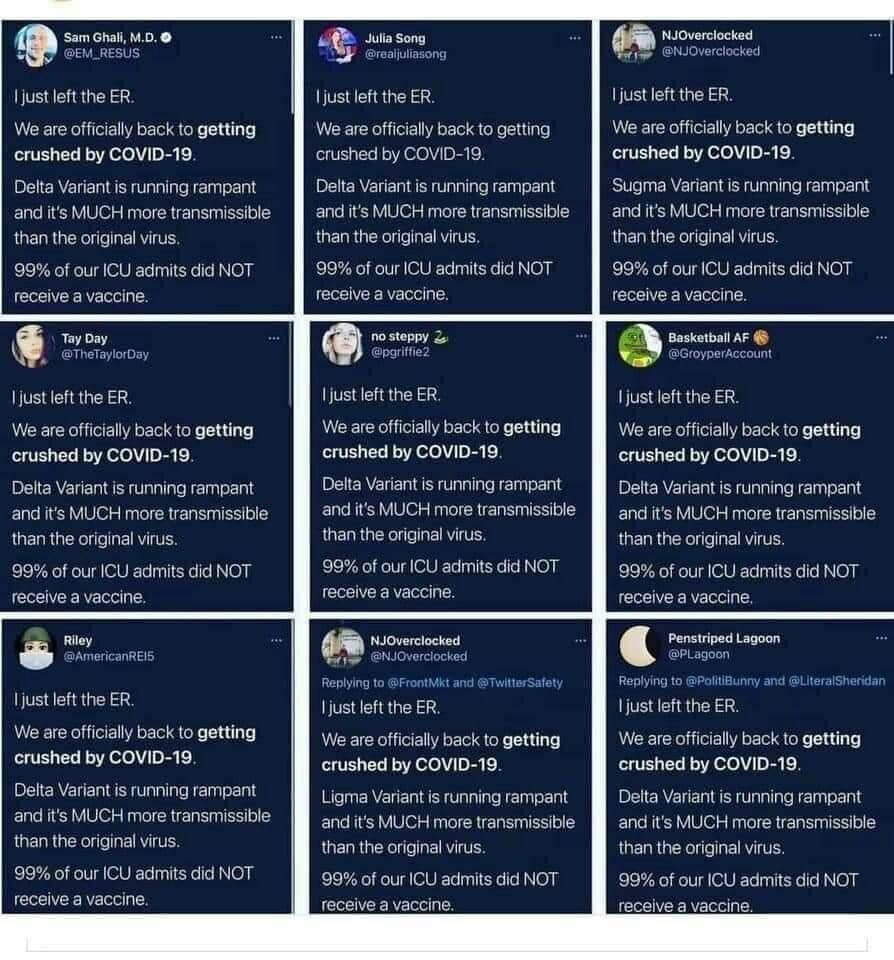 this is degusting, masks and social distancing should be in place till minimum christmas time at the earliest, the government are clueless, the Delta variant should be taken seriously and we should go into a national lockdown to prevent it spreading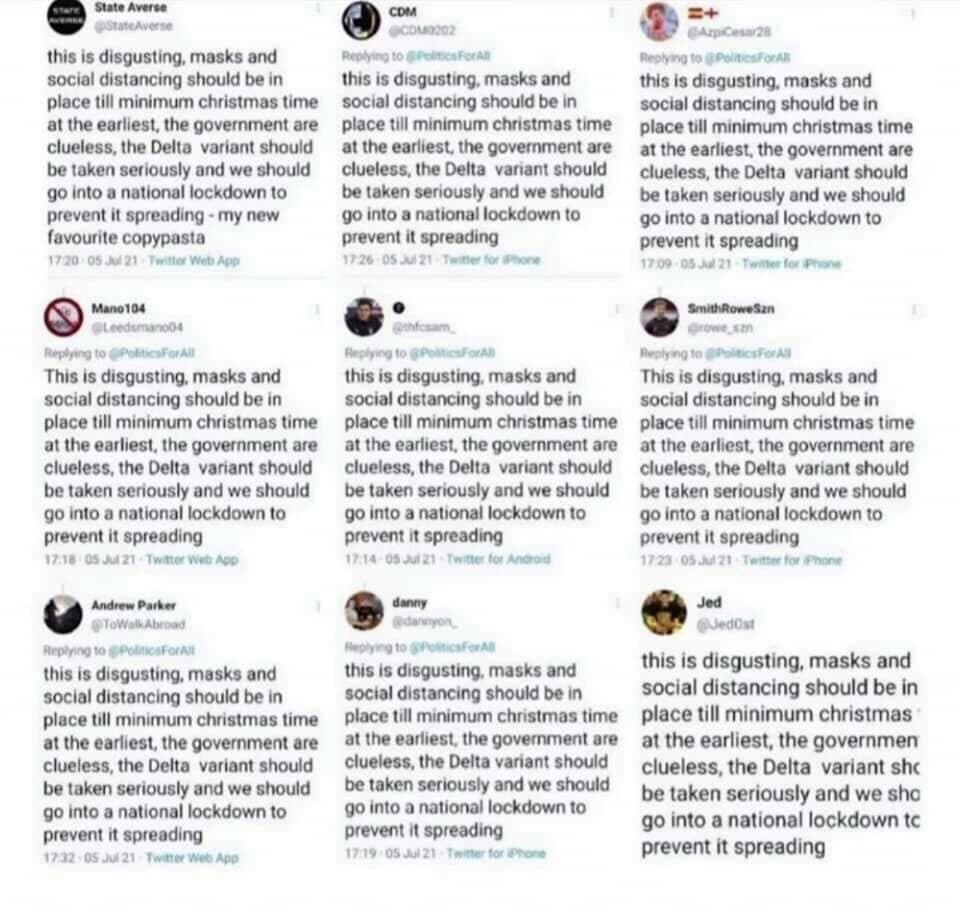 Antivaccine rhetoric is dangerous. Vaccine hesitancy and refusal threaten public health, and assault on lawmakers and others is unacceptable. #StopAntivaxViolence #vaccineswork #tweetiatrician #HealthyTogether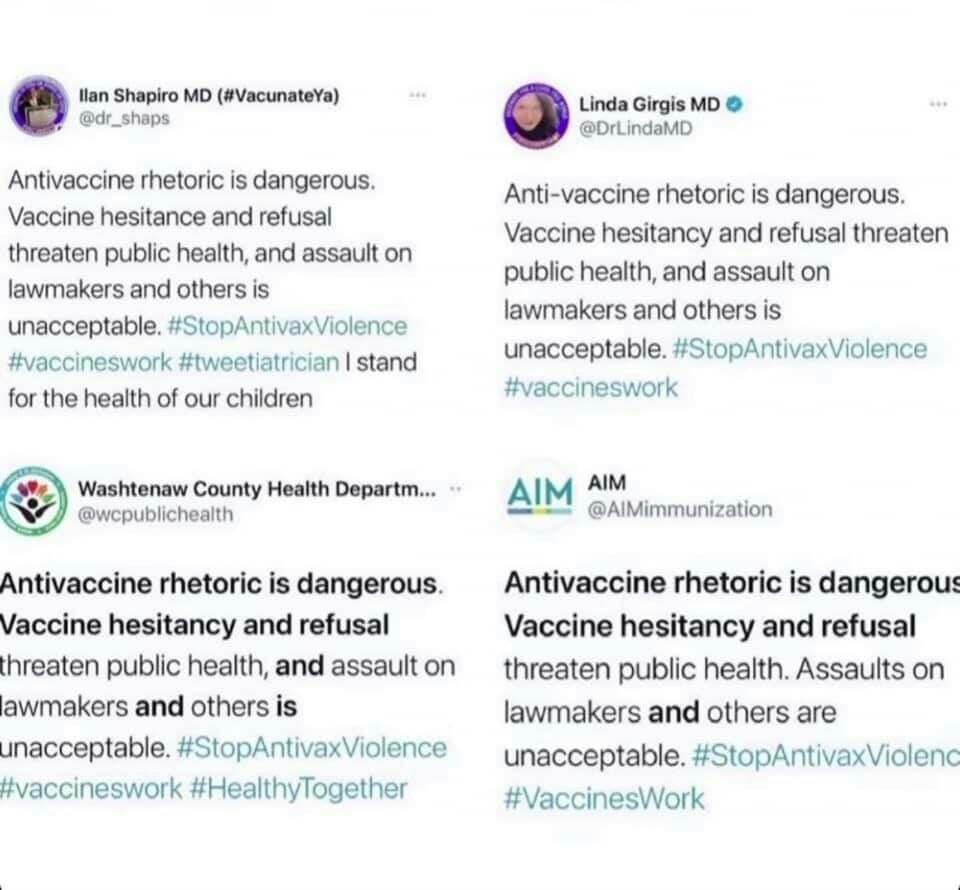 My brother has just tested positive for covid. The delta variant. He has been double jabbed. How on earth can Johnson go ahead with relaxing the rules on the 19th July. It's madness.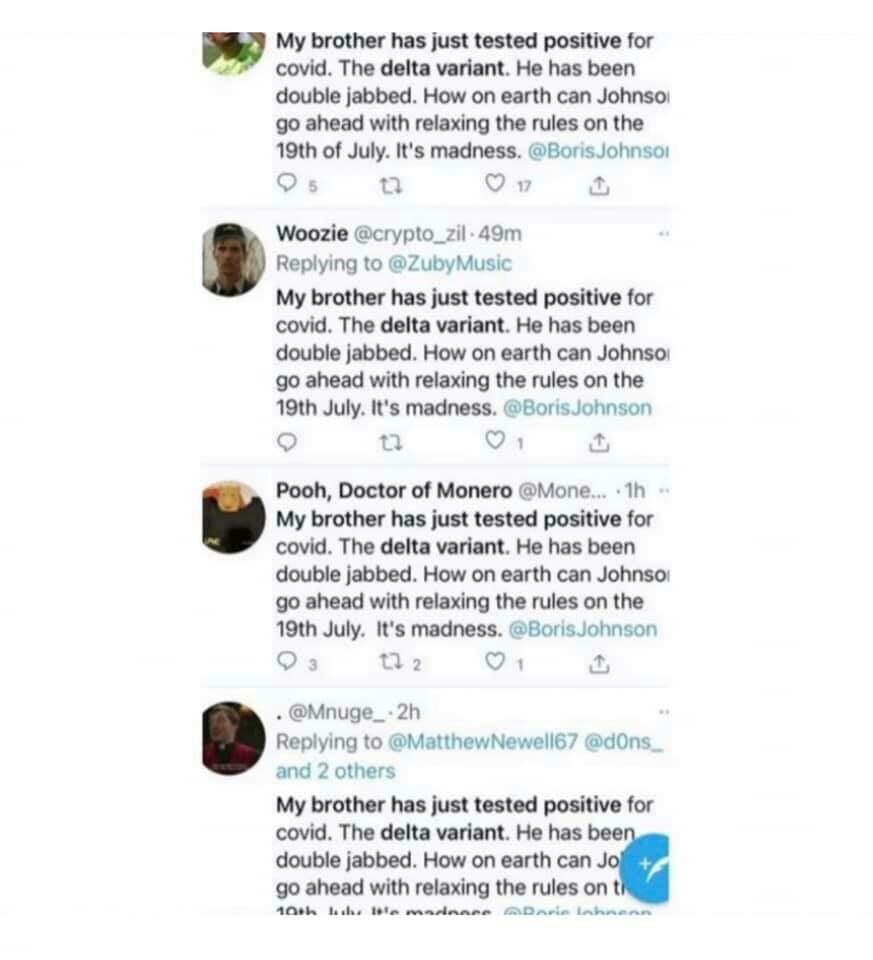 Even double jabbed you can still transmit to others, plus the Delta variant is showing higher vaccine escape than Kent. I'm double jabbed, but you won't see me going to nightclubs/concerts. I'm masking up and maintaining social distancing. Complacency is a killer!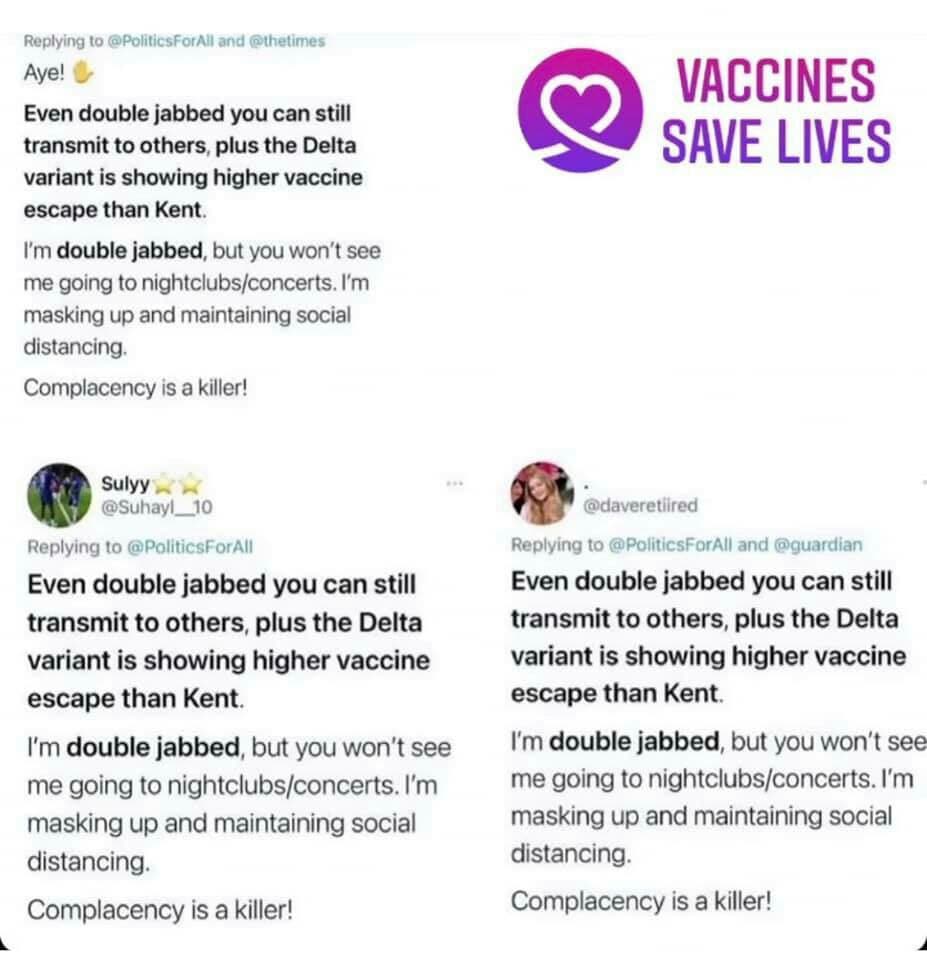 Social Media Disinformation Campaigns
Millions of Social Media accounts were (reportedly) from CCP China or Russia. At the beginning of the pandemic, millions of social media content swarmed governors, parliament, and influencers if they were "anti-lockdown" – abusing the hell out of them with cries that they are supporting "Genocide of the people", whilst praising and sending "support" for China & Italy for their lockdowns:
"Shame on you!"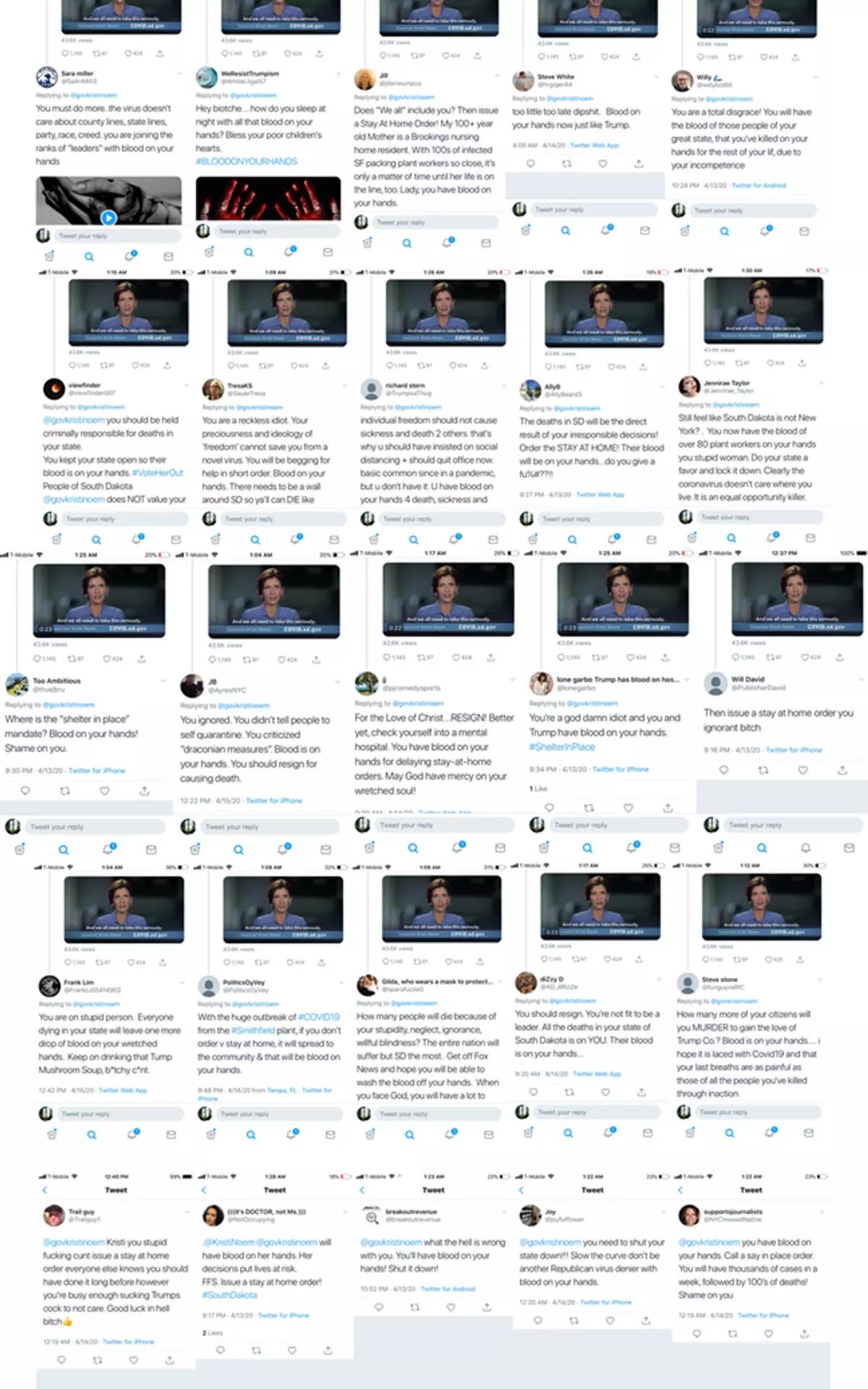 "Too little, too late dipshit, Blood on your hands!"
"You should be held criminal responsible for deaths in your state. You kept your state open so their blood is on your hands."
"You ignored. You didn't tell people to self quarantine. You criticized "draconian measures". Blood is on your hands. You should resign for causing death."
"How do you sleep at night?"
"Hey biotche.. how do you sleep at night with all that blood on your hands?"
"Check yourself into a mental institution"
"Issue a State at Home order you Ignorant Bitch"
"You are a reckless idiot. Your preciousness and ideology of 'freedom' cannot save you from a novel virus. You will be begging for help in short order. Blood on your hands. There needs to be a wall around SD so ya'll can DIE."
"US Government MUST call a lockdown TODAY!"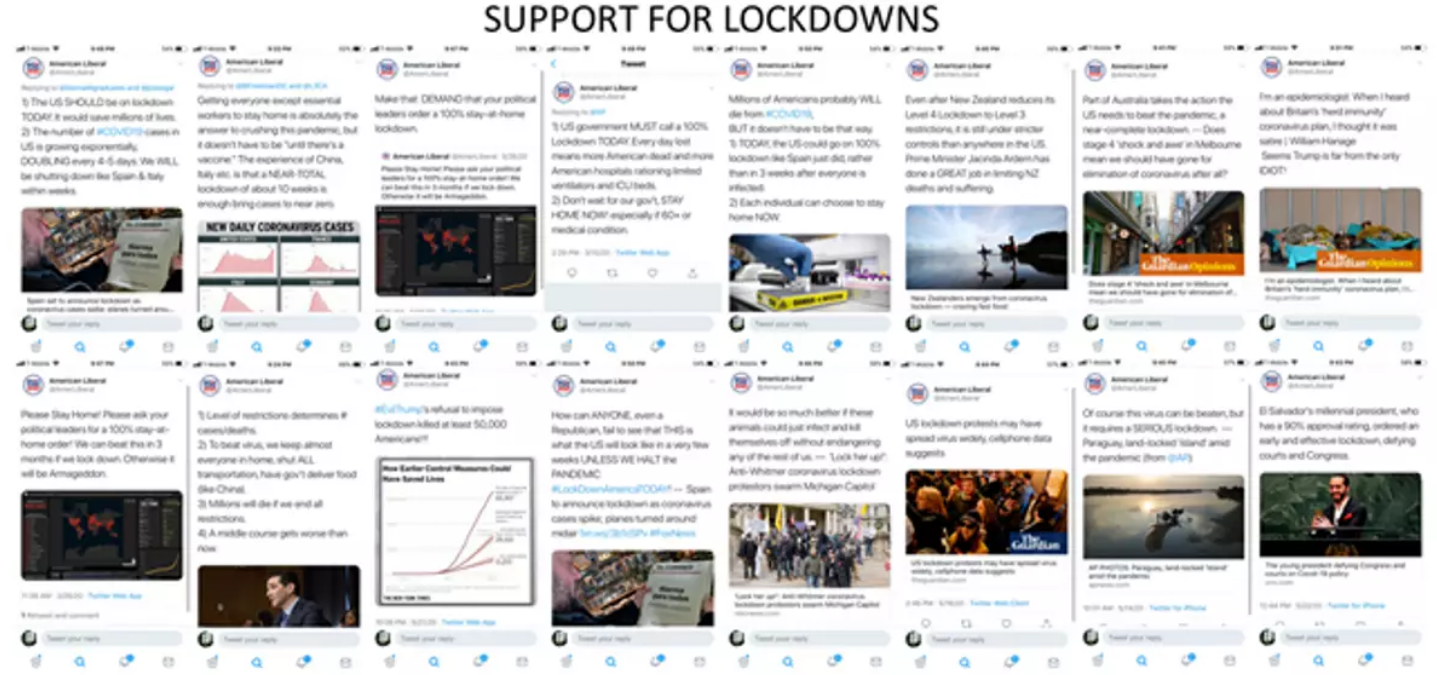 Please ask your Political leaders for a 100% stay at home lockdown!
Make them DEMAND that your political leaders order a 100% stay-at-home lockdown.
Of course this virus can be beaten, but it requires a SERIOUS lockdown.
Please Stay Home! Please ask your political leaders for a 100% stay-at-home order! We can beat this in 3 months if we lock down! Otherwise it will be Armageddon.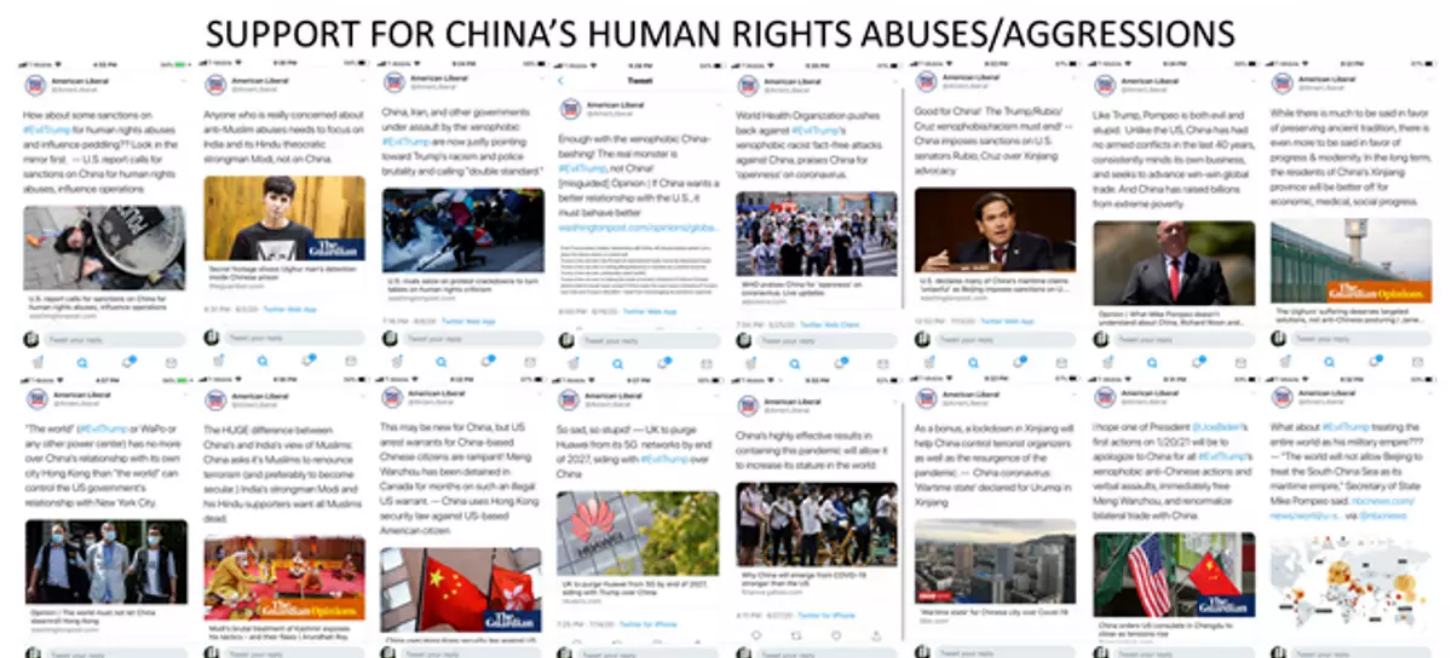 China's highly effective results in containing the pandemic will allow it to increase its status in the world.
"You will be jailed for life – Selective Genocide – Nazi!"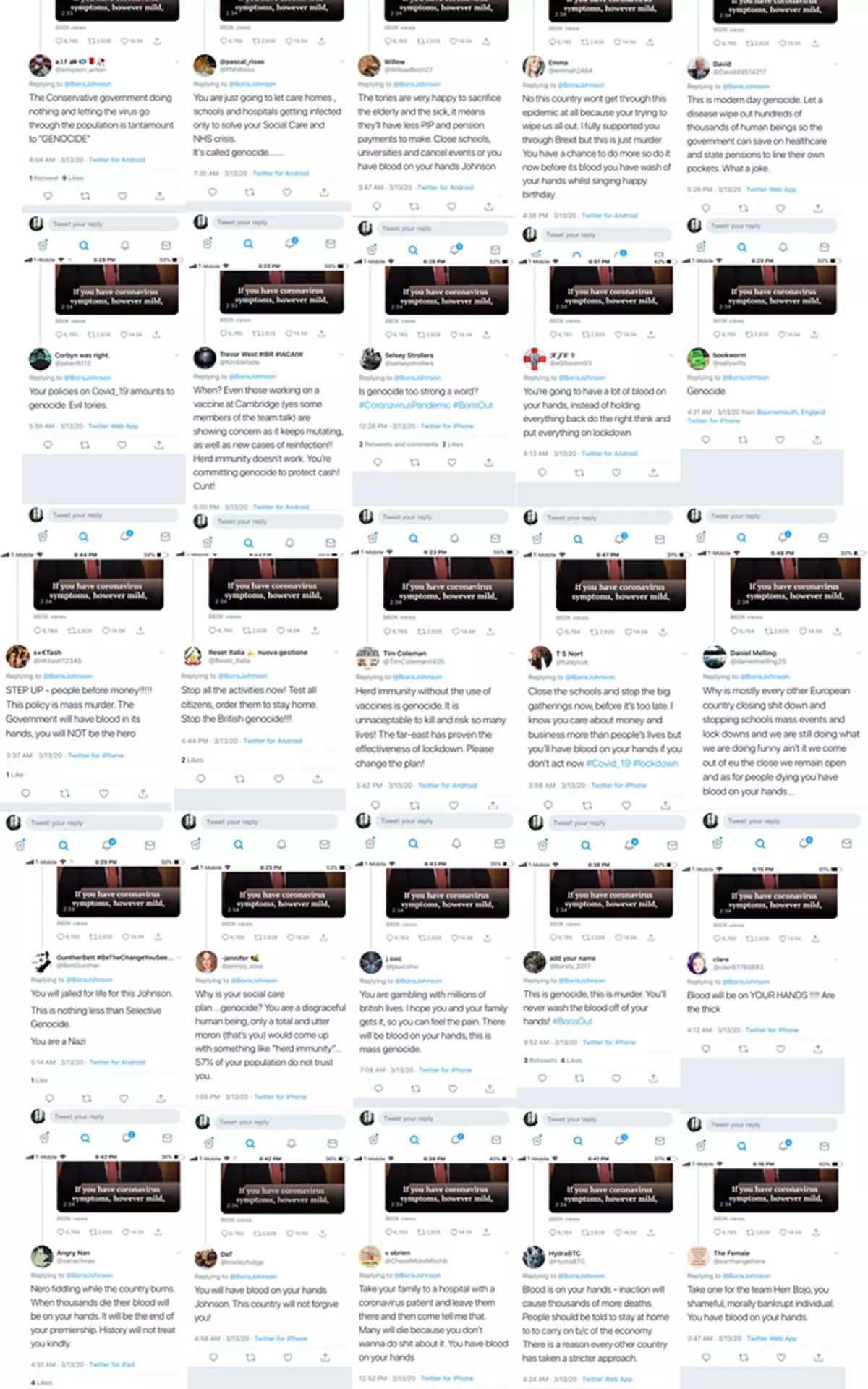 China's Global Lockdown Propaganda Campaign
Russia and China had joined forces to manipulate tweets and amplify false claims and disinformation about the coronavirus – Twitter refused to act.
Government Feuds With Twitter Over Claims China is Exploiting Coronavirus
Facebook have figured out how to "game" their network to control people and become a "dictator" of directing opinion & beliefs
"I have blood on my hands" – Facebook Whistleblower
"Hurting People At Scale" Facebook's Employees Reckon With The Social Network They've Built
By promoting fraudulent data, aggressively deploying disinformation, and flexing its institutional clout, Beijing transformed the snake oil of lockdowns into "science," crippling rival economies, expanding its influence, and sowing authoritarian values.https://t.co/VdC2DkDckG

— Michael P Senger (@MichaelPSenger) September 16, 2020

Site Notifications/Chat: 
Videos: