Vaccine Boosters?
Research valid as at 28 September 2021
Index of Downloadable Refs:
"List of Verifiable References"
DO NOT LINK DIRECTLY TO THIS WEBSITE.
DOWNLOAD THE FILES SEPARATELY FROM THE POST ABOVE.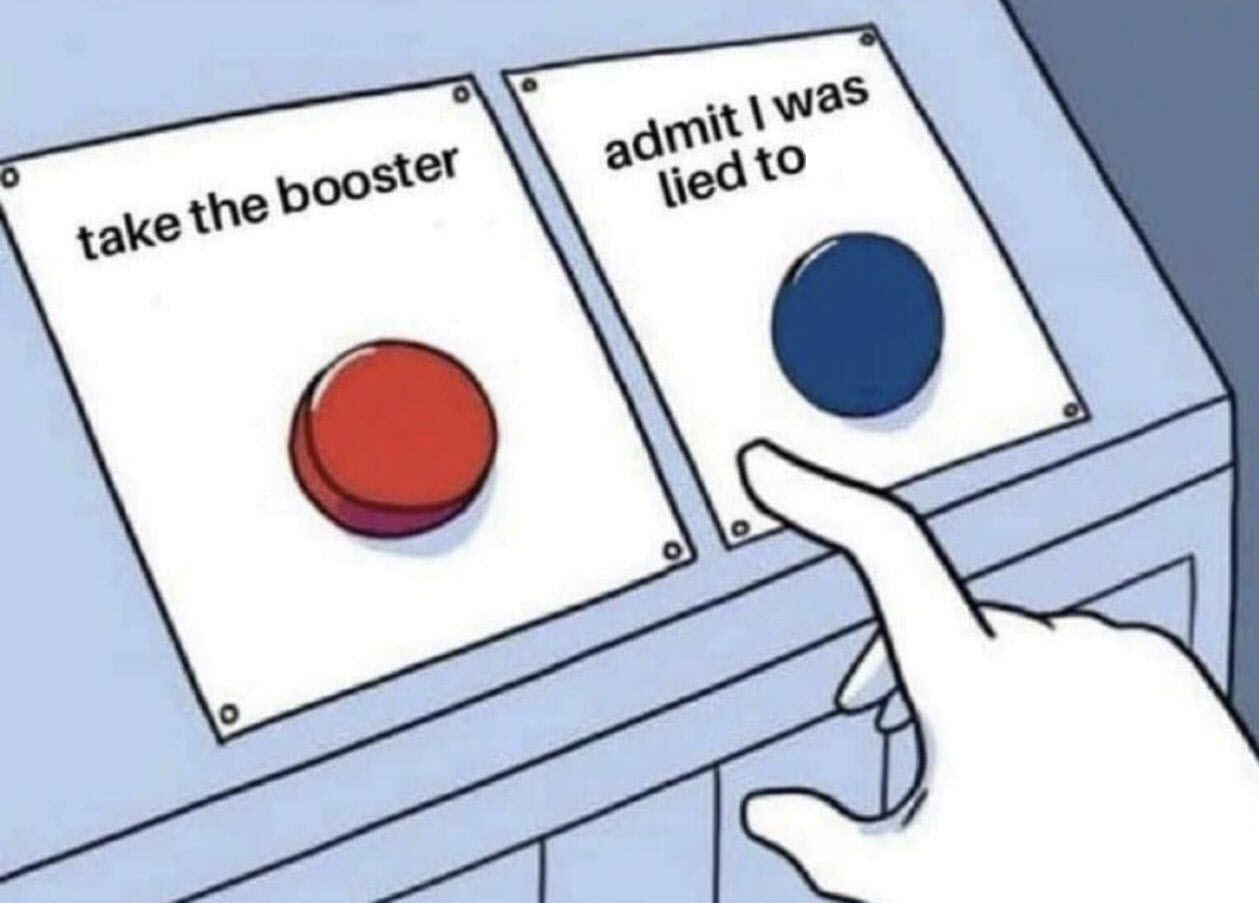 Boosters given in Israel after Vaccine falls below FDA's 50% efficacy rate
FDA – Advisory Committee – Sept 17, 2021
Israel now experiences its highest levels of infection
in spite of widespread (>60% of double-dose vaccination)
Daily cases rose by more than 100-fold in 1.5 months.
(from roughly 12 cases a day to about 1,000).
Severe active cases increased >10 Fold in one month.
60% fully-vaccinated 40% unvaccinated.
Their answer to something not working?
"Boosters"
Israelites were getting a 3rd booster during the month of August, and the Ministry of Health tried to praise that boosters were working already? On what grounds – on what data? What lies! Boosters were still being deployed and had only started to be given from July 30th – August 30th and the date of the presentation was September 12th.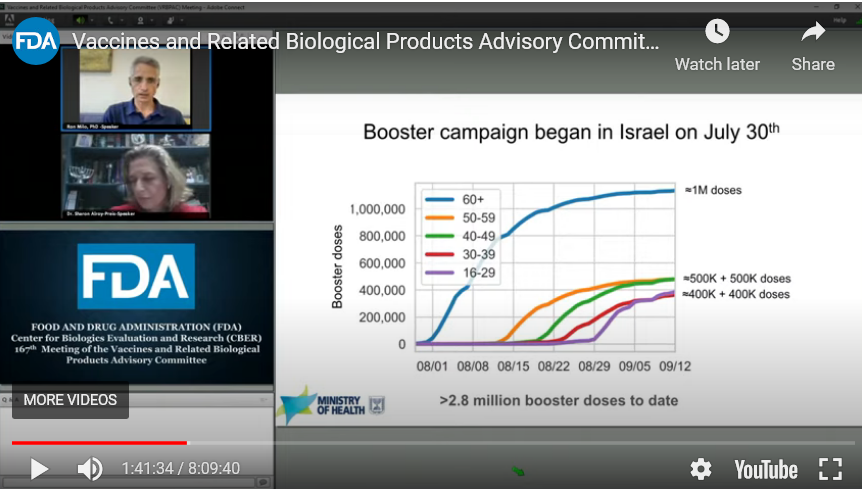 Boosters are not justified: may Hijack Immune System & Generate Escape Mutants
FDA – Advisory Committee – Sept 17, 2021
Rajesh Gupta
(More than 40 years experience making vaccines
– ex FDA/NIH/WHO):
Boosters are NOT given for most vaccines (except Tetanus/Diphtheria/Pertussis) ie. Toxin-related diseases; every 10yrs).
COVID-19 Vaccines were not designed to Evaluate Vaccines to "Provide Protection" against Infection.
Protection against most disease not necessarily through maintaining high levels of circulating antibodies.
Protection by most vaccines is through Rapid Deployment of Immune System by Activation of Immune Memory by "the Invading Pathogen".
There is no-base-line data for protection against Infection for COVID-19 vaccines, because unfortunately, clinical trials were not designed to evaluate Protection against Infection.
There is a risk of "Original Antigenic Sin" Phenomenon after a booster dose – when antibodies to Immuno-Dominant Epitopes are made, which get Boosted after Booster doses with Immune Memory, Vaccination with a "new strain" or Infection will Hijack the Immune System – leading to no protection against new strains or vaccines.
Booster Doses leading to High Levels of Circulating Antibodies may Generate Escape Mutants of SARS-Cov-2 Virus.
In conclusion, Booster doses are not justified and may only possibly be justified by immunocompromised or elderly 'who did not generate a good immune response after vaccination"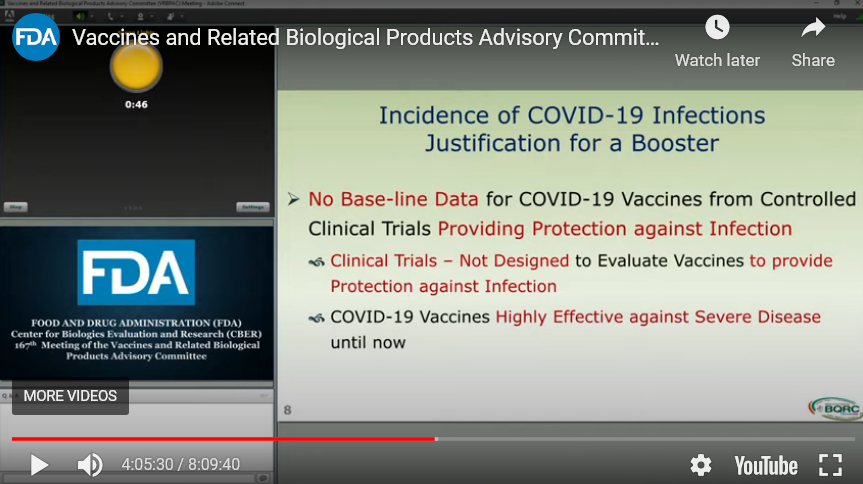 Opposing View: Boosters should've been given earlier and as soon as possible
FDA – Advisory Committee – Sept 17, 2021
Opposing View – "Boosters should've be given earlier" – Benjamin Newton
https://www.casact.org/sites/default/files/database/forum_11wforumpt2_newton.pdf
https://www.casact.org/sites/default/files/database/forum_09wforum_completew09.pdf
https://www.casact.org/sites/default/files/database/forum_11wforumpt2_completew11pt2.pdf
FCAS (yes, FCAS, not F.A.C.S. – is he trying to represent a medical speciality?)
FCAS "Fellow of the Casualty Actuarial Society" – Insurance & Risk Management
Qualifications:
"Actuarial director at CNA Insurance" (commercial property and casualty insurance company)
"Economics"
"Insurance & Risk Management Problems"
Guess we know where his portfolio is or who his clients are.
After 5 months,
efficacy dropped below the FDA standard of 50%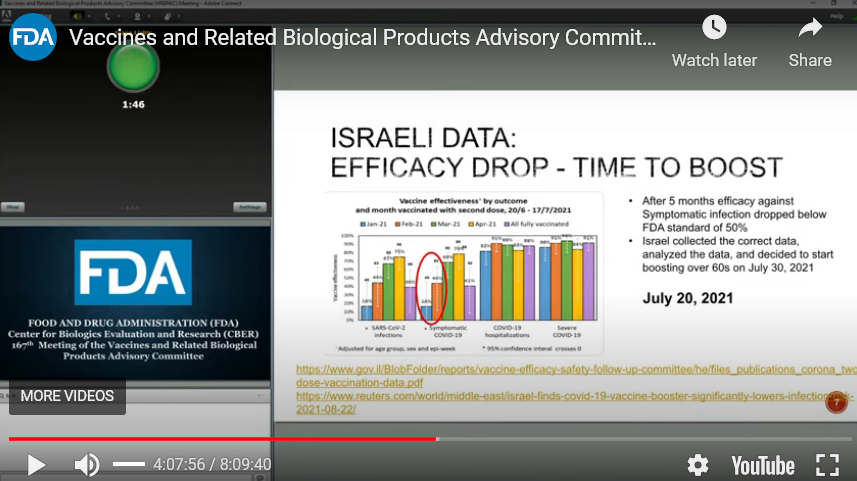 Mandating Boosters in 12+yo's as a condition to maintain Vaccine Passport
FDA – Advisory Committee – Sept 17, 2021
Professor Retsef Levi – MIT Sloan School of Management https://mitmgmtfaculty.mit.edu/retsef/
Mandating boosters for over 12 year old as a condition to maintain green passport!
No real monitoring of side effects – the adverse events reporting system in Israel is truly dysfunctional, particularly around the booster-deployment
The Ministry of Health in Israel does not address appropriately major, concerning safety signals.
What is the Rationale of Rapid & Massive Booster Deployment?
Vaccine-induced herd-immunity? Short-term Transmission Rate? Reducing serious illness and mortality?
Trying to reach vaccine-induced herd immunity? By now, we already know that reaching herd-immunity with the current vaccines does not seem like a feasible or realistic goal – Israel continues to have amongst the highest infection rates per capita in the world.
You all listened to the Israel Ministry of Health praising the efficacy of the Israel booster, and I would like to question this pre-mature celebration and remind you that similar statements were made just 6 months ago on the 2 initial doses. COVID-19 deaths in Israel – in spite of all the boosters – are on the rise, whereas in other countries, they seem to be on downward trend.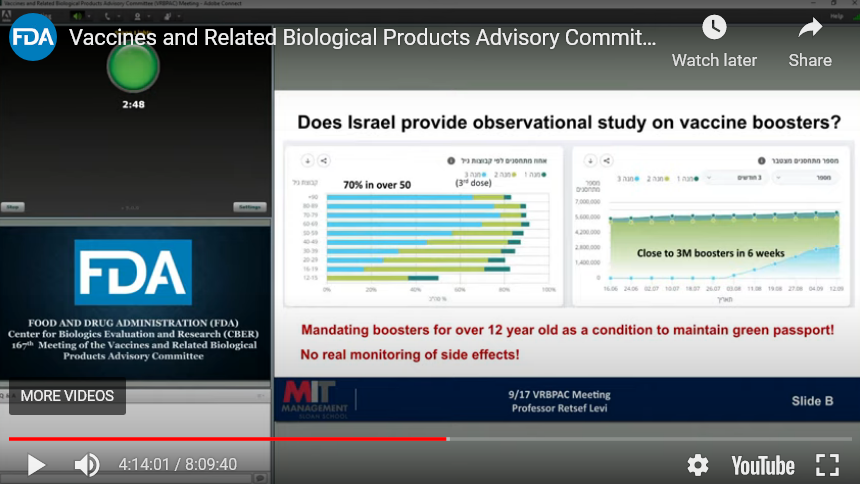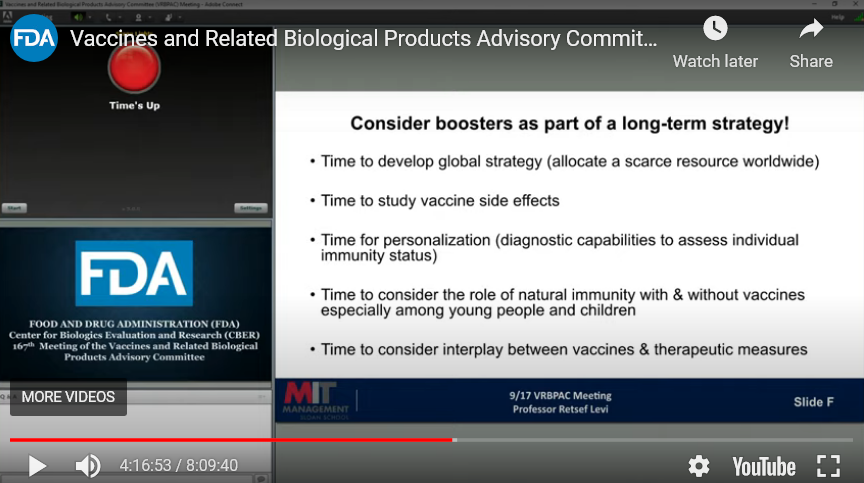 50% of Vaccinated in Nursing Homes Died – 0% of Unvaccinated
FDA – Advisory Committee – Sept 17, 2021
Steve Kirsch – Executive Director of the COVID-19 Early Treatment Fund
In the Israel Ministry of Health Nursing Homes – 50% of vaccinated people died, and 0% of unvaccinated people died.
Unless you can explain that to the American public – you CANNOT approve the boosters.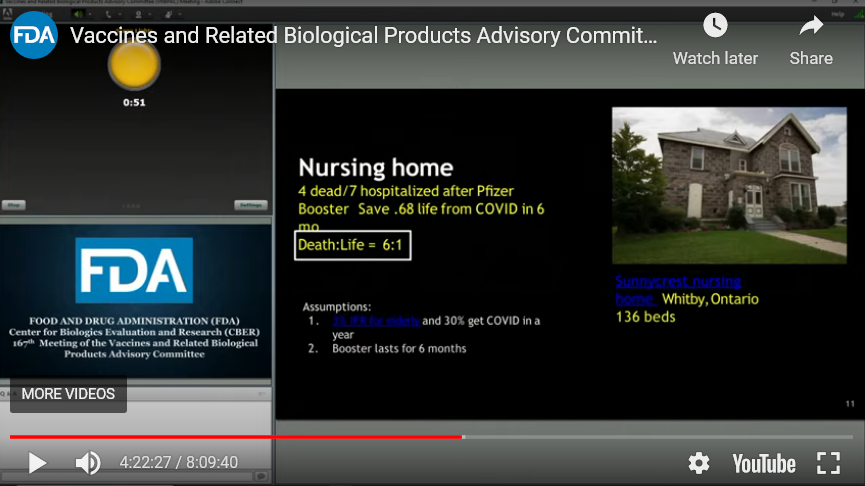 Sept 17, 2021 – FDA Advisory Committee Meetings (held weekly)

Site Notifications/Chat: 
Videos: