Fully-Vaxxed 9/10 Hospitalizations & 4/5 Deaths
If this data doesn't concern you, then you should probably trade-in your brain. How in the hell are we going to red-pill the naïve if they won't even look at the stats for themselves, or when they just blindly-trust the wrong people?
The fully vaccinated population accounted for 4 in every 5 Covid-19 cases, 9 in every 10 hospitalisations, 9 in every 10 ICU admissions, and 4 in every 5 Covid-19 deaths.
At the end of January 2022, things were already looking bleak for the fully vaccinated population, and I wondered why everyone was still taking the Kool-Aid, and now we have the February data and 14 days of March data for New South Wales and it ain't looking good in jab-dom.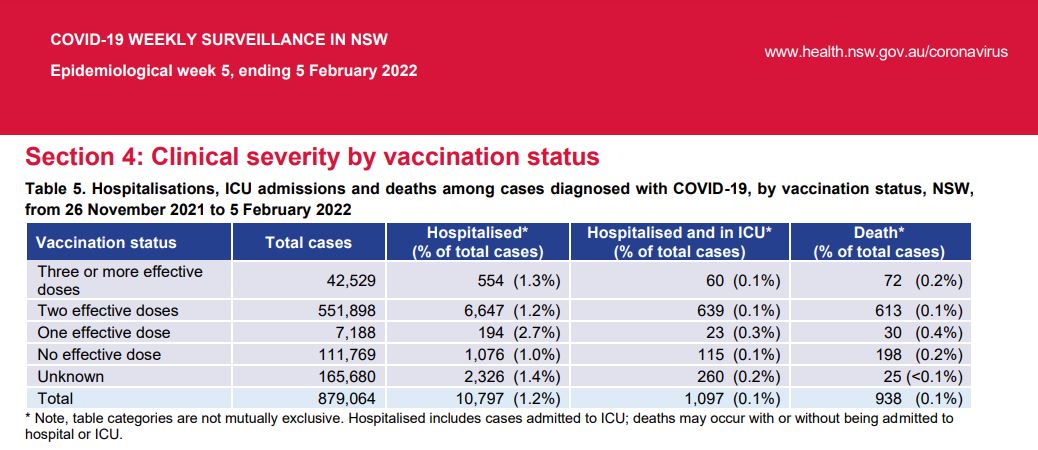 NSW Health Daily Deaths – March (Tally)
NSW Health Daily Deaths – March (Source Data)
NSW Health Daily Deaths - March (Daily Graph)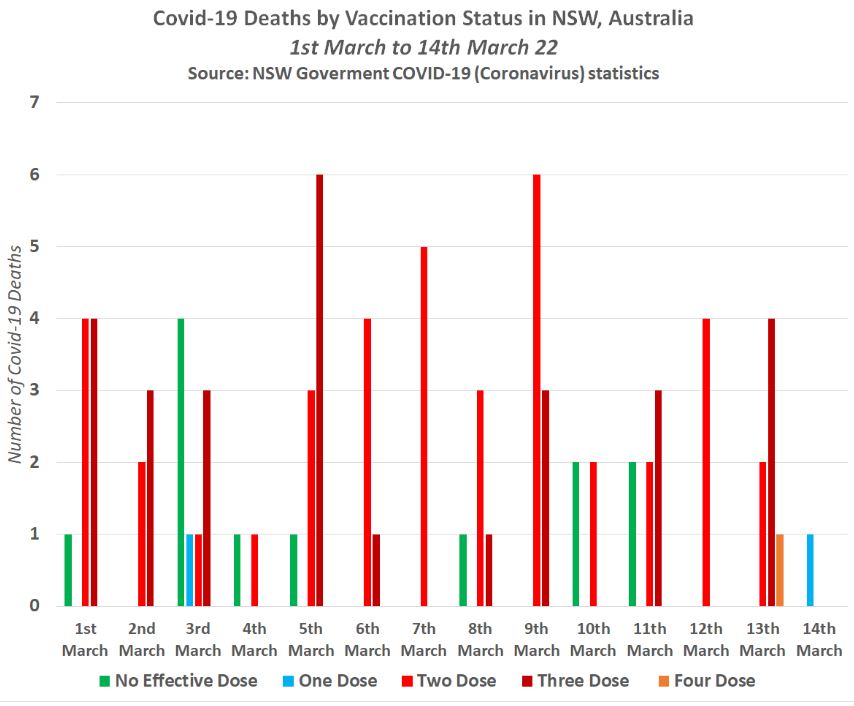 The highest number of Covid-19 deaths was recorded among the double vaccinated population with 39 deaths, but the triple vaccinated population were not far behind with 28 deaths.
The double vaccinated population accounted for 48% of those deaths and the triple vaccinated population accounted for 34% of deaths.
NSW Health Daily Deaths - March (Percentage)
The following chart shows the percentage of Covid-19 deaths between the vaccinated population as a whole and the no-effective-dose population –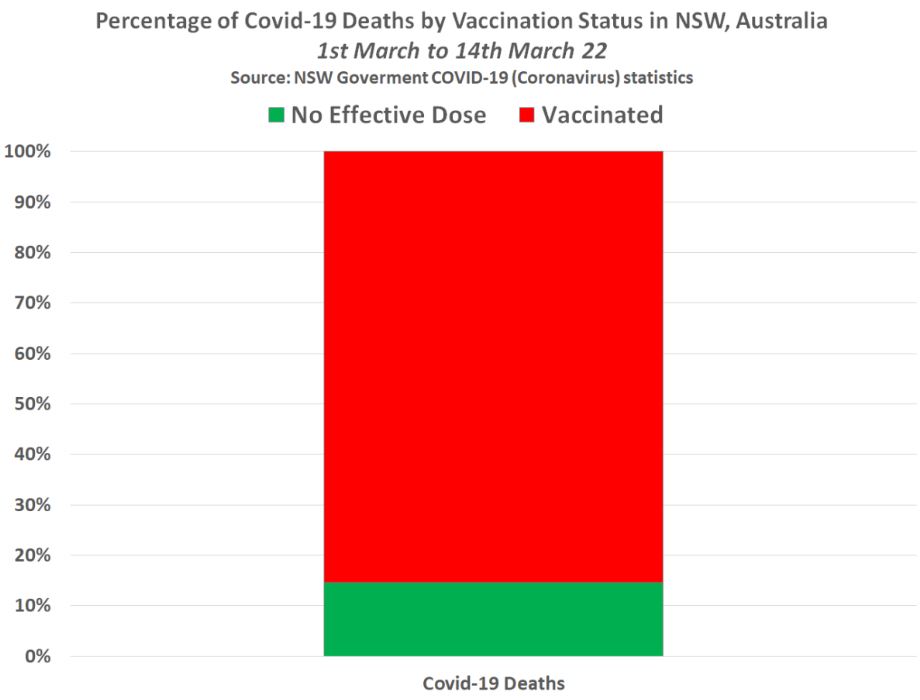 In all the no-effective-dose population accounted for 14.6% of all Covid-19 deaths between 1st and 14th March; whilst the vaccinated population accounted for 86.4%, meaning 9 in every 10 Covid-19 deaths in NSW, Australia are now among the vaccinated population.
Ditto in the UK...
Since facts don't matter to those who are stuck in covid-lala-land, I think we might need to focus more on how to explain the bigger-agenda or help them learn about mind-control and information-control or try some other way of reaching them because frankly, anything that the mis-ledia doesn't tell them, they "think" must be misinformation - and won't check any data for themselves.
Everything to them is defined as "antivax conspiracy theories" - they cannot question or think for themselves or read anything bigger than a comment (and even then, I think they can only read about 3 lines). We have a problem if we are hoping for them to wake up. I've spent a couple of days with a gentleman on Facebook and he really made me realize just how deeply-invested they are in the narrative - I sent him the raw unbiased data for him to look at himself and he can't bring himself to click on it, touting that it must be misinformation from antivax conspiracy theorists - and I'm very concerned that humanity may not be able to break the spell.
Not a pandemic of the Unvaccinated - Wake UP!!

Site Notifications/Chat: 
Videos: