Catastrophic Contagion [Tabletop – Oct 2022]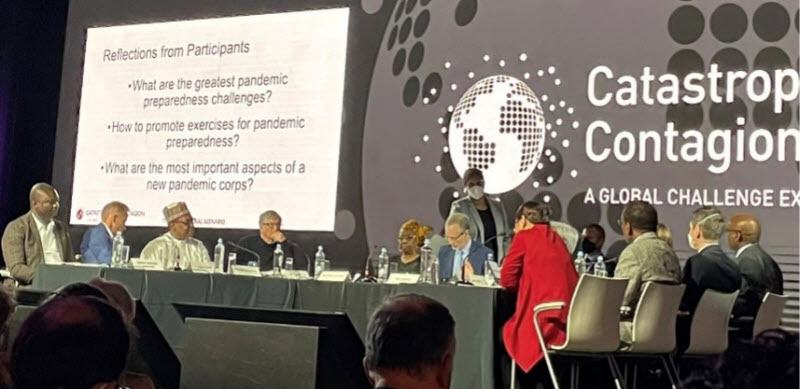 Catastrophic Contagion was a tabletop exercise in October 2022 that simulated a new global pandemic resulting from a new "Severe Epidemic Enterovirus Respiratory Syndrome 2025". Same players as the others: Bill Gates, WHO, and Johns Hopkins, with representatives from the CDC, CFR, World Bank, DoD, GAVI, HHS, IMF, Rockefeller, and more.
Communication was the central issue, particularly with religious and political leaders, the increase of "trust" in government health advice, and the stomping out of non-big-brother voices. As well as a focus on 'billions of suspected "cases" (not "deaths")'—sound scare-mongeringly familiar? And of the 20 million simulated-deaths, a disproportionate "15 million children" died, with countless others still "alive" but left with "paralysis" or "brain damage".
The most successful countries are those that "invested in preparedness" and "trained for this moment years in advance" – having "full-time pandemic preparedness response teams", which conducted "detailed, operational planning"… and "if more countries had participated and heeded the guidance, the death-toll MIGHT have been much lower".
Well, show me the money you brilliant orchestra of corruption and conflict$:
Oct 23 2022 – Catastrophic Contagion, a pandemic tabletop exercise – John Hopkins Center for Health Security, World Health Organization, Bill & Melinda Gates Foundation, at the Grand Challenges Annual Meeting in Brussels, Belgium on October 23, 2022.
The Johns Hopkins Center for Health Security, in partnership with WHO and the Bill & Melinda Gates Foundation, conducted Catastrophic Contagion, a pandemic tabletop exercise at the Grand Challenges Annual Meeting in Brussels, Belgium, on October 23, 2022.
Participants consisted of 10 current and former Health Ministers and senior public health officials from Senegal, Rwanda, Nigeria, Angola, Liberia, Singapore, India, Germany, as well as Bill Gates, co-chair of the Bill & Melinda Gates Foundation.
The exercise simulated a series of WHO emergency health advisory board meetings addressing a fictional pandemic set in the near future. Participants grappled with how to respond to an epidemic located in one part of the world that then spread rapidly, becoming a pandemic with a higher fatality rate than COVID-19 and disproportionately affecting children and young people.
Participants were challenged to make urgent policy decisions with limited information in the face of uncertainty. Each problem and choice had serious health, economic, and social ramifications. 
October 23, 2022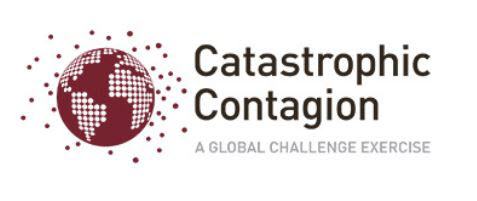 Although not listed as a Participant, I noticed Jane Halton (the Australian Arm of the NWO), in the "Value of Exercises" video on the video and photos page of the event; not certain if its old footage they used in the current exercise or not, but the video date on their YouTube channel is 11 Nov 2022. See her featured in the "Conflict$ of Interest Australian edition" post.
Participants / Conflict$
Lessons from the exercise
This is how they scare governments into spending money on committees that support the pharmaceutical corporations, shape and change policies and laws and silence media and experts well in advance, and then when something happens, press "go" on pre-planned events by all getting out their "Pandemic Playbook" and play everything out on auto-pilot, as we've seen in the past 3 years. Tabletops are conducted so that people "don't have to think" in times of crisis, everything we're living is a result of some "theoretical" model; funded by the bad guys, and implemented by our governments.
This is why all the experts were censored, why the Mainstream Media, Facebook, Google, YouTube, etc, all went into "lockstep mode", why celebrities and influencers were paid to promote the "safe and effective fake-vaccine", and why governments didn't have "any other solution" except the "jab" "masks" "ventilators", locking-down the world, using "PCR" as a diagnostic, and other dystopian atrocities. (see: [Tabletop] Event 201)
It was "designed" that way. They follow a ridiculous protocol, spending all their money on "vaccines", "digital solutions" and "misinformation" committees, and zero funding going into "ACTUAL" health advice.
For example when I checked Australia's COVID committees back in 2021, there were over 30 "vaccine-related" committees. How the hell does that happen? Now you know.
ALL THESE PEOPLE PROFIT FROM VACCINES AND THEY ALSO CREATE THESE SIMULATIONS THAT CHANGES GOVERNMENT POLICIES – what do you think would happen? People think they are "working for the people" – they are working for themselves… wake the hell up.
The same shit is repeated in this new simulation "prioritize efforts to increase trust in government and public health; improve public health communication efforts; increase the resiliency of populations to misleading information; and reduce the spread of harmful misinformation" – so, unless people start waking up, we can look forward to even more censorship, more "vaccine committees", and killer-health advice from the fake-science-fiction funded by the pharmaceutical industry in the coming future.
Q.) Do psychopaths know they are psychopaths or do they think they are helping humanity?
See all TableTop Exercises that I know of (and contact me if you know of others):

Site Notifications/Chat: 
Videos: