Wind Farms Con
A former N.S.W. Policy advisor for Federal Government explains the wind turbine con that is the cause of our excessive, ever-increasing power bills and sending billions of dollars offshore…… as well as BlackRock investments, Wind Turbine dumping, and Fire as the second leading cause of catastrophic accidents in wind turbines (after blade failure)
Ex N.S.W. Policy advisor for Federal Government exposes the wind turbine scam
Windmills powered by Coal? Alex blows the lid on the con behind our supposed wind powered solution to climate change, and why our power bills are so high. — Cafe Locked Out On The Road.
Transcript
Who do you have here?
Alex Nichol.
Alex, now you used to work for the federal government.
I did, yeah, for seven years.
Doing what?
I was policy adviser for a liberal party senator.
Okay, and tell us what you were saying about working with the windmills?
Yeah, so the area that I was working in was renewable energy, and basically it was my job to uncover a lot of the stuff that was going on with the Renewable Energy Act, which was put in place in 2002 under the Howard government. (01) Renewable Energy (Electricity) Act 2000 https://www.legislation.gov.au/Details/C2019C00061 (02)The Renewable Energy (Electricity) Amendment Bill 2002 https://www.aph.gov.au/Parliamentary_Business/Committees/Senate/Environment_and_Communications/Completed_inquiries/2004-07/renewableenergy/report/c01 In 2002, the government introduced into … Click for full citation

So that was the Liberal party that put the Act in place, and I was looking at the mess that it had created.

What a lot of people don't understand is that the Renewable Energy Act creates a subsidy environment where if you build wind turbines, you'll pay between $600,000 and $900,000 per turbine, per year, as a subsidy alone.
You mean if it's on your property?
No, so what happens is the wind company comes in they pay a lease to the farmer to build the wind turbines, and that in effect makes sure that the farmer is still liable for the turbine, and they pay a lease of $12,000 a year (usually), and the company gets paid between $600,000-$900,000 per turbine per year.
So they pay $12,000 to the farmer, but they get $600,000 per turbine? This is a big incentive to put in turbines.
Exactly. Yeah, and the land owner takes the liability for the turbine.
So he gets $12,000 a year, but if anything happens to it, he or she's got to fix it.
Yeah, when they catch on fire, they're responsible for their neighbour's properties going up in the smoke. That kind of thing.
Wow.
Yeah, and effectively that money, the subsidy that's getting paid to the wind farms, is a remaining $40 billion a year out of the Australian economy, and it's paid by everyone—every pensioner, householder, schools, hospitals, everyone—it's not just out of your tax. It comes out of your power bill.
Is this why power bills are going up?
Yeah.
So our power bills are going up to pay for wind turbines that don't work?
Exactly.
And why don't they work?
So they don't work because for a start, they draw power off the grid. So they have to have coal-fired power in order to turn. They're not windmills. They're turbines. And essentially…
Sorry, what do you mean? They're powered to turn. So when we see them turning, that's not the wind. That's the power generator turning?
Essentially. They have to draw power off the grid. So they have to draw coal-fired power off the grid in order to turn, and what happens when the wind picks up, they do actually start to create electricity of their own, but that electricity is so intermissant and unreliable, that when it gets back to the grid, it has to be balanced on the grid, which you can't do; like with your coal-fired power station, you can't ramp your coal-fired power stations up and down. So the coal-fired power station stays at the same level because it takes 24 to 48 hours for them to get up to heat anyway, and they just let off steam as the wind comes onto the grid. So there's absolutely nothing about them that works, apart from reaming that amount of money out of the Australian economy, and it's going offshore.
That money's going offshore.
Must we kill the environment to save the environment?
Dumped turbine blades reveal Green energy grift
Nick Cater exposes the wasteful reality of renewable energy playing out in the forests of Chalumbin, Queensland, the site of a proposed large scale wind farm. Broken-down wind turbines lie like 'great beached whales' amongst the trees.
Transcript
I'm coming through here because I've been told that there are old turbine blades that have been just dumped here. Here they are. This is renewable energy by the way. Remember that word "Renewable".
There's nothing much renewable about these things. These are old turbine blades. Quite short ones actually. I mean they look big but they're some of the early… 20 meters I think.
Now they've worn out. You can see you look at the quality of it. It's not much life left in that. Can you recycle it? Good luck.
Great beach whales sitting here. They're massive. Not that massive compared to the ones we've seen in action. So when they run out, of course, what are we going to do with those? Same deal, right? Just sit here. This tells a story. They'll 1.4 billion dollars for the Chalumbin Wind Farm and in 15 years they'll just be sitting here like this. (05) Stop Chalumbin Wind Farm https://stopchalumbinwindfarm.com/
Wind Turbine Blade Graveyard in Iowa found by the Turbine Guy
Transcript
Folks turbine guy coming back at you. Now where am I today? I am in the middle of Iowa and what do I find? But the big wind turbine junkyard.
Well, they say that this stuff is being prepared for recycling because the big hub-a-loo is always that this stuff is junk and has got to be buried and look at all the waste we have with big wind.
So I don't know what "being prepared for recycling" means. Maybe it's taking the bolt cages off and this stuff gets chopped up for reuse. Who knows.
Well, Well, Well. BlackRock.
BlackRock and Wind Turbines (06)
AUSTRALIA.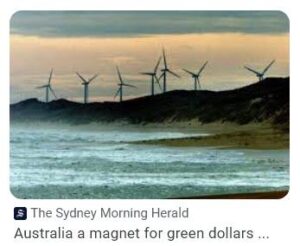 Wealth management giant BlackRock says Australia has become one of the most attractive destinations to invest in the global shift to clean energy as coal-fired generators accelerate their closures and the government aims for the grid to be mostly powered by wind and solar by 2030.
US-based BlackRock, which oversees more than $US9 trillion ($13 trillion) of investor funds and ranks as the world's biggest asset manager, on Thursday said the private sector was increasingly demonstrating a willingness to invest in Australia, seeing significant opportunity in the country's energy transition.
While coal-fired power supplies about two thirds of Australia's electricity today, the Albanese government has set a target for the grid to source 82 per cent of its power from renewables by the end of the decade.
U.S.A.
'Coal-dependent West Virginia gets a $200 million wind farm'.
West Virginia wind power
First, let's check out West Virginia's new wind farm. Construction is underway on the $200 million Black Rock Wind project. It consists of 23 turbines that produce 5 megawatts each on the Grant-Mineral county line, in the northeastern region of the state. Green energy developer Clearway Energy is building Black Rock Wind, which will provide power to Toyota and American Electric Power.
BELGIUM, SPAIN & FRANCE.
'BlackRock invests in Belgian renewable energy developer Windvision'.
BlackRock recently invested in the European activities of Windvision, an independent renewable energy supplier. The company has been operational in eight countries across two continents. The investment was made by BlackRock as part of the deployment of its Global Renewable Power III fund ("GRP III,"), and will help support Windvision's portfolio of development, construction and operational assets that will be built-out across Belgium, France and Spain.
SOUTH KOREA, JAPAN & TAIWAN.
'BlackRock Raises $4.8 Billion to Invest in Renewable Power'
Fund raises almost double from investors than expected
BlackRock Inc. has raised $4.8 billion for a new fund to invest in renewable power assets around the world – almost double its initial target.
More BlackRock Wind Farm Articles:
Wind Turbines and Fire
Wind Turbines: 'Fraud On Fire'
Wind turbines are economic swindles. Inefficient, unreliable and uneconomic.
Transcript
What you see here is a two-megawatt wind turbine on fire. It's a common occurrence. When was the last time you saw a power station on fire?
The typical wind turbine consists of 260 tonnes of steel, which necessitated the extraction, transportation, and production of 300 tonnes of iron ore and 170 tonnes of coking coal, all obtained through the use of hydrocarbons. Additionally, it requires 700 gallons of oil and hydraulic fluid, which, akin to an internal combustion engine car, must be replaced every nine months.
While some individuals may be enticed by the notion that we can exclusively rely on sunshine and breezes, the reality is that even with trillions of dollars invested in hypothetical mega batteries for momentary backup power, a wind turbine would continually spin until it eventually deteriorates without ever generating as much energy as was initially invested in constructing it.
The true cost of so-called renewable energy is an inconvenient truth never discussed. That's because renewables are about political considerations and not economic or engineering cost-benefit analysis.
So what you're really seeing here is a fraud on fire.
Related External Articles:
More Wind Turbine Articles:
Site Notifications/Chat: 
Videos: