The Twitter Files
So Elon Musk has started to release "The Twitter files" just a few days ago, and continues to add to it. You can guarantee it won't go into the details of the Hunter Laptop "contents", just Twitter's involvement in the "censorship" of it.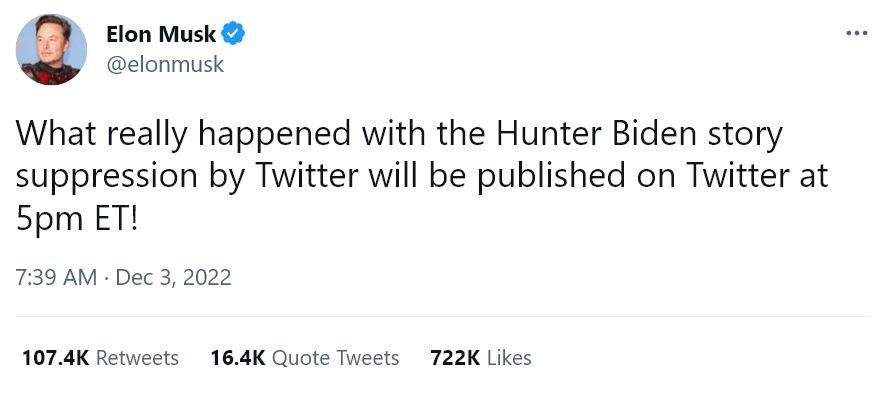 This is a story I haven't had a chance to look at as I'm focused elsewhere, but the extent of censorship of social media has been a critical weapon in this mass-mind control assault on humanity, so I should at least do some "basic coverage." I will not be entertaining this too much, other than to bring it to people's attention for your own research if you have never looked into it, because the "Hunter Biden laptop case" is actually way more important than just a fraudulent election (which is big because social media can be used to manipulate people to vote a certain way and worse because it can make the public "think" and "act" a certain way – Twitter and all social media platforms controlled by the NWO are a very effective tool to manipulate politicians to lockdown and mask their populations, and to convince masses of people to inject gene-editing fake-vaccines into themselves)…
…but it also has ties to Ukraine, deadly pathogen research and bioweapons, COVID-19 Research THREE months BEFORE it was named COVID-19, the extent of the political corruption, and an entangled mess of cover-ups and lies tying into Peter Daszak – EcoHealth Alliance, Wildlife Conservation Society, Smithsonian, Labyrinth Global Health, Global Virome Project, PREDICT, Wuhan Lab, Metabiota – Nathan Wolfe – World Economic Forum, and DARPA, and more including the Chinese CCP government, the bank of China is literally funding Hunter Biden, sex trafficking and more.
So don't believe the fake tweets you'll see from people trying to downplay it as a "nothing burger." The "publicly released" "Twitter-friendly version" might be a nothing burger (albeit it at least admits the cover-up of the files itself), but the actual extent of corruption contained in the files is definitely not a "nothing burger.". The extent of censorship on social media has been a critical weapon in this mass-mind control assault on humanity. Twitter and Social Media's role in the mass manipulation of the world is definitely not a "nothing burger"—we could've saved millions of lives if not for their censorship of the truth. #NeverForget
It was a huge scandal to suppress the laptop's contents that had already been released to the public to "win an election" at the expense of the world understanding what an entangled corrupt mess these people are all involved in. This is war, a war the psychopaths orchestrating this show will win if they are continually be able to "control the minds", and Twitter is big player in this war. (And still is – even if Elon is playing the good guy).
The Hunter Biden laptop files and report can be found here:

(Marco Polo, an anti-corruption organization, sorting & releasing the files.)

Another website that just has the emails is here: https://bidenlaptopemails.com/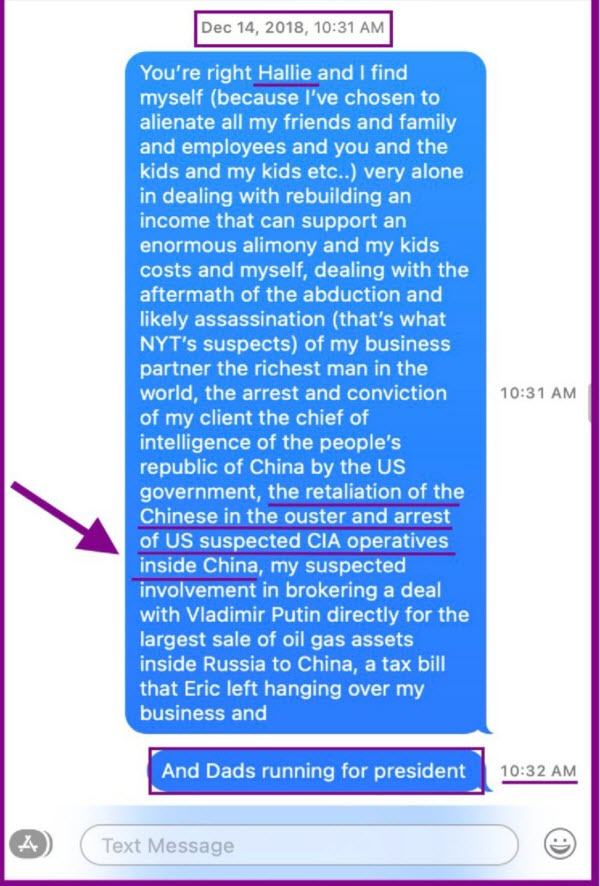 Posts tagged: Biden | Twitter | Censorship | Ukraine | Elon Musk | BioWeapon | Mind-Control
Related post: COVID-19 Research Awarded By DoD To Ukraine Special Projects In November 2019

Site Notifications/Chat: 
Videos: