Pre-Owned Original As Seen on TV Egglettes 4 Pack (Used Once) [PJ]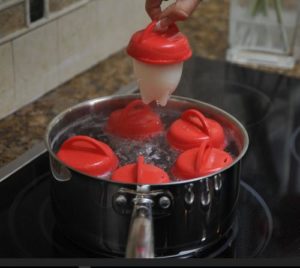 Bought new for $20 from BigW. Used once.
(Please note these are Stock photos of the same product. I threw out the original packaging/instructions)
Listing is for 4 x Silicone Egglettes in original tray
Dishwasher safe.
Instructions:
1.) Coat inside of Egglettes using Oil and Paper-towel. (or Olive Oil spray).
2.) Crack eggs into Egglettes.
3.) Place in pot of boiling water carefully.
4.) Cook for 12 minutes.
5.) Place Egglettes in Cold water for 5 minutes.
6.) Plate and Serve.
$5 or Barter
Click Here to Barter with Me!

Site Notifications/Chat: 
Videos: