Big Bag of Mixed Boys Costumes (Ages 3-5ish & 6-8ish).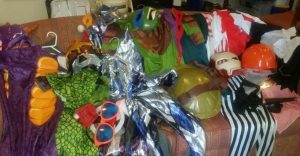 (Was my nephews, only 3 costumes have sizes.. Pirate shirt that says 7-10 and Blue Skylander Costumes - one says "3-5yrs" and the other says "6-8yrs").
Please do not ask for sizing - I only know what is above.
Good addition to your costume box if you have young kids or grandkids.
Approx 10 full costumes + props & masks etc.
Skylanders, Ninja Turtles, Pirates, Robin Hood, and more.
$20 or barter
Click Here to Barter with Me!
Site Notifications/Chat: 
Videos: