ESL EFL Teacher Bundle (TESOL / Teaching English as Second Language)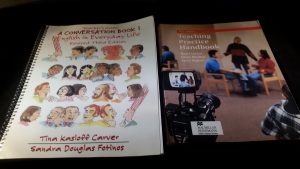 2 Great Books in as-new condition for those who teach or want to teach English as a Second Language.
1.) Conversation, Book 1: English In Everyday Life
Presents an inviting approach to developing conversation fluency.
This book presents picture dictionary-type pages, along with conversation and grammar practice, that provide students with the vocabulary and speaking skills they need for everyday life. This is a split edition (first half of book) of A Conversation Book 1.
2.) Teaching Practice Handbook 2nd Edition
By Roger Gower, Diane Phillips , & Steve Walters.
A reference book for EFL teachers in training.
$20 for both
Click Here to Barter with Me!
Site Notifications/Chat: 
Videos: