The World's Religions by Ninian Smart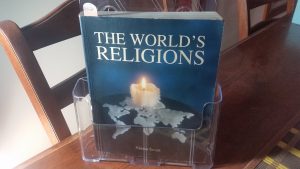 Cover has wear & tear, and Back-cover is creased and has a rip (see picture), else book is in very good condition, with just some doggy ears in the first few pages
The World's Religions by by Smart, Ninian
The World's Religions offers a fascinating insight into a wide range of faiths, their history and their followers.
Illustrated with maps, colour, and black-and-white plates and reproductions of artworks.
The book is a richly illustrated explanation of all major religions of the world -- their beliefs and practices, and how they have shaped the history of the world.
$15 (or Barter)
Click Here to Barter with Me!