Food Diary [Dec 1-15 2020]
1st December (Tuesday)
Garlic, C, Horseradish, D3
Latte
Iron, Folic Acid
Latte
Beetslaw Wrap – Beetroot, Carrot, Baby Spinach, Red Cabbage, Sundried Tomatoes, Olives, Feta, Beetroot & Kaleslaw Sauce, Chicken Tender
Spirulina, Iron
Leftover Beef Madras & Rice from last night
Vitamin C, Moringa
Walk around Lake Esmond
Latte
Visit with a friend, Jules, for 3-4 hrs
Chicken schnitzel with Mashed Potato/Pumpkin/Spinach/Green Beans (b/c it's midnight, I boiled them together and lazily mashed them all together lol), and Dijon Mustard
2 x Roti Bread with Jam, Peanut Butter, Cream

2nd December (Wednesday)
Vit C, Zinc, Quercetain, Iron, Folic Acid
2 Lattes
Chicken Thigh with Jamaican Jerk Spice, Sweet Potatoes, Basmati Rice, Beetslaw (Baby Spinach, Beetroot, Carrot, Red Cabbage), Green Beans
Latte
Leftover Jamaican Chicken with Leftover Rice, Beetslaw, Sundried Tomatoes, and Olives
Almond Yogurt, Black Grapes, Blueberries, Banana
Can't sleep again, this is so ridiculous, almost 8am. I took melatonin hours ago. Now googling foods that make you sleep, and just took passionflower, walnuts, almonds, & peanut butter.
2 Eggs & Roti Bread with a sprinkle of cheese
3rd December (Thursday)
Vit D, Moringa, Iron
2 Lattes
2 Bananas
Berocca, Hydrolyte, Oregano Oil
Sage & Rosemary Crumbed Chicken with Sweet Potato, Mashed Potato, and Green Beans. Creamy Roasted Garlic Sauce
4th December (Friday)
Zinc, Garlic, C, Horseradish, Quercutain
Latte
Salad Wrap – Beetslaw (Beetroot, Carrot, Red Cabbage, Baby Spinach), Feta Cheese, Sundried Tomatoes, Olives, Bacon Bits, and Kaleslaw/Beetslaw Sauces.
Latte
Drive to Melbourne
KFC while in Melbourne – Wrap, Slider, and Sml Chips
Drive back to Ballarat
Standard Latte at Maccas on drive home
Now cooking up a pizza at 2am omg
Pizza: Tomato Sauce, Oregano, Mozzarella & Mexican Cheese, Pork & Beef Pepperoni, Ham, Diced Pineapple (yuck), roasted Onion, Mushroom, Red & Green Capsicum, Kalamata Olives, Sundried Tomatoes, Mixed
5th December (Saturday)
NAC, Zyrtec
2 Latte
Toastie: Ham, Cheese, and Tomato Toasted Sandwich
Olive Leaf Extract, Grape Seed, Immune Support, Oregano Oil
Chicken Schnitzel, Sweet Potato, Mashed Potato, Green Beans, Mustard, Bacon Bits, Cream (Trust me, tasted a million times better than the photo represents!)
Choc-coated Almonds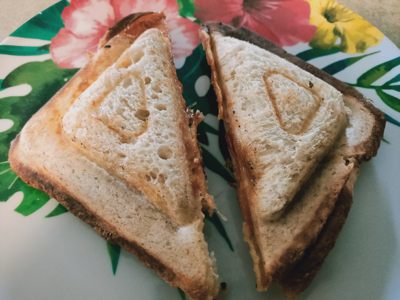 6th December (Sunday)
Latte
Alpha GPC (L-alpha-glycerylphosphorylcholine)
Beef Madras with Beef, Onion, Corn, Peas, Carrots, Green Beans, Spinach, Tomatoes and rice and Leftovers later in the night.
Latte
Stale Strawberry Donut from the Servo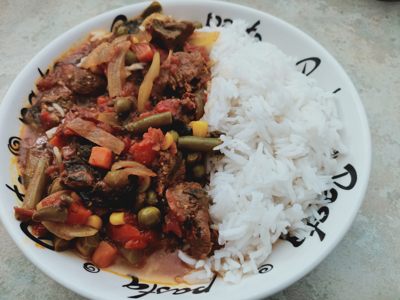 7th December (Monday)
Latte
Chicken Wrap – Chicken Burger, Beetslaw (Baby Spinach, Beetroot, Carrot, Red Cabbage), Fresh Leaves from Garden, Garlic Sauce, Sundried Tomatoes, Olives, Feta
Iron, Alpha GPC (L-alpha-glycerylphosphorylcholine)
Latte
Probiotics & Fulvic Acid
Leftover Beef Madras again (Beef, Onion, Corn, Peas, Carrots, Green Beans, Spinach, Tomatoes and Basmati Rice)
8th December (Tuesday)
Latte
Quick Salad Wrap – Beetslaw, Garlic Sauce, Sundried Tomatoes, Olives, Feta, Cheese
Folic Acid, Sulphate
Latte
Alpha GPC (L-alpha-glycerylphosphorylcholine)
Vitamin D3
Chicken Kiev, Roast Pumpkin Pieces, Mashed Potato, Steamed Green Beans
Berrocca, Hydralyte
Melatonin x2 (can't sleep)
Brazil Nut, Almonds, Walnut
Porridge with Brown Sugar, Honey, Cinnamon, LSA, Hemp Seeds
9th December (Wednesday)
Alpha GPC (L-alpha-glycerylphosphorylcholine), Iron
Latte
Aspirin
Chicken Kiev, Sweet Potato, Mashed Pumpkin, Steamed Peas, Corn, and Green Beans
Latte
Scrambled Eggs, bacon bits, cheese, Roti
10th December (Thursday)
Stayed up most of yesterday and then slept all day, awaking at night time.
For some reason I didn't write down what I ate and I forget things if I don't write them down.
I know I had a rosemary & sage chicken schnitzel with potatoes, green beans, and sweet potato (because I took a photo at least)
I know I had iron/folate tablet, and berrocca and hydralyte. Maybe that's all I had other than a latte.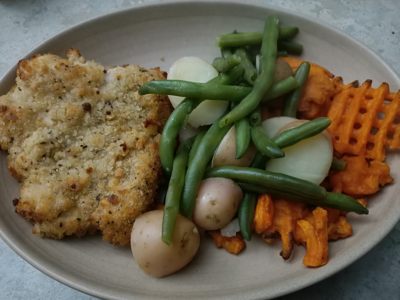 11th December (Friday)
Vit C, D3, Zinc, Quercetin
Latte
Berrocca & Hydralyte
Alpha GPC (L-alpha-glycerylphosphorylcholine)
Chicken Schnitzel, Pumpkin & Green Beans, Bubble & Squeak, Mustard, Bacon Bits, Cream
Latte
Looked in the cupboard for something quick I can eat as a midnight (3am) snack. Found 2 things that I could cook quickly but I wasn't thrilled about either of them so I cooked them both. 2 Minute Noodles, and Rice & Tuna. I'm glad I cooked both cos the Tuna/Rice is gross and I'm throwing it out and eating the 2 min noodles with some feta.
12th December (Saturday)
Latte
Vit C, Moringa, Iron, Choline
Chicken Tender Salad Wrap – Beetslaw (Baby Spinach, Carrot, Beetroot, Red Cabbage), Beetslaw/Kaleslaw Sauce, Bacon Bits, Olives, Feta
Chicken Nachos
13th December (Sunday)
Latte
Salad Wrap – Beetslaw (Baby Spinach, Carrot, Beetroot, Red Cabbage), Beetslaw/Kaleslaw Sauce, Olives.
Sml Latte
Berrocca
Alpha GPC (L-alpha-glycerylphosphorylcholine)
Baked Potato with Butter, Cheese, S&P, Garlic Sauce
Iron
14th December (Monday)
Garlic, C, Horseradish
Choline, Inositol
Fulvic Acid, Iodine, and King Island Colloidal Minerals
Chicken Thigh with Jamaican Jerk Spice, Pumpkin, Green Beans, Basmati Rice
Small Latte
Thai Green Curry
15th December (Tuesday)
Latte
Choline, Inositol, Alpha GPC (L-alpha-glycerylphosphorylcholine)
Sml Latte
Yogurt, Peach, Banana, Blueberries, Raspberries, Hemp Seeds
Hydralyte, Berrocca, Iron
Kabana
Potato Salad
Quite a few cans of Bourbon
Hydralyte
Pizza
DecemberWatching/Listening to:
Tales of the City|Netflix
Rebecca|Netflix
The Barrier|Netflix
I am Maris |Netflix