Latero-Flora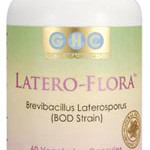 Latero-Flora™ is an effective probiotic supplement that can help maintain a healthy colon by populating the intestines with beneficial bacteria. Latero-Flora™ is a unique strain of Bacillus laterosporus (B.O.D.™ strain), a naturally occurring bacteria which populates the intestines with beneficial organisms that support digestion and help maintain a healthy colon.
Helps establish colonies of friendly microorganisms that support good health and systemic function.
Supports optimum digestion and nutrient absorption.
Stimulates the immune system.
Provides defense against stress and environmental toxins that reduce natural probiotics.
Promotes regularity, naturally and gently.
Bacillus laterosporus BOD is a soil based organism. It has a strong inhibitory effect on a number of pathogens including candida, and many harmful pathogens
Unfortunately the PDF option doesn't print citations or any text that needs expanding. Will find another PDF solution another day - I've already lost half the day trying to get it to work. ~ May 9th, 2023
Telegram Channels: Get Post Updates | Post Comments | Videos
Get post updates from either Gettr or my Telegram channel: @JourneyToABetterLife. To comment on a post, the easiest way is to post in Telegram. (Note: I stopped logging into Facebook in January 2023 and haven't looked back!). Best way to reach me (although I don't login everyday) is putting a message in Telegram, Gettr, or SMS.