Tracking & SEO WordPress Plugins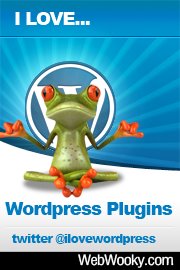 Tracking & SEO
This plugin makes it simple to add Google Analytics to your WordPress blog, adding lots of features, eg. custom variables and automatic click-out and download tracking.

Where I use it: Only on a couple of sites at the moment, most of my sites are using a different plugin "Google Analyticator", but I will be switching them all slowly over to this one. What I loved about the other plugin "Google Analyticator", is the WordPress dashboard that shows you the stats without having to login to analytics, which makes it easy for my clients to see their own traffic, as well as for myself.
Why I use it: Google Analytics for WordPress gives me more control over my analytics stats. I decided to switch to this one because it's better-coded. While doing a site clean-up for my host, I realized that the Analyticator one was adding a lot of extra data to the database and if I want to have nice fast-running sites, I need plugins that are coded well.
Google Analytics for WordPress was recommended as a better alternative to Analyiticator so because of it's better coding. My themes usually have a spot for the UA code, and I can easily do a manual insert of the code into my sites – but it skewes the data.
This plugin (and others like it) allows me to remove logging from Administrator/Logged in users, as well as other tweaking, to make my stats more realistic so that it doesn't "count me" as a visitor.
This plugin will generate a special XML sitemap which will help search engines like Google, Yahoo, Bing and Ask.com to better index your blog.

Where I use it: I use a few different xml sitemap generators depending on the type of site (video/podcast heavy, etc). but this is the one that I use most commonly on almost every site that I own as well as client sites.
Why I use it: Does the job, quick and easy to use. Install, click a button, copy the newly generator sitemap url into Google Webmaster tools, and I'm done.
Shrink, track and share any URL on the Internet from your WordPress website.

Description: Pretty Link enables you to shorten links using your own domain name (as opposed to using tinyurl.com, bit.ly, or any other link shrinking service) In addition to creating clean links, Pretty Link tracks each hit on your URL and provides a full, detailed report of where the hit came from, the browser, os and host.
Where I use it: On sites where I have a lot of affiliate links (like BallaratMarketing.com) or a lot of links to places that I reference regularly (like PennyButler.com)
Why I use it:
To be able to see "at a glance" the hits to various things that I recommend.
To make the link a lot nicer and easy to remember and reference which helps when I can't remember a certain url – but I know that I would've added it to pennybutler.com/softwarename so I can just tell someone the url more easily
To make affiliate links look a lot nicer
To be able to change url recommendations if a site has a broken link – ie if I publish an ebook/brochure or something, if I use prettylink urls and then that particular recommendation disappears, I can easily redirect them to whatever "new" thing that I recommend in it's place, etc.
Make sure you also review the other WordPress Plugins that I recommend:

Site Notifications/Chat: 
Videos: