You can purchase ready-made natural deodorants from most chemists or supermarkets (crystal salt deodorants, etc.), but here is one that you can make yourself, and many people have put it through the 'stress-test' and found that they don't smell with it, even on the hottest, sweatiest days.
Note: this is not an "antiperspirant" – you will still sweat. Sweating is a natural bodily process that is necessary for health in removing toxins from your body. This deodorant will help remove the smells only.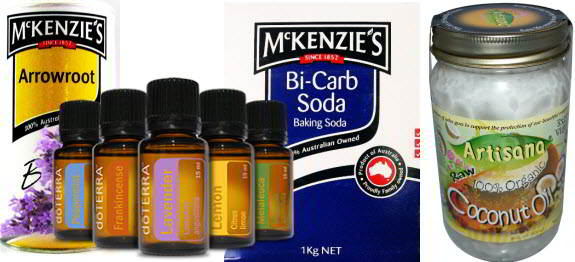 Homemade Deodorant (Bicarb & Coconut Oil)
2013-11-21 08:19:36
Ingredients
1/4 cup baking soda (Soda NOT powder)
1/4 cup Arrowroot Powder (or cornstarch)
7 TBSP Coconut Oil
6-8 drops of Essential Oil(s)
1 drop Tea Tree Oil
Instructions
Melt the Coconut Oil over a cup of hot water (if you live in a cold weather)
Mix ingredients "very well" (or use a blender). (I just use a fork)
Transfer to a container (plastic or glass)
Notes
(Here in Melbourne, I put the coconut oil in a cup, and then have a bowl of boiled water and sit the cup in the water to melt the coconut oil for mixing, but up in Queensland or in hotter locations, you probably won't need to do that)
Penny`Pedia http://pennybutler.com/

Homemade Deodorant looks just like my Homemade Toothpaste
Tips
Here are some tips about using this deodorant…
The following two tabs change content below.
Penny (NaturalHealing.com.au)
Penny has a passion in 'accelerated learning' and a special interest in living an optimal life including health, time, business, goals, mindset and happiness. Penny is a truth-seeker, ever-questioning, ever-learning, ever-researching, ever delving further and further and deeper and deeper down the rabbit hole. This site is a legacy of sorts, a place to collect thoughts, notes, book summaries, & ideas whilst providing a searchable archive to easily lookup and reference. Learn more on the
About page
.
DISCLAIMER: The information on this website is not medical science or medical advice. I do not have any medical training aside from my own research and interest in this area. The information I publish is not intended to diagnose, treat, cure or prevent any disease, disorder, pain, injury, deformity, or physical or mental condition. I just report my own results, understanding & research.
Latest posts by Penny (NaturalHealing.com.au) (see all)