Download Research
Updated:

4 months ago

Reading Time:

11

Minutes

Post Words:

2745

Words

All the documents I've saved so far in my quest to get answers during the pandemic. Truth is all I seek.
Today, 22nd July 2023, I'm going to re-categorize and start deleting older research (my downloads folder is full and has been for a year so you are not getting the latest research). So some of the links below will no longer work while I'm in this process (however many days it takes). I hope this will make it easier to get all the evidence under 25gb. i.e. links to published studies are sufficient as opposed to the PDF copies of them all, subtitles & bookmarks are sufficient to replace actual videos. etc.
—
Post Last updated: Dec 17, 2022 (but I add to the mega folder daily)
My Mega Folders:
Everything I've saved so far in my quest to get answers during the pandemic.
Please add to my collection via Telegram with your own documents – if you have a lot of files, please upload them to Mega and send the link. If you know something to be 'false', know that I'm open to being corrected – please send proof – as truth is all I seek. Please do not use fact-checkers as proof as they are currently being funded by vaccine manufacturers.
Mega Shared Online Folders
Create your own Shareable Evidence Research Folder free with Mega
Good for collating and sharing documents and images (not so good for videos)
Having an online folder that automatically syncs with a folder on your own computer helps you sort out research and be able to share specific files or folders with others (like I've done below). This helps other researchers save a lot of time trying to find the same information. Very useful for court documents, but especially useful in the times we're in, where this octopus is so huge, that all researchers should be sharing their specific research with others so that we can all try and fit the pieces of the puzzle together a lot faster & help humanity.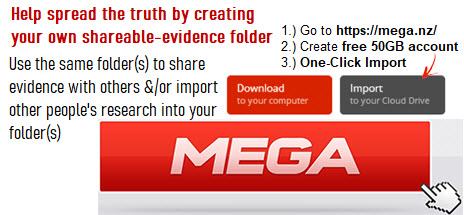 Site Notifications/Chat: 
Videos:
Penny... on Health
Penny... on Health
Truth-seeker, ever-questioning, ever-learning, ever-researching, ever delving further and deeper, ever trying to 'figure it out'. This site is a legacy of sorts, a place to collect thoughts, notes, book summaries, & random points of interests.
DISCLAIMER: The information on this website is not medical science or medical advice. I do not have any medical training aside from my own research and interest in this area. The information I publish is not intended to diagnose, treat, cure or prevent any disease, disorder, pain, injury, deformity, or physical or mental condition. I just report my own results, understanding & research.