Work in the New World
How are we going to survive & thrive in the transition from the corrupt world to the new world?
Facebook Groups
This is a group for like-minded Australians.
Whether you're looking for work or need staff, this group is for EVERYONE- vaccinated or not.
Please post your jobs available or jobs wanted.
Let's help get all Aussies back to work!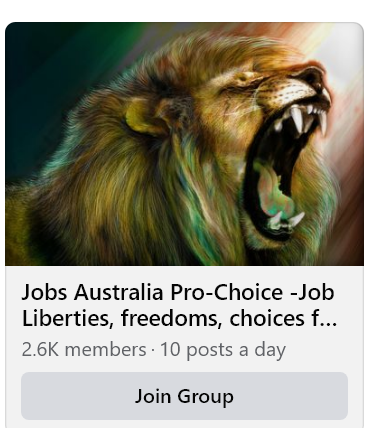 https://www.facebook.com/groups/985785125605167/
This is a group for employers and jobseekers to find each other. Students/people looking for traineeships are also welcome.
We understand the mandate has been a difficult time for everyone.
I created this group specifically to connect employers to job-seekers because it is hoped an employer will understand and respect a future employee's choices, freedoms, and liberties when it comes to mandates amongst other human rights. Just as a jobseeker will respect their employers.
There may be a requirement in a job already which you may not agree with, but it is expected that a job seeker and employer will come to an agreement with an open mind considering each other's liberties, freedoms and choices because an employer is coming here as they understand this concept.
If you are an employer looking for an employee and wish to advertise a vacancy – please post in the discussion thread of this current Facebook page and I will assign it a hashtag.


See also: Connecting Parents & Teachers
Find Jobs, Employment & Career Opportunities with Employers who will not request vaccination status or implement any form of mandatory vaccine policy.
Pro Choice = My Body, My Choice for what we put on or IN our bodies and we accept other's choices without judgement.
This group is created to help business and the Australian people connect and support each other.
It is my hopes to create a directory across Australia to help like minded people find each other.
Weather you own, run or work in a business that is pro choice or are looking for a business to support, you are welcome here!
Telegram Job Groups
Portable Trades and Businesses
(Work from Anywhere)
Teach what you know
Yoga Instructor
Local Wedding Planning
Journalist or Copywriter
Import/Export Business
Teaching English as a Second Language
Investor
Missionary
Teacher
Photography
One-to-one personal tutoring
Commodity Trader
Direct Mail
Mobile Business Directory
Network Marketing
Website Creation, Maintenance, or Hosting
Social Media Marketing
Niche Business Directories
Mobile App Developer
Graphic Design
Webinars / Courses / Membership Sites / Seminars
Online Store
Podcasts
Virtual Assistant
How-To Guides to Teach Others Skills They Need
Creating Home-Schooling Material for the New World
Working towards what we need in the New World
A world without corruption, where we help each other, one based on honesty, integrity, a desire to help, one that helps humanity, that wants the best for each other, that is ethical & fair. Ubuntu Ethos
Every type of business that already exists, needs to be reformed – so every skill you already have, there will be a way to use it in the new world.
Heading to bed now but I know there will be lots of things that we will need as we rebuild our world (once this scary part is over). We will need educators for our children, we will need communities, we will need everyone.
The transition to the new world is the tough part – the in-between, while this system still exists, it diminishes everything good about the world, and keeps people doing jobs they hate, just to keep a roof over their head.
Already I'm seeing the start of the new world when I see those who are offering to child-mind or tutor for those who lost their jobs due to the mandates, these new discriminatory-free job directories, and communities coming together.
And we can also reach out to the way-showers – those who have already left the system that can help teach us how they did it and what they know. They know how to live off-grid, they know free energy, they know how to thrive.
We need to think in terms of now but also in the transitioning to the new – so that we no longer create a world of human slaves, but finally become all we came here to be.
Even though it was just a random ramble a few years ago, I think "past me" is trying to help "current me" get back to what it's all about:
Past me also has some other ideas for "current me" which might help "current you" with some ideas too: