UN – WEF – Google Partner to control 'science'
The UN partners with Google to show only their views on climate change, goes on to say they "own the science". Melissa Fleming, United Nations Under-Secretary-General for Global Communications at the "Tackling Disinformation" meeting – September 20, 2022
UN-WEF-Google Partnership to control info "We Own the Science on Climate Change"
Rumble | Telegram | Full Session on World Economic Forum "Tackling Disinformation"
"We partnered with Google, for example, if you Google 'Climate Change', at the top of your search, you will get all kinds of United Nations resources. We started this partnership when we were shocked to see that when we Googled 'climate change', we were getting incredibly distorted information right at the top. So, we're becoming much more pro-active. You know, "We Own the Science", and we think that the world should know it and the platforms themselves also do, but again, it is a huge challenge that I think all sectors of society need to be very active in."
Melissa Fleming - UN Under-Sec-Gen for Global Communications
We need to find where people are searching, and get there first
YouTube WEF (01) Melissa Fleming – How to Tackle Disinformation https://youtu.be/xu6nL4NFXzU | Rumble (Mirror) | Download on Telegram | Watch full session at WEF
"… uh… travel to where the disinformation also travels, um… Claire has spoken about data gaps. We need to find where people are searching, and get there first. But not with a kind of boring 50-page document, but, content that is produced in an engaging form, that travels well digitally, and works on social media. And also in languages – we deployed our country officers all over the world, to kind of take the basic messaging, that really didn't change that much on 'Health Guidance', and on 'Efficacy and the 'Safety of the Vaccines', and produced content in such a way that it is locally relevant and that it travels in digital spaces, but is also in languages that people understand, and in context that make sense. So we really took a lot of guidance from our local teams, what was trending there, what we don't want … central messaging from Geneva, or New York, isn't going to work for everyone."
Melissa Fleming - UN Under-Sec-Gen for Global Communications
Tackling Disinformation | World Economic Forum | September 20, 2022 (02)Tackling Disinformation | World Economic Forum | Speakers: Adrian Monck, Melissa Fleming, Rachel Smolkin, Claire Wardle | September 20, 2022 … Click for full citation
"Disinformation is not new. Examples of disinformation and so-called fake news campaigns are plentiful. But with increasing fears about the cost of living – exacerbated by the pandemic and the energy crisis – it is now more critical than ever to tackle disinformation head-on. Join this Special Agenda Dialogue to discuss how the public, regulators and social media companies can collaborate to increase online safety."
Adrian Monck

Managing Director, World Economic Forum Geneva

Melissa Fleming

Under-Secretary-General for Global Communications, United Nations

Rachel Smolkin

Senior Vice-President, Global News, CNN Digital Worldwide

Claire Wardle

Professor, Brown University School of Public Health
Google teams up with UN for verified climate information (03) Google teams up with UN for verified climate information https://www.un.org/en/climatechange/google-search-information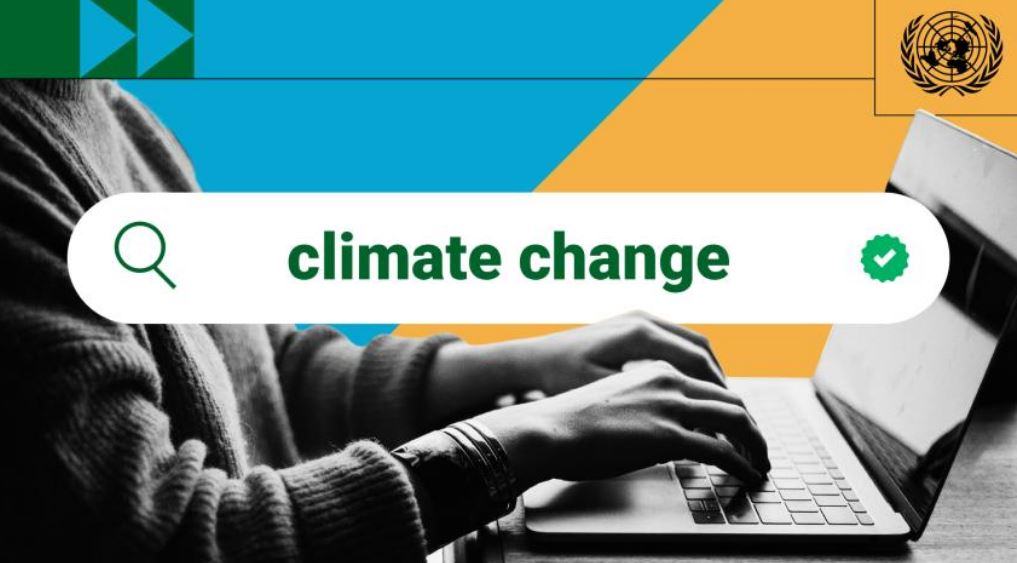 22 April 2022 — Millions of people around the world go to Google to get information about climate change and sustainability. Now, when users search for "climate change," they will find authoritative information from the United Nations in 12 languages. In addition to organic search results, Google is surfacing short and easy-to-understand information panels and visuals on the causes and effects of climate change, as well as individual actions that people can take to help tackle the climate crisis.
"We are happy to collaborate with Google to ensure that factual, trustworthy content about climate change is available to as wide a global audience as possible," said Melissa Fleming, United Nations Under-Secretary-General for Global Communications. "Misinformation is so widespread these days that it threatens progress and understanding on many critical issues, including climate. The need for accurate, science-based information on a subject like climate change to rise to the top of searches has therefore never been greater."
In his 2021 report, Our Common Agenda, United Nations Secretary-General António Guterres called for tackling the "infodemic" of misinformation plaguing the world and proposed introducing a global code of conduct that promotes integrity in public information and facts and science in public discourse.
For Google, the search features are part of a larger push to build products and tools that empower people to better understand and limit their personal environmental impact. "Global search interest in 'how to be sustainable' reached an all-time high this year," said Chris LaRosa, Senior Product Manager, when the climate search feature was first launched in three languages last October. "At Google, we believe technology has a crucial role to play in a carbon-free future and we want to help people make more sustainable choices every day."
Following the English, French and Spanish versions rolled out last fall, UN climate content is now featured on Google Search also in Arabic, Chinese, Indonesian, Italian, Japanese, Portuguese, Russian, Thai and Vietnamese.
Relevant related posts:
Rigged-Media | Rigged-Agenda | Rigged-Science | United Nations
Site Notifications/Chat: 
Videos: