The Little Book of Changes: A Pocket I Ching by Peter Crisp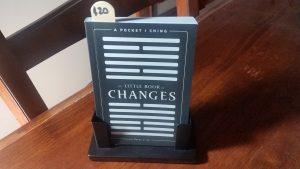 Brand new, unopened (bought to sell with IChing kits).
This is my fave IChing pocket book and I used to carry a copy of this one with me everywhere with my chinese coins to do readings at coffee shops or parks (my particular copy is very well read). I highly recommend having a copy of this particular version if you are considering starting IChing readings as it's very modern and easy to understand in comparison to a lot of the various translations out there and super handy to take with you in your handbag or glove box.
Description:
The Little Book of Changes is a fresh interpretation of the I Ching, one of the oldest books in the world-recognized by both Confucians and Taoists as a fundamental work. Author Peter Crisp's perceptive and poetic rendition reimagines the ancient philosophical text as a friendly, accessible, and modern companion.
Author Biography Dreamer, poet, lyricist, mystic, musician, and writer, Peter Crisp was born in South Africa. He was transported as a baby by ship to England, where he grew up on a free-range farm in East Anglia. Since leaving home at the age of sixteen, he has spent half his adult life on the West Coast of America and half in the UK. He considers himself to be, like Thomas Paine, a citizen of the world. Having consulted the I Ching for more than forty years, he is still frequently surprised by its magical properties. Crisp currently resides on the dramatic Atlantic coast of North Cornwall, where he works under the banner of Ghostwriter in the Sky. He is busy putting the finishing touches on The Adventures of the Rainbow Gypsies and The Halcyon Days of Peter White. These are true stories from the 1960s and early 1970s that are quite unbelievable. But truth, as Lord Byron observed, is always strange-stranger than fiction.
$20 (or Barter)
Click Here to Barter with Me!
Site Notifications/Chat: 
Videos: