Ling Ch'i Ching : A Classic Chinese Oracle ~ divination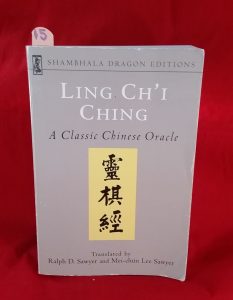 Good, used condition. Slight creasing on spine and edges of cover, else in excellent condition (same quality you would find in a book store except for the creasing on the edges).
Ling Ch'i Ching : A Classic Chinese Oracle ~ Shambhala Dragon edition Translated by Ralph D Sawyer and Mei-chun Lee Sawyer
The Ling Ch'i Ching, here in its first English edition, is an authentic divination oracle from ancient China, which has for centuries been a popular fortunetelling device and source of wisdom. Like its more famous cousin, the I Ching, the Ling Ch'i Ching is rich in poetic language and metaphorical images, linking the dynamic principles of heaven and earth with the affairs of people. But the Ling Ch'i Ching is far less arcane than the I Ching, focusing more on the concerns of day-to-day life. And it is simpler to consult than the I Ching, with no "moving lines" to interpret.
The method of consultation entails throwing twelve coins, which are then arranged in three rows to yield one of 125 possible trigraphs. In the text, each trigraph is represented by a core oracle describing a situation, problem or event, and its internal dynamic, along with a verse emphasizing the trigraph's more subtle, intuitive qualities. To aid the reader in interpreting the oracle, selections from classical commentaries have been included, as well as the translators' own commentary on the text.
$5
Click Here to Barter with Me!

Site Notifications/Chat: 
Videos: