5 Movie Collection – Romantic Comedy (Life Or Something Like It / Picture Perfect / One Fine Day / The Truth About Cats & Dogs / Someone Like You)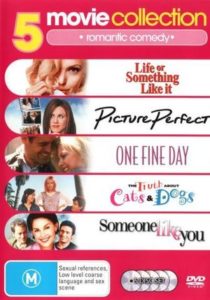 Excellent Condition.
5 discs:
LIFE OR SOMETHING LIKE IT: Angelina Jolie and Edward Burns sizzle in this sexy comedy about making choices, making friends and making a mess. Lanie (Jolie) is a beautiful, ambitious newscaster who thinks that having the perfect hair, perfect boyfriend and perfect apartment adds up to the perfect life, until an encounter with a street psychic throws her world into chaos. With the help of her handsome, wise-cracking co-worker Pete (Burns), Lanie must face a destiny as hilarious as it is romantic...
PICTURE PERFECT: Kate is working on a career at Mercer Advertising, but she is passed up for promotion because she is 'not stable enough', still being single and having no ties to the company. She makes up a story about being engaged to Nick, a guy whom she just met at a friends' wedding. All seems to work out well for Kate. She even gets the attention of a colleague she had always wanted, but then events take a dramatic turn forcing her to 'present' her alleged fiancee to her boss...
ONE FINE DAY: In this charming, romantic comedy, three-time Academy Award nominee Michelle Pfeiffer ("Dangerous Liaisons," "The Fabulous Baker Boys," "Love Field") and "ER" star George Clooney find that opposites attract whether they like it or not. Melanie Parker (Pfeiffer) is juggling single parenthood with a career as an architect. Jack Taylor (Clooney) is a commitment-shy newspaper columnist who only has his daughter every other weekend. When their kids miss a school field trip. Melanie and Jack agree to take shifts babysitting for the day - resulting in twelve hours of hilarious misadventures with one unexpected twist.
THE TRUTH ABOUT CATS & DOGS: Screenwriter and executive producer Audrey Wells credits Cyrano de Bergerac as the influence behind her screenplay for The Truth About Cats & Dogs. She felt that women are sometimes judged by their looks - just as Cyrano was judged by his giant nose.Abby (Janeane Garofalo), a witty veterinarian who hosts her own radio talk show, is anything but confident when it comes to men. When a smitten caller named Brian (Ben Chaplin) asks her on a date, she begs her beautiful neighbour, Noelle (Uma Thurman), to take her place. With Abby and Brian falling in love over the phone, and Noelle falling in love with a slightly confused Brian in person, the resulting chaos sets off an escalating series of hilarious dates and misunderstandings!
SOMEONE LIKE YOU: Jane Goodale (Ashley Judd) has everything going for her. She's a producer of a popular daytime talk show, and is in a hot romance with the show's dashing executive producer Ray (Greg Kinnear). When Ray unexpectedly dumps her, she begins an extensive study of male behavior to try to find out what makes men tick. Her "research" leads her to become an overnight sensation/guru for single women everywhere. When Jane begins to use her womanizing roommate and co-worker Eddie (Hugh Jackman) as fodder for her research, she finds both humor and answers where they were least expected.
$5 or Barter
Click Here to Barter with Me!

Site Notifications/Chat: 
Videos: