[Ra] Law of One – Quotes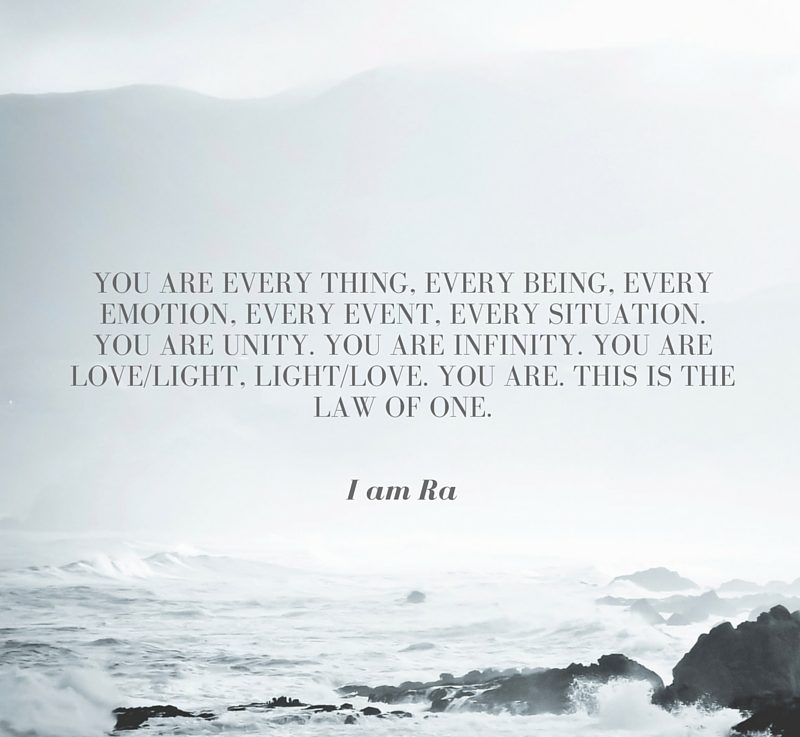 "All things, all of life, all of the creation is part of one original thought."
1.0
…the universe is infinite
.
In an

Infinite

Creator there is only unity.
In truth there is no right or wrong.
You are every thing, every being, every emotion, every event, every situation. You are unity. You are infinity. You are love/light, light/love. You are. This is the Law of One.
1.7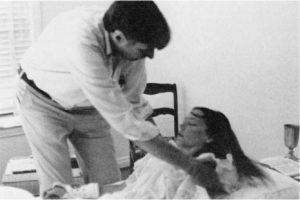 …
all things are one, that there is no polarity, no right or wrong, no disharmony, but only identity. All is one, and that one is love/light, light/love, the Infinite Creator
.
4.20
Healing occurs when a mind/body/spirit complex realizes
, deep within itself, the Law of One; that is,
that there is no disharmony, no imperfection; that all is complete and whole and perfect
. Thus,
the intelligent infinity
within this mind/body/spirit complex
re-forms the illusion of body, mind, or spirit
to a form
congruent with the Law of One
. The healer acts as energizer or catalyst for this completely individual process.
4.20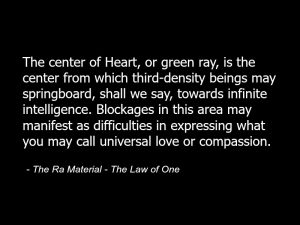 Questioner:
In a positively oriented society with service to others, it would be simple to move a large boulder by getting everyone to help move it
. In a society oriented towards service to self, it would be much more difficult to get everyone to work on the boulder for the good of all; therefore, it is much easier to get things done to create the service-to-other principle and to grow in positively oriented communities than it is in negative. Is this correct?
Ra: I am Ra.
This is correct.
16.31
The best way of service to others is the constant attempt to seek to share the love of the Creator as it is known to the inner self
. This involves self knowledge and the ability to
open the self to the other-self without hesitation
. This involves, shall we say,
radiating that which is the essence or the heart
of the mind/body/spirit complex.
Speaking to the intention of your question, …seek within itself the intelligence of its own discernment as to the way it may best serve other-selves. This will be different for each. There is no best. There is no generalization.
17.30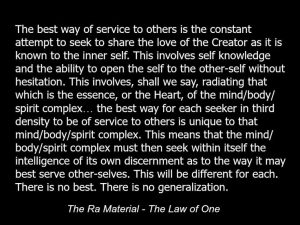 Thus we see protection being very simple.
Give thanksgiving for each moment. See the self and the other-self as Creator. Open the heart.
Always know the light and praise it. This is all the protection necessary.
32.1
Questioner: Is there a reason that I am open to these signals of a negative nature?
Ra: I am Ra.
Are you not all things?
44.6
Your query is most distorted for it assumes that creations are alike.
Each mind/body/spirit complex has its own patterns of activation and its own rhythms of awakening.
The important thing for harvest is the
harmonious balance between the various energy centers
of the mind/body/spirit complex.
48.7
Questioner:
…but why must he come into an incarnation and lose memory, conscious memory of what he wants to do and then act in a way that he hopes to act?
Ra: I am Ra. Let us give the example of the man who sees all the poker hands. He then knows the game. It is but child's play to gamble, for it is no risk. The other hands are known. The possibilities are known and the hand will be played correctly but with no interest.
Let us re-examine this metaphor and multiply it into the longest poker game you can imagine, a lifetime. The cards are love, dislike, limitation, unhappiness, pleasure, etc. They are dealt and re-dealt and re-dealt continuously. You may, during this incarnation begin — and we stress begin — to know your own cards. You may begin to find the love within you. You may begin to balance your pleasure, your limitations, etc. However, your only indication of other-selves' cards is to look into the eyes.
You cannot remember your hand, their hands, perhaps even the rules of this game. This game can only be won by those who lose their cards in the melting influence of love; can only be won by those who lay their pleasures, their limitations, their all upon the table face up and say inwardly: "All, all of you players, each other-self, whatever your hand, I love you." This is the game: to know, to accept, to forgive, to balance, and to open the self in love. This cannot be done without the forgetting, for it would carry no weight in the life of the mind/body/spirit beingness totality.50.7
The Creator does not properly create as much as It experiences Itself.
82.10