Ways to protect yourself if you haven't had the jab (or even if you have)
Update: July 17th 2021 – No longer intend to update this post, read notice:
THIS POST IS MORE LIKE A SCRAPBOOK OF NOTES I'VE TAKEN ON THIS JOURNEY TO UNDERSTANDING. It contains the most amount of notes and explanations, but I started this post before I knew what I know now & it might be a bit 'too much information' & not very well organized now that I have a better understanding. I have since created 'summary' pages & downloads that might be more preferable for those who are short on time or not as obsessive with needing to know everything.
We are not 'defenceless' in the absence of a pharmaceutical treatment for COVID-19. Here is a summary of the protocols that are being used to protect and strengthen our immune systems, as well as protocols for a positive diagnosis. This is not a substitute for medical advice, it's a collection of what is available to us to improve our chances.
If you don't have time to read right now, please at least download the summaries.
Newest Version: 17th July 2021
See: COVID-19 Phases & Targets – to learn more about symptoms of the various stages (& for downloads)
See: Innate Immune System Optimization for a quick summary on how to strengthen your "First Responders"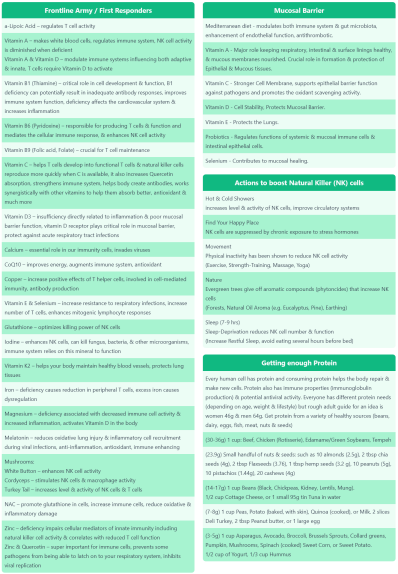 Grab a writing pad and a pen or take some notes on your computer to jot down things from my lists below that you can regularly add to or remove from your diet, that will not only boost your immunity & health, but are directly designed to combat the way that SARS-CoV-2 interacts within our cells.
Prevention of Viral entry
Prevention Boost for All & Low-Risk People:
Healthy Lifestyle: Nutrition, Sunshine (natural Vitamin D), Exercise, Supplementation, Detox, Hydration, Sleep
Eliminate Toxic Loads: Processed foods, smoking, household chemicals, fragrances, chemical detergents.
Increase: Antioxidants (

oregano

, cinnamon, turmeric, acai,

grapes

, berries, nuts, leafy green vegetables, etc.), Vitamin C foods,

Zinc

foods,

Quercetin

Foods, & add a Brazil nut (just one) to your daily intake.
Maximize Nutrition & Immune-Boosting Foods:
1.) Fresh Juices
2.) Smoothies
3.) Nourishing Soups
4.) Hearty Vegetable Slow-cooker meals
5.) Green Salads
And the obvious: Stay away from sick people if possible, and don't go to work if you are unwell.
Rough-definition of Low/High Risks:
Low-risk = Healthy young people and locations where COVID-19 isn't prevalent.
High-Risk = Over 45, co-morbidities, people with weaker immune systems, people who work in potentially higher-exposure jobs like ambulances/health professionals, taxi-drivers, aged-care, airports, hotels, hospitals, chemists, health-food shops, supermarkets, and cities with a current outbreak.
Prevention Boost for High-Risk People:
Boost Supplementation and Nutrition (see below).
Most effective Preventative Protocols: Ivermectin, Zinc + Quercetin + Vitamin C, Vitamin D,

Melatonin

.
Nebulize or Steam Inhalation: If you have been in close contact with someone who may be infected (by anything contagious – not just SARS-CoV-2), when you get home, you can use a nebulizer to try and get it while it's still in your sinuses before it incubates and moves down to your lungs (see below).
Diet
Healthy Inspiration: If you want to see how lifetime diseases get 'cured' after juicing fresh fruit and vegetables, please watch "Fat, Sick, and Nearly Dead" (01)Fat, Sick and Nearly Dead – YouTube and "Super Juice Me!" (02)Super Juice Me! – YouTube
Here are foods (or supplements), and prescription drugs directed at preventing & treating COVID-19 (and other RNA viruses):
Foods to Add:
Mucosal Immune System – Front-Line Defence
Front-line Defence: Your skin and mucous membranes are your body's first line of defence. The mucosal immune system lines the passageways throughout our entire bodies (mouth, nose, airways, eyes, digestive system, reproductive tract, & colon) and is your first line of defence against pathogens, bacteria, and viral infections – so it's important that it's functioning well as it is a critical physical barrier to outside invaders, especially vital in protecting the lungs.
As SARS-Cov-2 first infects mainly through the nasal passages, and through the mouth and initially infects the upper respiratory tract, its first interactions with the immune system must occur predominantly at the respiratory mucosal surfaces. (34)Mucosal Immunity in COVID-19: A Neglected but Critical Aspect of SARS-CoV-2 Infection Being a mucosal targeted virus, SARS-CoV-2 secretory IgA plays an important role in the early defence and viral containment.
Although most clinical studies focus on antibodies and cellular immunity in peripheral blood, mucosal immune responses in the respiratory tract play a key role in the early restriction of viral replication and the clearance of SARS-CoV-2. (35)Mucosal immunity to severe acute respiratory syndrome coronavirus 2 infection
Diet is an important regulator of the mucosal barrier. Vitamin A and vitamin D regulate the microbial complexity, barrier function, and the mucosal immune responses to ensure intestinal homeostasis. (36)Protective nutrients and functional foods for the gastrointestinal tract There are few published studies on the precise role of nutrition in the prevention or treatment of COVID-19. What is clear is that conditions of nutrient deficiency impair the functioning of the immune system and increase susceptibility to infection. Importantly, both of these consequences can be reversed by correcting the deficiency. (37)Dietary micronutrients in the wake of COVID-19: an appraisal of evidence with a focus on high-risk groups and preventative healthcare
The Mediterranean Diet (Fruits, Vegetables, Nuts, Whole Grains, Olive Oil, Omega-3 fatty acids, healthy protein). Human and animal studies demonstrate that dietary changes have rapid effects on the mucosa directly or indirectly through changes in microbiota. Diets mainly consist of macronutrients such as carbohydrates, lipids and proteins, as well as trace amounts of micronutrients such as vitamins and minerals. On a human global scale, different regional diets correspond to differences in the composition of the gut microbiota. A Western diet is characterized by excess intake of foods rich in fats, cholesterol, animal proteins, sugars and processed foods. Consequently, these diets promote low Prevotella and higher Bacteroides populations that contribute to low-grade inflammation and several diseases. Conversely, the Mediterranean diet includes greater proportions of fruits, vegetables, nuts and whole grains, which promote increased abundance of Prevotella and fibre-degrading bacteria that ferment complex carbohydrates to produce short-chain fatty acids (SCFAs) that positively influence health status. (38)Impact of diet and the bacterial microbiome on the mucous barrier and immune disorders
Along with macronutrients, micronutrients derived from both diet and microbial metabolism such as iron, B vitamins, vitamin A (retinol), and the antioxidant vitamins C and E, are essential for health and regulate microbiome composition, microbe-microbe and microbe-host interactions at the mucosal surface. (39)Impact of diet and the bacterial microbiome on the mucous barrier and immune disorders
Iron – deficiency causes reduction in peripheral T cells, (but iron-overload causes dysregulation) (40)The role of iron in the pathogenesis of COVID-19 and possible treatment with lactoferrin and other iron chelators
Vitamin C supports epithelial barrier function against pathogens and promotes the oxidant scavenging activity. Vitamin C deficiency results in impaired immunity and higher susceptibility to infections. (41)Vitamin C and Immune Function
The most common cause of inflammation of the mucous membranes are viruses, bacteria and fungi, but it can also be caused by Total Toxic Load. (42)Role for diet in normal gut barrier function: developing guidance within the framework of food-labeling regulations
Total Toxic Load—The mucosal barriers can handle a lot, but at a certain point, the total load of toxins and pathogens outweighs the barrier capacity. This could be the accumulation of toxins and chemicals from the environment, from food and water, and from personal care and household products. See the "Avoid Inflammatory Foods & Foods that weaken the Immune System" section below.
Important Vitamins, Minerals, Nutrients:
How do I add all of these into my diet?
A healthy diet will automatically include these things without needing to take a bunch of pills as a side-dish to attempt to counteract unhealthy diets (not to dismiss supplementation – but making healthier choices is not only cheaper than buying separate supplements for everything, but has the added benefit of working synergistically with other vitamins & minerals, contains added micro-nutrients and trace elements that a pill doesn't, and… healthy diet = healthier cells = cellular regeneration miracles!) Don't dismiss supplements in the interim, but "don't dismiss healthy food as a nutritious and more bio-available alternative to pill-popping" when you might even heal all your ailments as a 'side-effect'. Don't get suckered-in by good-marketing.
smoothies – It's easy to add a lot of things into one smoothie (nuts, seeds, soft fruits, oils, salads, coconut water, frozen fruits & vegetables, supplemental powders, etc.. very delicious and easy to add to a blender) (146) (147)
fresh fruit – fruit salad is delicious or choose fresh fruit for breakfast instead of cereal or as a daily snack
freshly-squeezed juice – fresh juices are delicious nutrition-powerhouses, and conveniently can be taken with you to work (148) (149)
soups – get a soup-maker if you're not 'soup-inclined' and you'll have soup-to-go in 20mins (155) (156) (157)
casseroles/slow-cooker meals can be prepared at the start of a week, and frozen for convenience (either the 'prep work' can be frozen, or the end-result – whatever's more convenient & fits your individual lifestyle needs) (158)
If you eat healthy, most of these immune-boosting foods will automatically be part of your life, and may have the added benefit of healing some of your existing issues.
"Grow your own groceries" and you can save even more money (eventually), which will massively boost the nutritional content (you'll eat with the seasons, and you'll pick fresh), and no more chemicals to worry about, and no more food-waste.
Foods that weaken & inflame the Immune System:
Vegetable Oils including Corn Oil, Sunflower Oil, Soy Oil, and Peanut Oil (159) Canola Oil, Soybean Oil, "Vegetable" oil, Safflower Oil, Cottonseed Oil, Grapeseed Oil, Margarine, Shortening, and fake butter substitutes.
They have High concentration of Omega-6 fatty acids, and these oils are processed in unnatural ways. During manufacturing they add additives and chemicals that keep them from spoiling too quickly, and many come from genetically-modified food sources. Body converts them into another fatty acid called arachidonic acid which is a building block for molecules that can promote inflammation. Substitute with coconut oil, olive oil, avocado oil, ghee, and grass-fed butter.
Sugar weakens the immune system and is the perfect weapon for pathogens and cancer, and Artificial Sweetener enhances levels of inflammatory biomarkers & suppresses the immune system.
White Bread, cookies, cakes, rolls, etc that are made with white flour all contribute to inflammation. Also likely to contain additives if store-bought in packaging that also contributes to a weaker immune system.
Pasta (substitute with vegetable pasta (zucchini,

carrots

) or other healthy-choice pastas in same section – chick pea pasta, etc.)
Soda and Energy Drinks are linked to many health issues from cardiometabolic health, to diabetes and cancer. Soda is also loaded with either sugar or artificial sweeteners, and contains artificial colours and other ingredients that also effect the gastrointestinal lining. Carbonated drinks contain phosphorous which can also lead to depletion of calcium and calcium plays an essential role in our immunity cells. (160)
Potato Chips – immune system nightmare. Fried in vegetable oil, high in salt, and contribute to immune deficiencies.
Unhealthy Fast Food – those that are high in sugar, high in salt, cooked in vegetable oil, fried, or have added unnatural seasonings.
Alcohol – Beer & cocktails especially. Excessive alcohol (more than a glass a day for women, 2 glasses for men) interferes with normal functioning of all aspects of the adaptive immune response. Increases cortisol, blood sugar, and insulin which all negatively affect the immune system. Additionally, it can influence the mucosal immune system – which is a critical first-line defence against SARS-CoV-2. (161) See also: If you must drink alcohol…
Hot Dogs, Bacon, Salami and other processed meats contain harmful chemicals that form during the manufacturing process that are usually high in salt, nitrates and other additives that can lead to oxidative stress.
Packaged Cereal. High in sugar and other additives that negatively impact your immune system. Substitute for Fresh Juice, Smoothies, Oats, Muesli, Granola, Nuts & Seeds.
Processed Canned Goods – like canned pasta – are usually filled with salt, sugar and other additives.
Cigarette Smoke Exposure is strongly associated with adverse outcomes from COVID-19 (162)
Limit:
Red Meat – Moderate amounts are ok but high amounts change your body's overall pH load to become acidic and when that happens, minerals like magnesium, calcium, potassium and bicarbonate become low. Red meat is also rich in omega-6 fatty acids, so is double-inflammatory.

If you must eat Red Meat, choose grass-fed, and even better if you can tolerate organ meats (from healthy grass-fed animals).

Think more in terms of how the Japanese serve it – don't make it the 'main' food on the plate – use it more as a 'side-dish' to the other vegetables.


Dairy. You will want to limit most dairy products if you are trying to build your immune system because it is a known trigger for people with auto-immune diseases. People who limit or eliminate dairy and replace with healthier choices generally have more energy, less pain and inflammation.

Also, to potentially sound hypocritical… pure colostrum powder shows that it is beneficial to the immune system, and that is made from the (2nd-3rd-or-4th) milking of cows shortly after they give birth (after the calves are fed), and natural yogurt that has added probiotics is also shown to be beneficial to the immune system.
Other:
At least 30 minutes of daily sun exposure (Natural Vitamin D)
(Note: you can get your Vitamin D levels checked either by online order on Amazon, etc, buy a self-test, or through your doctor or nutritionist).
Daily movement (to help expel toxins in the body, improve blood-flow, raise oxygen levels in your cells & reduce risk of morbidity) (165) (166) Exercise, Strength-Training, Massage, Yoga
Home Ventilation – open windows, invest in some form of air-filtration – even getting some indoor plants that also cleans the air – anything to improve both the air-flow and the air-quality inside.
Avoid Stress & Fear – maybe easier for some than others, but stress shuts down the immune system and switches gears to 'fight or flight' mode. Seek solutions & forgiveness for long-standing issues, play music that makes you feel good, take some downtime away from your main stressors & negative triggers, make the choice to place your mental health as high on your priority list as your physical health. (167) (168)
InfraRed Saunas – Especially if you have had a lifetime of antibiotics and are not prone to fever – there are some infections in the body that can only be killed with heat and if you are someone that doesn't naturally generate a fever, your body may be experiencing disruption already. There are a tonne of benefits to infrared saunas that I hope to remember to reference here.
If that is completely out of the question for your situation, red-light therapy is a cheap (albeit far less-effective) option that you can purchase on ebay/amazon, etc.
There is also a tonne of research regarding thermal therapy (aka hyperthermia therapy or heat-therapy) as a cancer treatment. (169) And there may be a link between these bacteria that we have been unable to 'fight-with-fever' and Alzheimer's, Parkinson's, A.L.S, and M.S. (170)
Hot & Cold Contrast Showers – (3 mins hot, 30 secs cold, 3 times) increases level & activity of NK cells, improves circulatory systems, flushes out lymphatic system, & stimulates immune cells throughout body. (171) (172)
EMF Protection – could write a book on all the ways and share thousands of references, but if you can limit your EMF exposure – unplug the router at night, live away from towers, reduce your screen-time, get a grounding mat/sheets, Blue-light blockers, or just do what you can to limit your exposure, you will be doing your body and immune system a big favour.
Deep, Restful Sleep (7-9 Hrs)- Sleep-Deprivation reduces NK cell number & function. (173) During sleep, your immune system releases proteins called cytokines, some of which help promote sleep. Certain cytokines need to increase when you have an infection or inflammation, or when you're under stress. Sleep deprivation may decrease production of these protective cytokines. In addition, infection-fighting antibodies and cells are reduced during periods when you don't get enough sleep. (174) This one is on my wish-list as someone who is an insomniac, but most of the bodies healing, repairing, detoxing, "fixing stuff", happens during sleep, and it's also important not to eat before you sleep – and more important the older you get. It's like 2 hours for the young and then increases up to 5-6 hours as you get older (this is going by memory) – I think the premise is matched to the speed of your digestion. So don't eat before you sleep for best health benefits. Ideally we function better by sleeping when it gets dark but electricity and modern lifestyle has ruined our circadian rhythm.
Grow herbs in your window sill, balcony or backyard, and you'll have freshly-grown immune-support at your fingertips (more potency if freshly-picked and organic). All herbs contain some sort of healthy benefit with most of them containing antibacterial, antiviral, or anti-fungal properties that help fight off infections or help eliminate toxins. Some good herbs to grow and use regularly for COVID-19 would be: Oregano, Holy Basil, Thyme, Sage, Garlic, and Ginger.
Drink Green Tea – it contains

epigallocatechin-3-gallate

(EGCG) which exhibits antiviral activities against various viruses = ESPECIALLY positive-sense

single-stranded RNA viruses

! (175)
Nature – Forests, Natural Oil Aroma (e.g. Eucalyptus, Pine), Earthing – evergreen trees give off aromatic compounds (phytoncides) that increase NK cells (176)
Antioxidants – Improves different immune functions, important protective role in infections caused by bacteria, viruses or parasites (177) Artichokes, Berries, Pecans,

Red Cabbage

, Beans, Red Grapes, Spinach, Beets, Kale, Orange Vegetables, Oregano, Cinnamon, Turmeric, Acai, Grapes, Berries, Nuts, Leafy green vegetables, Vitamin C, Co-Q10.
Ayurvedic herbs which may be helpful as antiviral, antioxidant immunity modulator: Haldi-Cucuma longa-Turmeric, Sahajan-Morninga oleifera-Drumstick, Saunth-Zibgiber officinale-Dry

ginger

, Marich-Piper nigrum-Black pepper, Pippali-Piper longum, Loung-Syzygium aromaticum-clove, Tulsi-Ocimum tenuiflorum, Kutki-Picrorhiza kurroa, Chirayata-Swertica chirata, Nimbu-Citrus limon-lemon, Giloy-Tinospora cordifolia, Yesthi madhu-Glycyrrhiza glabra, Gojivaha-Onosma bracteatum, Dalchini-Cinnamomum verum, Ashwagandha-Withania somnifera, Amla-Phyllanthus emblica-gooseberry, Dhaniya-Coriandrum sativum, Lahasvan-Allium sativum–Garlic, Ajwayan-Trachyspermum ammi-bishops weed or carom seeds, Pudina-Mentha arvensis– Mint, Banfasha-Viola odorata Linn-wild violet/sweet violet, Shirish-Albizia lebbeck, Kantkari-Solanum virginianum-wild

eggplant

, Vasa-Justicia adhatoda-malabar nut Tej patra-Cinnamomum tamala-Indian bay leaf, Nim Patra-Azadirachta indica (leaves), Kalmegha-Andrographis paniculata. (178)
Prescription Drugs
Ivermectin (IVM):
Ivermectin, a drug for eradicating worms, has recently been shown to decrease the entry of SARS-CoV-2 into cells by a factor of 5000, with just one application. Ivermectin is inexpensive and has a high safety profile.
Numerous, controlled clinical trials from multiple centres and countries worldwide are reporting consistent, large improvements in COVID-19 patient outcomes when treated with ivermectin. (179)One-page summary of the scientific review on ivermectin.
1) Ivermectin inhibits the replication of many viruses, including SARS-CoV-2, influenza, and others;
2) Ivermectin has potent anti-inflammatory properties with multiple mechanisms of inhibition;
3) Ivermectin diminishes viral load and protects against organ damage in animal models;
4) Ivermectin prevents transmission of COVID-19 when taken either pre- or post-exposure;
5) Ivermectin hastens recovery and decreases hospitalization and mortality in patients with COVID-19;
6) Ivermectin leads to far lower case-fatality rates in regions with widespread use.
I really hope I can create a video on all the studies because I want to tell you about them all – it's incredible and has became my obsession! Don't get me started when you pick up the phone and call me, because if you ask me about it, I won't shut up for an hour explaining everything I've learned about it :) and some believe the entire pandemic could be over in a few weeks if they knew about Ivermectin.
Please make sure you make it a priority to learn about it – I would start with this video: compelling summary of the studies presented to the US Senate. I also recommend having Ivermectin on-hand in case you or a loved-one contracts COVID-19, or to use as a preventative if you are in a high-risk position (taxi drivers, health-care providers, caregivers of high-risk patients, people who use public transportation, first responders, etc.), or if you are a high-risk individual (aged over 45 with co-morbidities, morbid obesity, long-term care facility, etc.).
Before using, please check for potential drug interactions (such as cyclosporin, tacrolimus, anti-retroviral drugs, and certain anti-fungal drugs) at Ivermectin Drug Interactions – Drugs.com (180)Ivermectin Drug Interactions – Drugs.com
See also:
Over-the-Counter
Dosages
The dosage recommendations are adjusted as new research comes to light throughout the pandemic. Over 70 clinical trials are in play for supplements for COVID-19. One source I trust for up-to-date information about dosages is the team who is keeping on top of all the latest research and frontline-results – FLCCC. So I suggest getting the latest dosage-recommendations from their website. https://covid19criticalcare.com/covid-19-protocols/
(Every time I add the dosages on my blog, they change the recommendations again based on what is most effective from looking at the latest research so linking directly to them will be easier and more up-to-date & accurate). (206)I-MASK+ Prevention & Early Outpatient Treatment Protocol for COVID-19
If you get COVID-19:
All of the above (everything in the Preventative section) except in higher doses (read latest up-to-date protocols for recommended dosages, as research continues to come in as trials are completed).
Other Useful Resources I've bookmarked to check out:
(217)The role of ACE-2 in COVID-19 (218)Resveratrol and ACE-2 (219)Resveratrol vs. the MERS coronavirus (MERS does not use ACE-2 for entry into cells, so this study demonstrates other anti-coronavirus actions of resveratrol. The authors recommend resveratrol as treatment for MERS.) (220)Curcumin and ACE-2 (221)No association between prior use of ACE inhibitors or ARBs and severity of COVID-19 (222)Coronavirus disease is not increased in immune suppressed patients (223)Serum angiotensin 2 is directly related to viral load and disease severity in Chinese patients with COVID-19. This is the only paper that supplies actual evidence, not speculation. The authors call for the use of ARBS to ameliorate COVID-19. (224)ARBs protect against ARDS and may be good for COVID-10 patients (opinion) (225)A role for ARBs in the body's defense against COVID-19 (opinion) (226)In vitro effectiveness of hydroxychloroquine vs chloroquine against COVID-19 (227)Open label study of hydroxychloroquine plus azithromycin on viral load. Study was recently expanded to 90 patients (not published). (228)Ivermectin prevents SARS-CoV-2 from entering cells (229)Research on quercetin as treatment for COVID-19 (McGill Tribune) (230)The role of mast cells in COVID-19 infection (luteolin inhibits mast cells) (231)Anti-viral effects of microwave ovens (232)The origins of SARS-CoV-2 and the role of Furin and ACE-2 (233)Unique structure and function of the SARS-CoV-2 spike protein (234)The role of furin in the spread of SARS (235)Nice review from the American Nutrition Association; what's lacking is an emphasis on Furin and on enhancement of ACE-2 activity (236)Zinc supplementation decreases resistance to C.
Site Notifications/Chat: 
Videos: