[Notes] Bacillus subtilis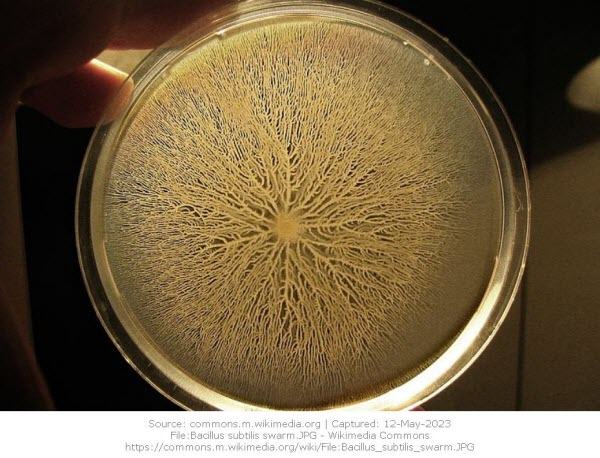 This post is to remind me to look into "Bacillus subtilis" when I get the chance. I woke up this morning thinking it was important that we understand it as the "gut microbiome" has been coming up for me a lot in my research into what "they are doing to us" (i.e. is something they are doing to kill us off disrupting or inhibiting necessary microorganisms?).
One study for example suggests "SARS COV-2 mRNA vaccine decreases levels of bifidobacteria (P = 0.0065)" (Bifidobacteria are beneficial gut microbes), and another study showed "severely symptomatic SARS-COV-2 patients had significantly less bacterial diversity (Shannon Index, p=0.0499; Simpson Index, p=0.0581), and positive patients overall had lower relative abundances of Bifidobacterium (p<0.0001), Faecalibacterium (p=0.0077) and Roseburium (p=0.0327), while having increased Bacteroides (p=0.0075). The study authors hypothesize that low bacterial diversity and depletion of Bifidobacterium genera either before or after infection led to reduced proimmune function, thereby allowing SARS-CoV-2 infection to become symptomatic. In other words – the lack of beneficial gut bacteria is 'potentially' the reason people "got severely sick". The same authors in another (retracted) study, suggested a hypothesis that "Ivermectin Feeds Bifidobacteria to Boost Immunity", and that an increase in Bifidobacterium levels can reduce inflammation levels and TNF-α function, thereby calming the cytokine storm. They said IVM has antibacterial affects against Staphylococcus aureus and other gram-positive bacteria, but not Bifidobacterium (rather IVM mechanisms of action is through feeding of Bifidobacterium), and that both IVM and Bifidobacterium act against S. auereus. Interestingly, and it looks like the same authors again, did another study that showed high-dose vitamin C supplementation improves the gut bacteria: "Patients receiving ascorbic acid supplementation had increased abundance of Bifidobacterium in their gut microbiome, which may help to explain some of the apparent health benefits and antiviral properties of vitamin C."
I'm not sure if many scientists are even looking at this important topic because most studies are performed due to grants – and most grants are funded by pharma.
The enzymes Nattokinase (found in Nattō; a Japanese food made with soybeans fermented with Bacillus subtilis) and Serrapepetase (isolated from the bacteria Serratia E15, found in silkworms) are being recommended as "clot busters" to breakdown the calamari-like clots that are being found in those who held out their arms for a global bio-weapon experiment.
Note: GMO Soy is Poison/Toxic
I am pretty ignorant to this side of things and want to understand it. Is there credible evidence that it works with no down-sides, or is it something they want to get us to take for another reason (to do with synthetic biology and gene-editing), or what is going on in this whole area, what is all that I don't know to do with whatever is currently going on in the world with the entire planet being weaponized and it's connection to our gut microbes?
I trust nothing until I look into it fully and understand it completely, but I don't have time to fully look into this at the moment but wanted to keep a post to remind me to deep dive into it later.
Maybe there are good types and bad types, maybe it is useful and also being weaponized. I don't know, but I think we should find out before we recommend it to people who are suffering, and yet, it's probably urgent to find out sooner rather than later because if it's actually an antidote, delaying could mean unnecessary death. I'm not intentionally trying to confuse anyone, I'm "confused" myself, so ignore my post if you stumbled upon it for anything definitive, this is literally just notes for my own record and my own curious and skeptical nature.
There is no rhyme nor reason for the references below other than "this caught my eye".
Patents
PubMed
Slideshows
Nattō Articles & Testimonials
Bacillus subtilis Articles
Britannica
Browsing ResearchGate
Posts tagged: Bacillus subtilis | Synthetic Biology | Nattokinase

Site Notifications/Chat: 
Videos: