Newest WordPress Plugins for Twitter
Posts your blog updates to your twitter account. Login to twitterfeed using your OpenID, provide the URL for your blog RSS feed, and how often to post to Twitter. (You can use TwitterFeed to post your YouTube updates to Twitter too).
Allows you to update your Twitter status right from your blog's sidebar. Powered by Ajax.

PHP script to feed RSS to Twitter.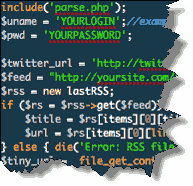 Plurk Updater sends a Plurk to your account anytime you create, publish, or edit a post on your WordPress blog. You can pick and choose when Plurks are sent and what text is passed along with it.
Displays your twitter feeds on your blog, including @username and link parsing, feeds that include friends or just one user, and can even display profile images for the users.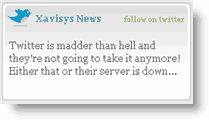 A modified version of the Official Twitter badges (not a wordpress plugin, you can use this on any of your normal sites too).
* The twitterer's icon, links to their twitter page.
* One or more of the twitterer's recent tweets.
* Tweet date-stamp that links to that tweet's permalink.
* More CSS hooks for more advanced styling, including: 'first', 'last', 'even', and 'odd' classes on the list item tags.
A TwitterCard is a compact twitter widget that acts as your Twitter business card on your website.
Your TwitterCard introduces you by showing your recent status, your picture and your bio.
A plugin that adds a Twitter icon to every post and page, so your readers can share your blog entries on their Twitter accounts with ease. Shortens URLs in advance. Tested in WordPress 2.6.2, 2.0.11, and 1.5.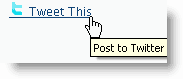 Adds a sidebar widget containing a subtle list of all your social homes as linked favicons.
Current services include:
BlogCatalog, Blogger, BUMPzee, Dailymotion, Delicious, Digg, Facebook, Flickr, FriendFeed, Jaiku, Last.fm, LinkedIn, LiveJournal, Ma.gnolia, MyBlogLog, MySpace, Pownce, reddit, StumbleUpon, Technorati, Twitter, Utterz, Vimeo, VIRB°, XING, YouTube, Zooomr

This plugin allows you to automatically post your new posts on the twitter website. This is good because for example the ipod and iphone for example have a large amount of twitter clients to pick from. Your blog posts will arrive to people while they are walking the streets.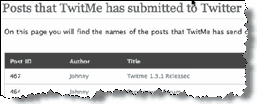 Lifestream displays your social feeds and photos much like you would see it on many of the social networking sites.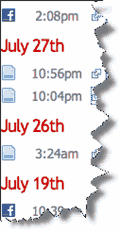 WP-TwitterPitch is all about getting the pitch delivered to you in the form you want to get it delivered – in other words in Twitter format.
This plugin provides a template tag that you can drop anywhere in your theme. Clicking the link provides lightbox-like functionality for a "pitch form". Using the form does not require a Twitter account (but does require that you have a secondary Twitter account you can use for this purpose, since you can't send Direct Messages to yourself via Twitter). Note: Your WP-TwitterPitch Twitter account must follow the account that is being pitched and vica versa. This is a one-off action (hopefully, depending on Twitter) and only needs to be done when setting up WP-TwitterPitch. Messages sent from the form are DMmed to the account getting the pitch and the form is limited to 140 characters or less.
Gets your Plurks and puts them in a readable format on your blog. It uses the says/is/thinks… tags you know and love.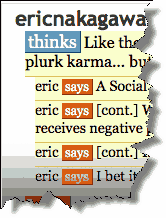 Uses the power of jQuery to twitter to your website in a widget. Just set install, add the widget, set your username and you are on your way!
Hey Social is a way to interact with the visitors of your blog, so that they can submit your posts and pages to the most famous Social services, such as Digg, Twitter, De.licio.us and so on. This plugin makes heavy use of JavaScript effects to impress visitors with the latest technique of Web 2.0.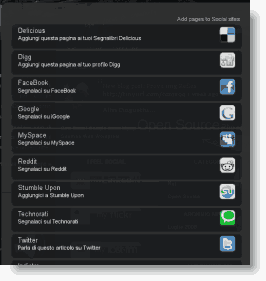 This plugin lets you show a different greeting message to your new visitors depending on their referrer url. For example, when a Digg user clicks through from Digg, they will see a message reminding them to digg your post if they like it. Another example, when a visitor clicks through from Twitter, they will see a message suggesting them to twit the post and follow you on Twitter. You can also set a default greeting message for new visitors (not matching any referrer URLs) suggesting them to subscribe to your RSS feed. Having these targeted suggestions will help your blog increase exposure and loyal readership. Best of all, this plugin is compatible with various WordPress cache plugins so you do not have to sacrifice speed.
Currently the following referrers are installed by default, but you can easily create your own if your favorite referrer is not on the list!
* del.icio.us
* digg.com
* google.com
* yahoo.com
* stumbleupon.com
* technorati.com
* twitter.com



iBegin Share is an easy to use tool that allows you to make it easy to share and spread your content across the web. Features built-in support for email, the social web & bookmarks, Word Document, PDF, and printing.
SocioFluid adds to your wordpress posts the buttons to the major bookmarking sites. Not this version, but the next version will have Twitter in it – if enough people "Vote" for it.
This plugin is using the Twitter API to get and post the updates.
1. You can update your twitter status from your blog
2. You can view and display public updates on your blog
3. You can view and display your followers updates on your blog
4. You can view and display your followers on your blog and increase your followers
5. Widget Ready, just need to enable to use
7. Display anywhere on your blog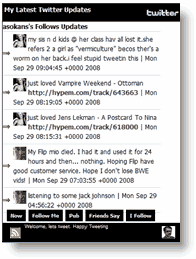 Cool Widget that allows you to give love to the people that follow you on Twitter. You can choose different display styles of either picture only or picture, username, and most recent tweet. Due to Twitter limit on API hits, I cache the friend list and only hit Twitter every 5 minutes to avoid getting "Over the limit errors"
Integrate TwitterCounter.com badges on your blog to display the number of followers you have on Twitter

Here's a fun little script that'll aggregate your Digg, Twitter and Del.icio.us activity and post it to your WordPress blog. It uses the WordPress cron system and can be configured to search for updates by the hour or on a daily basis. SocialBoaster works by grabbing the contents of your Twitter Tweets, and Digg/Del.icio.us bookmarks and creating posts for them on your blog. SocialBoaster is designed to be unobstrusive.