[Ra] The Law Of One – Book 5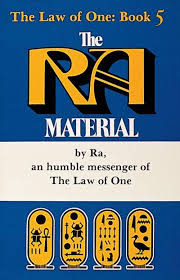 Here are my notes from Book V.
You can also Download all 5 books in PDF format for free here.
The Law Of One: Book V
Questioner: Is there a way for these Wanderers to heal themselves of their physical ailments?
Ra: I am Ra. This will be the last complete question of this time/space. The self-healing distortion is effected through realization of the intelligent infinity resting within. This is blocked in some way in these who are not perfectly balanced in bodily complexes. The blockage varies from entity to entity. It requires the conscious awareness of the spiritual nature of reality, if you will, and the corresponding pourings of this reality into the individual mind/body/spirit complex for healing to take place.
Questioner: Are there any foods that are helpful or harmful that the instrument might eat?
Ra: I am Ra. This instrument has body complex distortion towards ill health in the distortion direction corrected best by ingestion of the foodstuffs of your grains and your vegetables as you call them. However, this is extremely unimportant when regarded as an aid with equality to other aids such as attitude which this instrument has in abundance. It, however, aids the vital energies of this instrument, with less distortion towards ill health, to ingest foodstuffs in the above manner with the occasional ingestion of what you call your meats, due to the instrument's need to lessen the distortion towards low vital energy.
Questioner: The second question that the instrument requested is: How may I best revitalize my self not only now but in the future?
Ra: I am Ra. This instrument is aware of the basic needs of its constitution, those being meditation, acceptance of limitations, experiences of joy through association with others, and with the beauty as of the singing, and the exercising with great contact, whenever possible, with the life forces of second density, especially those of trees; this entity also needing to be aware of the moderate but steady intake of foodstuffs, exercise being suggested at a fairly early portion of the day and at a later portion of the day before the resting.
Thus we see protection being very simple. Give thanksgiving for each moment. See the self and the other-self as Creator. Open the heart.
Always know the light and praise it. This is all the protection necessary.
Firstly, it is correct that each in this dwelling place has one Oversoul, as you may call it. However, due to the repeated harmonious interactions of this triad of entities there may be seen to be a further harmonious interaction besides the three entities' Higher Selves; that is, each social memory complex has an Oversoul of a type which is difficult to describe to you in words. In this group there are two such social memory complex totalities blending their efforts with your Higher Selves at this time.
I had one experience in meditation which I spoke of before which was very profound approximately twenty years ago, a little less. What disciplines would be most applicable to create this situation and this type of experience?
Ra: I am Ra. Your experience would best be approached from the ceremonial magical stance. However, the Wanderer or adept shall have the far greater potential for this type of experience which, as you have undoubtedly analyzed to be the case, is one of an archetypal nature, one belonging to the roots of cosmic consciousness.
Questioner: Can you tell me what the tone was that I heard in my left ear when you started your communication?
Ra: I am Ra. This was a negatively oriented signal.
Questioner: Can you tell me how I would hear a positively oriented signal?
Ra: I am Ra. Two types there are of positive signal. First, in the right ear location the signal indicates a sign that you are being given some unworded message saying, "Listen. Take heed." The other positive sign is the tone above the head which is a balanced confirmation of a thought.
Questioner: Are there any other negatively oriented signals that I get?
Ra: I am Ra. This is correct. You are able to receive thought-forms, wordforms, and visions. However, you seem able to discriminate.
Questioner: Is there a reason that I am open to these signals of a negative nature?
Ra: I am Ra. Are you not all things?
Questioner: This is very revealing to us. Thank you. Each of us gets signals and dreams. I have been aware of clairaudient communication at least once in waking up. Can you suggest a method whereby we might be able, shall I say, to nullify the influence of that which we don't want of a negative source?
Ra: I am Ra. There are various methods. We shall offer the most available or simple. To share the difficult contact with the other-selves associated with this working and to meditate in love for these senders of images and light for self and other-selves is the most available means of nullifying the effects of such occurrences. To downgrade these experiences by the use of intellect or the disciplines of will is to invite the prolonging of the effects. Far better then to share in trust such experiences and join hearts and souls in love and light with compassion for the sender and armor for the self.
Questioner: What I am trying to get at in this session is if there are any practices that we might be able to do to best revitalize the instrument, for it is going to be necessary to do all we can in order to maintain our contact.  Can you tell us what we can do to increase the instrument's vitality for these contacts?
Ra: I am Ra. Your experience was a function of your ability to contact intelligent infinity. Therefore, it does not have a direct bearing upon this instrument's vital energy. We have spoken before of those things which aid this instrument in the vital energy: the sensitivity to beauty, to the singing of sacred music, to the meditation and worship, to the sharing of self with self in freely given love either in social or sexual intercourse. These things work quite directly upon the vitality. This instrument has a distortion towards appreciation of variety of experiences. This, in a less direct way, aids vitality.
He was accustomed, when a family member got a cold or illness, to calling the Practitioner, who would spend time in prayer and meditation, affirming the perfection of whatever seemed to be imperfect. This method of thinking is extremely valuable, and I do want to give credit to this marvelous practice of affirming perfection. For that is the overriding truth— behind all of this seeming imperfection there is utter perfection beyond telling or measure.
This is why we suggested the instrument's thoughts dwelling upon the possibility of its suggesting to its higher self the possibility of some slight reservation of energy at a working. This instrument at this time is quite open until all resources are quite exhausted.
Questioner: Would this be an exercise of meditation and contemplation upon the alleviation of these problems?
Ra: I am Ra. No.
Questioner: What would she do then in order to alleviate these problems?
Ra: I am Ra. As we have said, this instrument, feeling that it lacked compassion to balance wisdom, chose an incarnative experience whereby it was of necessity placed in situations of accepting self in the absence of other-selves' acceptance and the acceptance of other-self without expecting a return or energy transfer. This is not an easy program for an incarnation but was deemed proper by this entity. This entity therefore must needs meditate and consciously, moment by moment, accept the self in its limitations which have been placed for the very purpose of bringing this entity to the precise tuning we are using. Further, having learned to radiate acceptance and love without expecting return, this entity now must balance this by learning to accept the gifts of love and acceptance of others which this
instrument feels some discomfort in accepting. These two balanced workings will aid this entity in the release from the distortion called pain.
The limitations are, to a great extent, fixed.
Questioner: Was the original problem with the kidneys some 25 years ago caused by psychic attack?
Ra: I am Ra. This is only partially correct. There were psychic attack components to the death of this body at that space/time. However, the guiding vibratory complex in this event was the will of the instrument. This instrument desired to leave this plane of existence as it did not feel it could be of service.
Questioner: You are saying then that the instrument itself created the kidney problem at that time?
Ra: I am Ra. The instrument's desire to leave this density lowered the defenses of an already predisposed weak body complex, and an allergic reaction was so intensified as to cause the complications which distorted the body complex towards unviability. The will of the instrument, when it found that there was indeed work to be done in service, was again the guiding factor or complex of vibratory patterns which kept the body complex from surrendering to dissolution of the ties which cause the vitality of life.
Questioner: Can you tell me the most appropriate method in attempting to alleviate the instrument's physical problems?
Ra: I am Ra. The basic material has been covered before concerning the nurturing of this Instrument. We recapitulate: the exercise according to ability, not to exceed appropriate parameters, the nutrition, the social intercourse with companions, the sexual activity in green ray or above, and in general, the sharing of the distortions of this group's individual experiences in an helpful, loving manner.
These things are being accomplished with what we consider great harmony, given the density in which you dance. The specific attention and  activities, with which those with physical complex distortions may alleviate these distortions, are known to this instrument.
Ra: I am Ra. Consider, if you will, that you have no ability not to serve the Creator since all is the Creator. In your individual growth patterns appear the basic third-density choice. [Further, there are overlaid memories of the positive polarizations of your home density.] Thus your particular orientation is strongly polarized towards service to others and has attained wisdom as well as compassion.
In these latter days of crystal technology, it is not surprising that crystals can be seen to have power. It is their magnetization by the people who have them, or give them, that makes them unique beyond their structure's singularity. They need to be handled with care, I think. I have been told many stories of the effects, good and bad, of such magnetized stones. If you receive one, or are drawn to one, be sure to cleanse it in salt water overnight, and then magnetize it for your own use by holding it during meditation and asking silently that it be blessed for service.
The allergy may be seen to be the rejection upon a deep level of the mind complex of the environment of the mind/body/spirit complex. Thus the allergy may be seen in its pure form as the mental/emotional distortion of the deeper self.
Firstly, it would be well for the scribe to engage, if not daily then as nearly so as possible, in a solitary strenuous activity which brings this entity to the true physical weariness. Further, although any activity may suffice, an activity chosen for its intended service to the harmony of the group would be quite efficacious.
The second activity is some of your space/time and time/space taken by the entity, directly or as nearly so as possible to the strenuous activity, for solitary contemplation.
Thirdly, the enthusiastic pursuit of the balancing and silent meditations cannot be deleted from the list of helpful activities for this entity.
This is the key. Continue in thanksgiving and gratitude for all things. Each entity must, in order to completely unblock yellow ray, love all which are in relationship to it, with hope only of the other selves' joy, peace, and comfort.
We encourage the instrument to value itself and to see that its true requirements are valued by the self. We suggest contemplation of true richness of being.
Questioner: Could you please tell me what caused Jim's kidney problem to return, and what can be done to heal it?
Ra: I am Ra. The entity, Jim, determined that it would cleanse itself and thus would spend time/space and space/time in pursuit and contemplation of perfection. The dedication to this working was intensified until the mind/body/spirit complex rang in harmony with this intention. The entity did not grasp the literal way in which metaphysical intentions are translated by the body complex of one working in utter unity of purpose. The entity began the period of prayer, fasting, penitence, and rejoicing. The body complex, which was not yet fully recovered from the nephrotic syndrome, began to systematically cleanse each organ, sending all the detritus that was not perfect through kidneys which were not given enough liquid to dilute the toxins being released. The toxins stayed with the body complex and reactivated a purely physical illness. There is no metaphysical portion in this relapse.
The healing is taking place in manifestation of an affirmation of body complex health which, barring untoward circumstance, shall be completely efficacious.
The patterns of illness, disease, and death are a benignant demesne within the plan of incarnational experience. As such, some healing would occur by decision of mind/body/spirits, and incarnations were experienced with the normal ending of illness to death, accepted as such since without the veil it is clear that the mind/body/spirit continues. Thusly, the experiences, both good and bad, or joyful and sad, of the mind/body/spirit before veiling would be pale, without vibrancy or the keen edge of interest that such brings in the post-veiling mind/body/spirit complex.

Site Notifications/Chat: 
Videos: