They want Australians 'to forget' about the last two years of "Keeping Us Safe" [Police]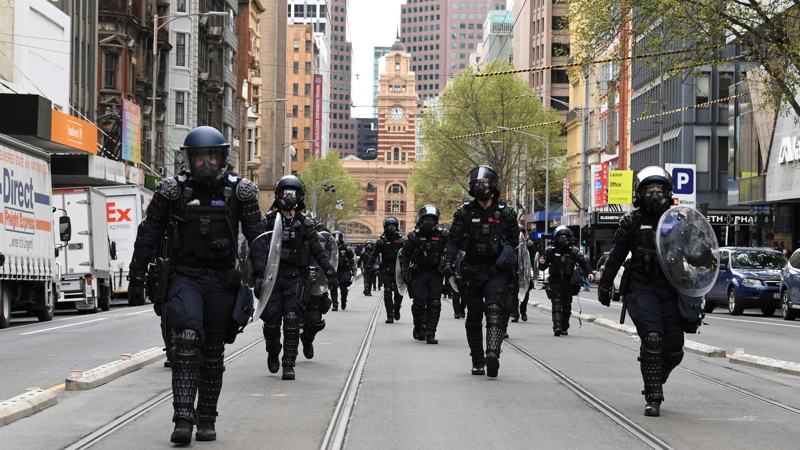 Victoria Police wants Australians 'to forget' about the last two years of "overreach and brutality" and crazy, draconian mandates.
Shooting rubber bullets at peaceful protestors fleeing and spraying canisters of pepper spray on old woman hit to the ground is images that will be there for a lifetime. Unbelievable!
"Terrorists tactics" on unarmed civilians that was a serious offence against the reputation of the police and brought them into disrepute.
YouTube | Rumble (Mirror) | Download on Telegram (01) April 3, 2022 | Sky News | Victoria Police wants Australians 'to forget what they've been up to'
Victoria Police wants Australians 'to forget what they've been up to'
Sky News host Rita Panahi says Victoria Police wants Australians to "forget" about recent history after two years of "overreach and selective policing".
"The Victoria Police hierarchy want to rebuild their brand," she said.
"Victoria Police command wants you to forget about what they've been up to for the past couple of years, you know harassing old women on park benches, arresting pregnant women in their kitchens for Facebook posts, enforcing playground bans on children and their brutal response to anti-lockdown protesters.
"Yes, please forget all that and remember they are on our side."
Ms Panahi said Victoria Police's public image was "badly damaged" and as long as the likes of Assistant Commissioner Luke Cornelius hold key positions, who she compared to Chief Wiggum, that would not change.
"Police command needs a cleanout starting with Assistant Commissioner Luke Cornelius," she said.
We Won't Forget | Melbourne CBD | Riot Squad
Riot Police unleash on protestors after lethal-experimental-injections are made mandatory for construction workers 
Rumble | Telegram | SkyNews (02) Sept 21, 2021 | Sky News | COVID-19: Australian riot police fire rubber bullets at anti-lockdown protesters in Melbourne https://news.sky.com/story/covid-19-australian-riot-police-fire-rubber-bullets-at-anti-lockdown-protesters-in-melbourne-12414439
We Won't Forget | Melbourne | Elderly Woman Knocked down & Pepper-Sprayed
30 September, 2021 Rumble | Telegram | Daily Mail (03)Horrific moment policemen shove woman to the ground and pepper spray her face as she lay hurt on the road – as protest over lockdown erupted into violence on the streets of Melbourne … Click for full citation
POLICE STATE: Australians Mass Protest After Churches Raided, Moms Arrested, Citizen Snitches
Sept 2021 | YouTube | Rumble (Mirror) | Download on Telegram | CBN News (04) September, 2021 | CBN News | Is Australia Under Lockdown Still a Free Country? 'The Media Has Just Scared People Senseless' https://www1.cbn.com/cbnnews/world/2021/september/is-australia-under-lockdown-still-a-free-country
Police helicopters look for lockdown violators.
Officers have fired rubber bullets and tear gas at anti-lockdown protesters, including children.
Pregnant women arrested.
Pastors thrown in jail.
Australia has unleashed such control that many are calling it a police state.
Citizens snitching on each other.
Experts say the Media has scared people senseless, needlessly.
We'll never forget that they refused to tell the general public what was actually going on, even going so far as banning the media from covering the protests (05) Sky News Victoria Police censored 'vital' media coverage of Melbourne protests (even though the media can't be trusted and was reporting lies and disinformation the entire time)
Loss of Freedom Has Been "Normalized"
We asked Evan Mulholland at Australia's conservative think tank, the Institute of Public Affairs, if he still considers Australia a free country.
"Well, it's a good question," Mulholland replied, "It's a question a lot of people across the political spectrum have been asking. These things don't happen in a vacuum. They happen when the political and cultural elites slowly take away our freedoms and they become normalized."
Australians have also begun turning one another into authorities, East German style. When an Australian mother was desperate to find a way home with her son and needed to cross a state border, violating lockdown restrictions, she was turned in to police.
And for What?
With this kind of behavior, you might think many thousands of Australians have died from COVID.
The death toll is under 1,200, out of a nation of 25 million people, or about .0047 percent of the population.
Almost three times that many Australians die every week from normal causes.
But one poll showed most Australians favor living without freedom because they are more worried about COVID than any other western nation.
Allan says, "The media has just scared people senseless. The average person thinks, 'If I catch this, I'm going to die.'"
And we will never forget the good police, the heroes, who stood up to this tyranny and joined the people.
See also posts tagged 'rallies'
Site Notifications/Chat: 
Videos: