[Hatonn] Future Traumatic Event, The Choice, & Harvest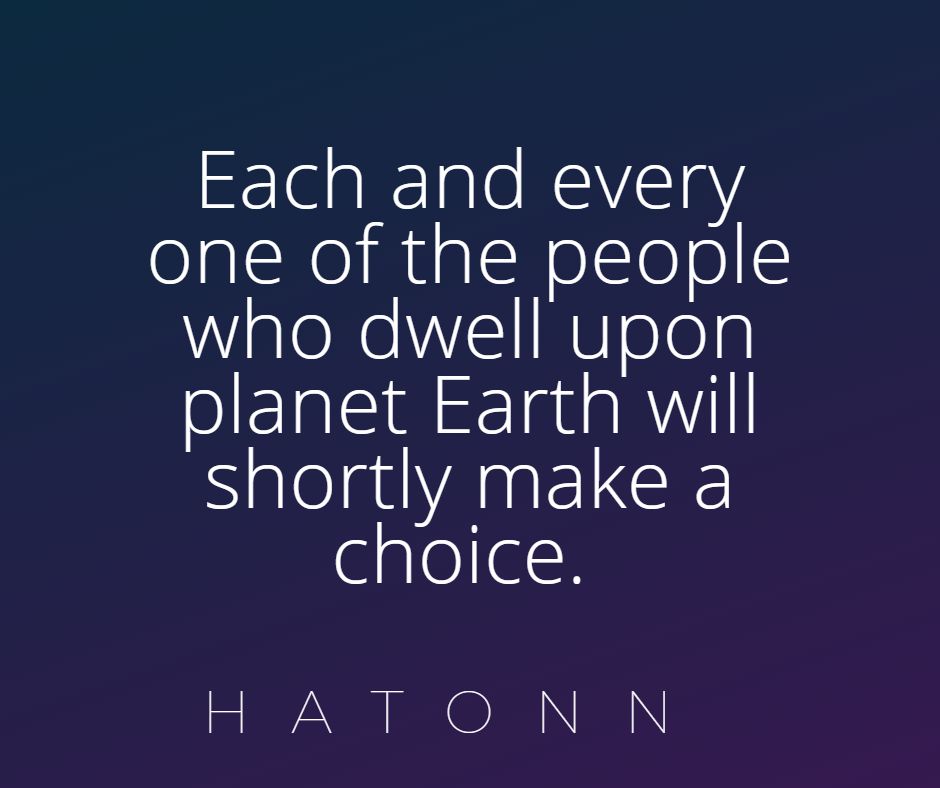 Finally, in the last lot of Hatonn channellings in Carla's introduction to the Ra Material that I thought was interesting, was in relation to a highly traumatic future event – it may not be related to COVID (these channellings are decades old), but I thought worth publishing to contemplate:
There is a season upon your planet which shall be highly traumatic within your physical illusion. The physical reasons for this are varied. Your scientists will spend a great deal of time, while they can, in attempting to catalog and describe each of the conditions which will produce disaster on this physical plane of your planet. That which your scientists speak of is quite so, and will be part of the program which has been predicted by all of those holy works which you have upon the face of the Earth.
It is not either permissible or possible for us to tell you precisely what events will occur, or when they will occur, due to the fact that the vibration within the mind and heart of the peoples upon your planet is determining and will determine the precise events. There is within the planet Earth a great deal of karma which must be adjusted as the cycle changes, and these things will manifest. Precisely when, and how, we cannot say, nor would we wish to, my friends. For the rain, and the wind, and fire, will destroy only those things which are in what you call the third density of vibration. You may value those things because you cannot imagine what a fourth-density existence will be like. We suggest to you that you spend no time concerning yourselves with the effort of maintaining your third density existence after the vibration change to fourth density has been completed. If, within your spirit, your graduation day has come, those things necessary for your emergence into fourth density will be done for you. All will be accomplished by helpers which you must be aware that you have.
It is extremely possible that damage will occur to those things which you identify with yourself in the third density. If we may speak plainly, you will observe the valley of the shadow of death. These very words, my friends, have been spoken to you before, and yet you cling to that physical body and those physical surroundings as though your spirit were attached quite permanently to them.
May we suggest to you that you can find your spirit neither in your head, nor in your hands, nor in your chest, nor in your legs, nor in your feet, that nowhere can you find your spirit; nowhere can you operate to remove it, nor to aid it. Your spirit resides within a shell. The shell may be removed, but that is no matter. The spirit does not perish.
What is the metaphysical meaning of this suggested physical trauma of our planet? The Confederation suggests that the planet itself is moving into a new vibration, a new portion of space and time, which many have called the New Age, but into which we shall not be able to enter unless we have indeed learned the lessons of love which it has been our choice to learn or not to learn for many incarnations. Therefore the Confederation suggests that it is very important to choose to follow the positive path or not to follow it:
There is a choice to be made very shortly, and it would be preferable if all of the people of this planet understand the choice that is to be made. It will be difficult for many of the people of this planet to understand what this choice is, because it is a choice that they have not considered. They have been much too involved in their daily activities and their confusion and their desires of a very trivial nature to be concerned with an understanding of the choice that they are very shortly to make. Whether they wish to or not, whether they understand it or not, regardless of any influence, each and every one of the people who dwell upon planet Earth will shortly make a choice. There will be no middle area. There will be those who choose to follow the path of love and light and those who choose otherwise. This choice will not be made by saying, "I choose the path of love and light," or "l do not choose it." The verbal choice will mean nothing. This choice will be measured by the individual's demonstration of his choice. This demonstration will be very easy for us of the Confederation of Planets in His Service to interpret. This choice is measured by what we term the vibratory rate of the individual. It is necessary, if an individual is to join those who make the choice of love and understanding, for his rate of vibration to be above a certain minimal level. There are many now that are close to this minimum level, but due to continuing conditions of erroneous thought that prevail upon your surface, they are either fluctuating around this point or are even in some cases drifting away from the path of love and understanding. There are many whose vibratory rate at this time is sufficiently high for them to travel with no difficulty into the density of vibration that this planet is shortly to experience.
At some time in the future, then, something that the Confederation has called the harvest will take place. This concept of the Judgment Day differs from the eschatological one in that the one who judges us is not a God apart from us but the God within us. As a result of this harvest some will go on to a new age of love and light and will learn new lessons in a very positive and beautiful density, as the Confederation calls it. Others will have to repeat this particular grade of lessons and relearn the lessons of love. Here the Confederation entity, Hatonn, speaks once again of the harvest and of the Confederation's purpose in speaking through contactee groups:
There is going to be a Harvest, as you might call it, a harvest of souls that will shortly occur upon your planet. We are attempting to extract the greatest possible harvest from this planet. This is our mission, for we are the Harvesters. In order to be most efficient, we are attempting to create first a state of seeking among the people of this planet who desire to seek. This would be those who are close to the acceptable level of vibration. Those above this level are of course not of as great an interest to us since they have, you might say, already made the grade. Those far below this level, unfortunately, cannot be helped by us at this time. We are attempting at this time to increase by a relatively small percentage the number who will be harvested into the path of love and understanding.
Even a small percentage of those who dwell upon your planet is a vast number, and this is our mission, to act through groups such as this one in order to disseminate information in such a fashion that it may be accepted or rejected, that it may be in a state lacking what the people of your planet choose to call proof. We offer them no concrete proof, as they have a way of expressing it.
We offer them Truth. This is an important function of our mission—to offer Truth without proof. In this way, the motivation will, in each and every case, come from within the individual. In this way, the individual vibratory rate will be increased. An offering of proof or an impressing of this Truth upon an individual in such a way that he would be forced to accept it would have no usable effect upon his vibratory rate. This, then, my friends, is the mystery of our way of approaching your peoples.
Source: The Law of One Book I (Carla's Introduction)
Site Notifications/Chat: 
Videos: