Richard Fleming – Event 2021 – Parts 1-7 (Notes)
Event 2021 Notes (Source) (01)
This is what I'm watching today (Wed 23rd June, 2021).
I'll remove this message when I've finished all parts.
(Videos are still being slowly-uploaded
You are all involved in the largest experimental study ever in the history of mankind; either in the experimental or control group. (02)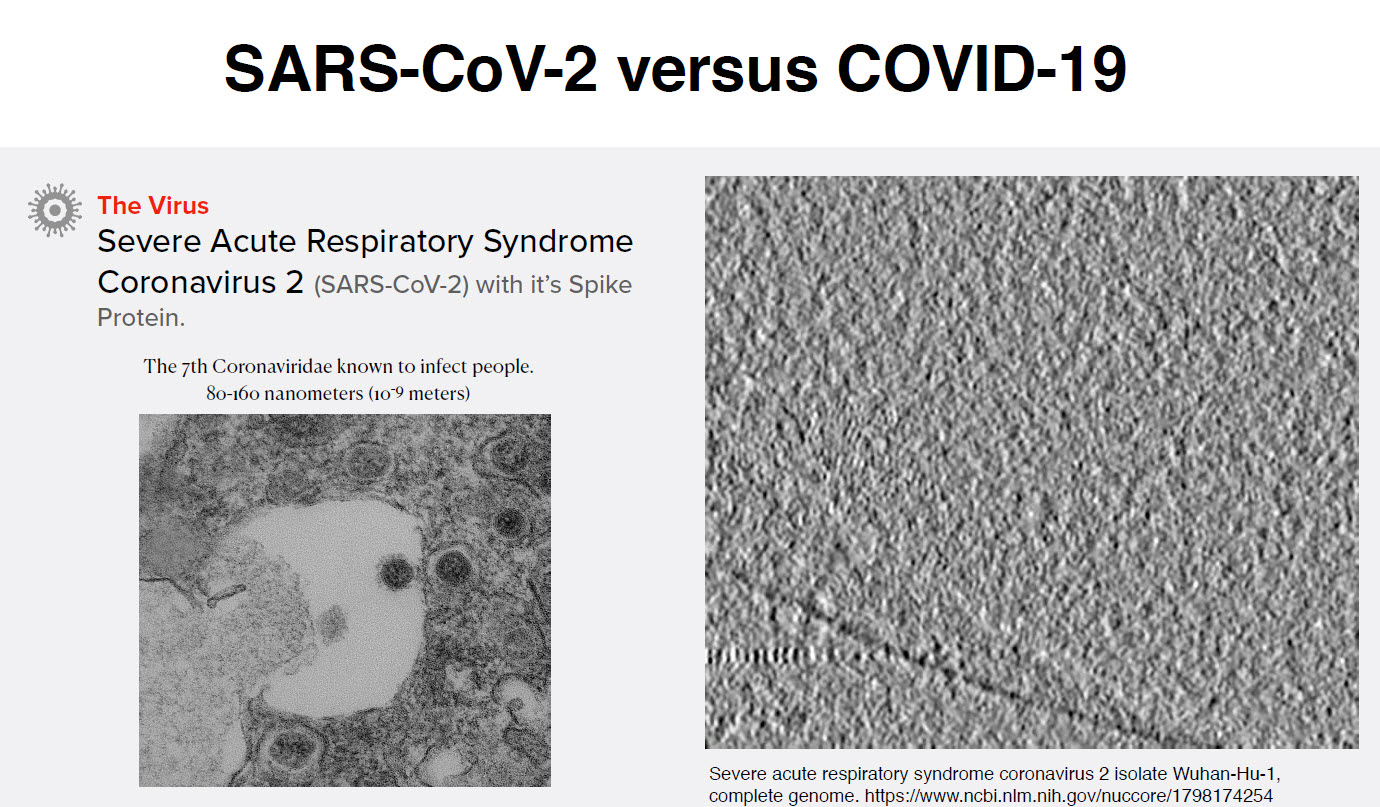 This is a slice through tissue of a coronavirus, anyone telling you 'they don't exist' needs to look at this. Anyone who tells you 'we don't have the genetic sequence', we do. This is what it looks like, these are spike proteins. (05) And this is a cryo-electron micrograph. (06)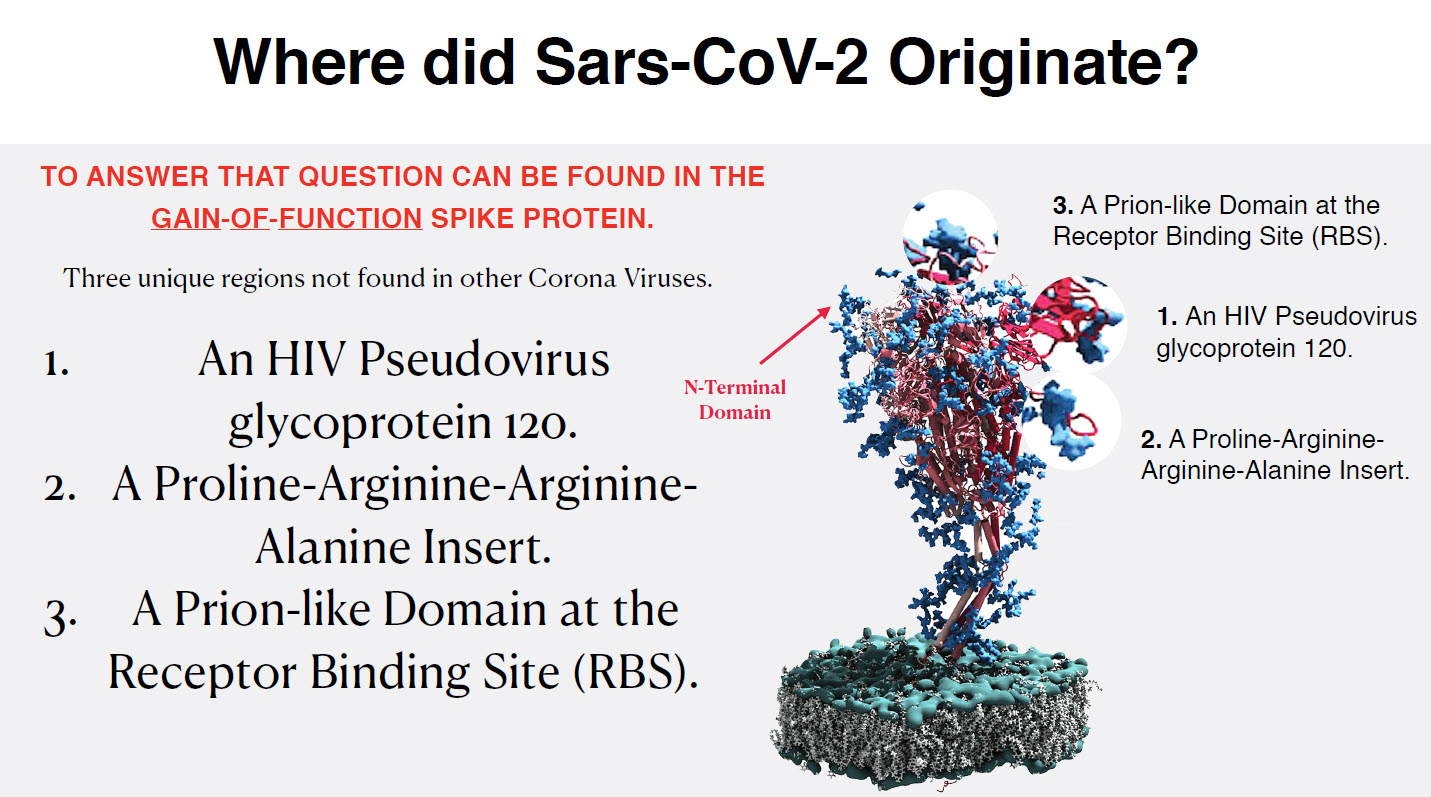 The unique thing about this virus is its spike protein. This is the spike protein. It looks like a tree. It is a molecule. The 3 unique regions above are not found in other CoronaViruses.
Spike protein has at least 3 unusual inserts not found together in related natural CVs:
1. HIV Pseudovirus glycoprotein 120
2. PRRA insert furin cleavage site
3. Prion-like domain at RBS (ACE2 receptor binding site)
In 2006, the Chinese put together 4 viruses. HIV 1, Hepatitis C, and identified it as SARS-CoV-1 and SARS-CoV-2. (10) (11)
They used PCR-testing to prove that's what they had.
They followed Kary Mullis (1944 – 2019) who got the patent for PCR-test, and what Dr Mullis said, is you stop PCR-testing at 20 cycles. and that's what his patent said, because anything more causes you to artificially induce things that really aren't real and at 20 cycles you will find anything that's really there. Dr Mullis was the last person to take on Anthony Fauci. He died from pneumonia in a few months before the SARS-CoV-2 outbreak in 2019 at age 74.
Federal monies that have invested into this research spans decades. (19)
NIH put grant-money into this patent, so they have certain rights in the invention.
NIH has patent rights for the insertion of the enzymes related to the furin cleavage site.
Insertions: We've got HIV gp 120 and PRRA, which produces a prion-like domain.
We're supposed to do animal-research before we do people. Here's what we know from animal studies:
In 'humanized-mice' (mice that we gave Ace-2 receptors to so we can work with them), 98% of them were dead after 2 weeks. When we looked at them, we saw this under the microscope (video does not pan to indicate where he's pointing). This looks like a sponge, and it's in the brain, that the general public calls "Mad Cow disease". (34)
In Monkeys, in 5-6 week, a part of their brain was infected with spike proteins. And when we looked at their brains, we saw inflammatory cells and lewy bodies (Alzheimer's & other neurological diseases). Animals didn't have this before they were exposed. This is the result of the spike protein crossing the blood-brain barrier & getting to its target. (35)
COVID-19 is an InflammoThrombotic disease that occurs in people who already have InflammoThrombotic diseases. Obesity, Heart Disease, Diabetes, High blood-pressure, Cancer, Vascular disease. These diseases already have blood clotting & inflammation associated with them. These pre-disposed people without treatment, will die.
The blood clots come from your legs and other places, this is a deep venous thrombosis, which is our term for a blood clot in the veins, deep in the body, usually in the calves or the thighs. It forms there, and when it loosens up, it's a 'moving blood-clot'.
How is SARS-CoV-2 Transmitted?
Person-to-Person via respiratory or gastrointestinal passages, or by injecting it.
Patients of COVID-19 are not being treated because the doctors are told there are no treatments and that if you treat, there will be repercussions. (39)
Treatment needs to focus on:
Quantitatively Measured Treatments with 1800 infected people across 7 countries. Focusing on 10 different treatment options in 52 treatment combinations. (Cuba, India, Philippines, South Africa, Belgium, Germany, Brazil)
Successful treatment outcomes were defined using the quantitative measurements of FMTVDM with a reduction of > 25, or a level of < 150, Ferritin levels < 270 ng/ml for men and < 160 ng/ml for women, and an IL-6 level of < 5 pg/ml.
What If The People You Trust Are The People Causing The Problem?
The same people who helped fund and develop SARS-CoV-2 have also controlled how doctors, nurses, & other health care providers are treating patients.
These people – it turns out – are the same people who helped fund and develop the drug vaccines.
Unlike the other Infectious Agents, Viruses do NOT have a Nucleus or Ribosomes. They can't independently reproduce, or make their own energy (mitochondria/chloroplasts).
Viruses are essentially 'genetic material' wrapped up in a ball, that require other cells to do their work for them. So treating them with drugs that we would normally use for bacteria, fungi, yeast, or parasites doesn't work. You have to target 'what they do'. What they are good at, is infecting cells and using the cells they infect to do all they can't; to make more of themselves.
The focus needs to be what you can do to prevent attachment, the replication, what can you do when the inflammation and blood-clotting affects the ability for the patient to get enough oxygen, the T-cell & B-cell response.
Different drugs target what the virus does.
For example, Hydroxychloroquine inhibits the viral RNA replication, inhibits toll-like receptor 7 (TLR7) to reduce inflammatory response, inhibits glycoprotein IIb/Illa thereby interfering with thrombus formation, inhibits viral attachment at ACE-2 receptor site, reduces the production of pro-inflammatory cytokines, enhances entry of zinc through zinc ionophore, increases cytosol pH to reduce removal of viral envelope required for replication, increases cellular pH decreasing major histocompatibility complex (MHC) viral antigen presentation to B-cells thereby decreasing release of inflammatory cytokines, & enhances production of Type I Interferons.
We have all these drugs that have mechanisms of action that can target the virus, but the government says there's no treatment available. If you think your doctor is not afraid of the government coming after them, you're wrong. The premise is that 'if the government comes after you, you must be the bad guy'. So we have government preventing doctors from using drugs, and we're left with vaccines. (53)
Do the vaccines prevent you from infection or transmitting it?
// Plays video from Fauci (which I couldn't find a link to, but it's in the presentation)
95% chance you will not get symptomatic infection… until we prove that the vaccine prevents transmission… people who are vaccinated should wear a mask around those who might be vulnerable to infection.

~ Fauci
Vaccines work because they prime your body to be ready when you are infected. Something comes in, it's an antigen; a vaccine – a protein that is foreign to your body, comes in, gets broken down in the cells, gets presented to the MHC-I, where the T-cells will recognize it, and they get activated and they look for other cells that are infected that also have this antigen presented.
They release chemicals, cause damage, cause inflammation, and cause blood-clotting. To "kill" the invading organism. Except in this case there's no actual invading organism. You injected it into yourself.
The pieces that go out, whether that's the whole virus or the vaccine, and in this case, the spike protein, come back into other cells, those cells will pick them up with MHC-II (3-5 days), a little bit later on (7-10 days), Beta cells recognize MHC-II, and make antibodies. So anything outside in the bloodstream, the antibodies will go and attack, and take them out of commission so they can't attach to you and cause harm. That's what vaccines do.
They cause you to make T-cell & B-cell responses, that you will form memory cells to. We do not want T-cell and antibodies floating around your bloodstream forever.
Nothing you have seen in the emergency-use authorization documents for these experimental vaccines, show any of this data, which ought to be the data that the FDA would want to show that it's working. It's a vaccine that should produce T-cell and B-cell responses.
Emergency Use Authorization for Vaccines to Prevent COVID-19 (FDA)
The Emergency Use Authorization document. Issued in Oct 2020. Non-binding recommendation. Doesn't place the FDA or the public under any obligation.
These are the Emergency Use Authorization requirements:
These are critical. If any of these 4 get knocked-out, EUA (Emergency Use Authorization) dies. The problem is, there ARE adequate treatments.
By "definition", the EUA doesn't exist. The PCR-Tests – Gone. The Emergency-Vaccines – Gone.
If we don't learn from history, we are destined to repeat it.
Plays an old (1979) segment from CBS '60 Minutes' on the swine flu (also known as H1N1) & the vaccine that was developed to stop the pandemic.
Last year, the Osaka Japanese group published a paper talking about Antibody Dependent Enhancement (preprint). This Antibody Dependent Enhancement attaches to part of the spike protein, and when it does that, it opens up the spike protein to make it more infective. They discovered that part of the reason why people in hospitals were not doing better even when they made antibodies, is because the antibodies they made might have too much antibody to where it exacerbated the infection.
There are a lot of terms used regarding Vaccine Efficacy. You should know 3 terms.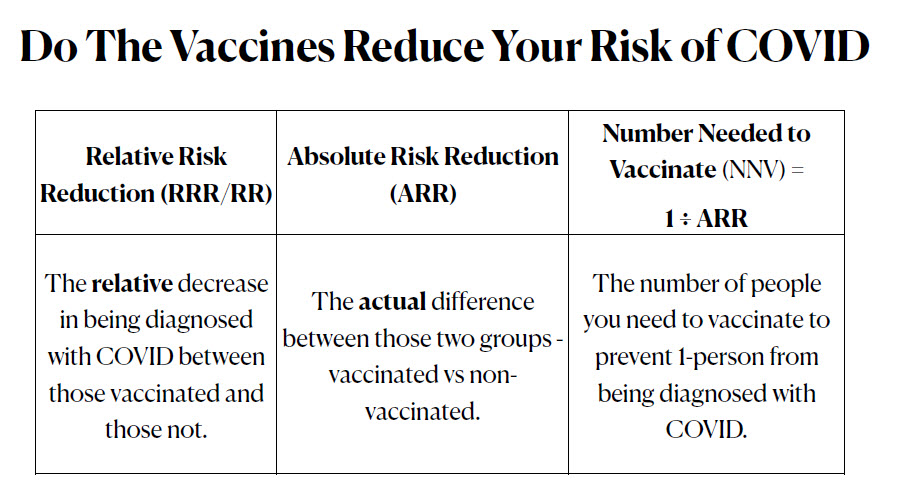 The relative risk reduction. This is what you've heard so much about, the 95%, the 94%, the 65%. This is how many people got diagnosed with covid in the vaccinated group vs people who got diagnosed in the non-vaccinated group.
There is a more important term for you to understand, and that's absolute risk reduction: a comparison of those groups that says 'what's the "REAL" difference between those groups?"
Then there's the number needed to vaccinate, which is 'how many people would you have to vaccinate, to try to reduce one person from being diagnosed with covid.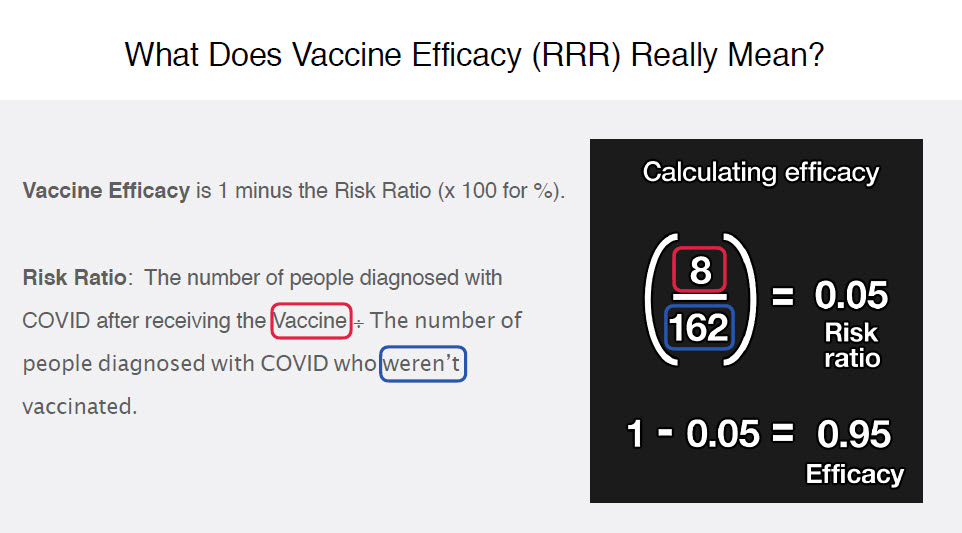 This means the # of people who got vaccinated that were diagnosed with covid. This is one example from Pfizer. Compared to the people who did not get vaccinated who got diagnosed with covid. When you do the math, it gives you 0.05. 1 minus that number tells you vaccine-efficacy. Multiplied by 100 gives you percent.
So how did they decide who made the diagnose of covid? You had to have 2 things, you had to have a positive PCR-test, and you had to have a set of symptoms.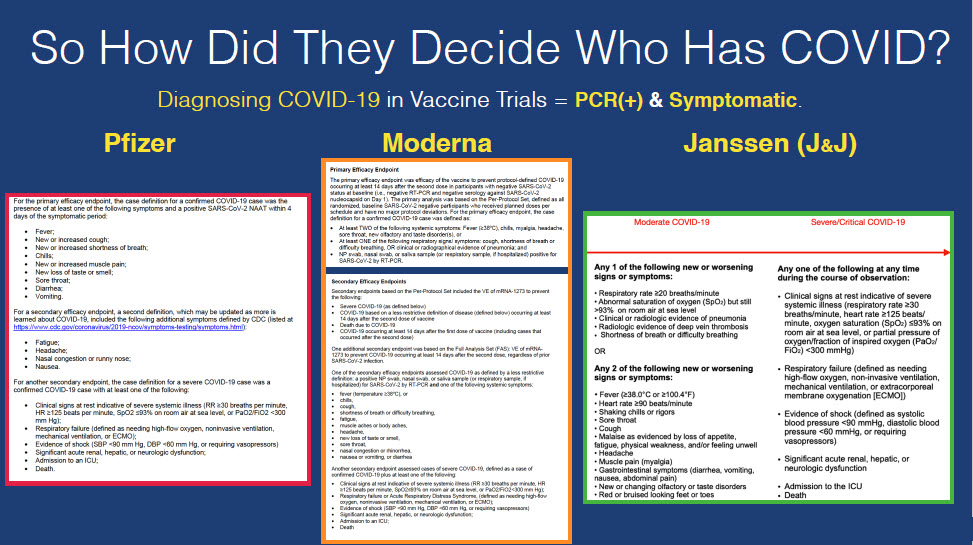 Pfizer – same symptoms you would get with 'any' infection – viral, bacterial, fungal, tuberculosis, etc.
Moderna – same problem, same issue. They're what you'd normally have for symptoms – ache's and pains, muscle discomfort, cough, runny nose, that type of thing.
J&J – Belgium company which btw, Belgium pulled this from the market.
Part 9 – Hasn't been uploaded yet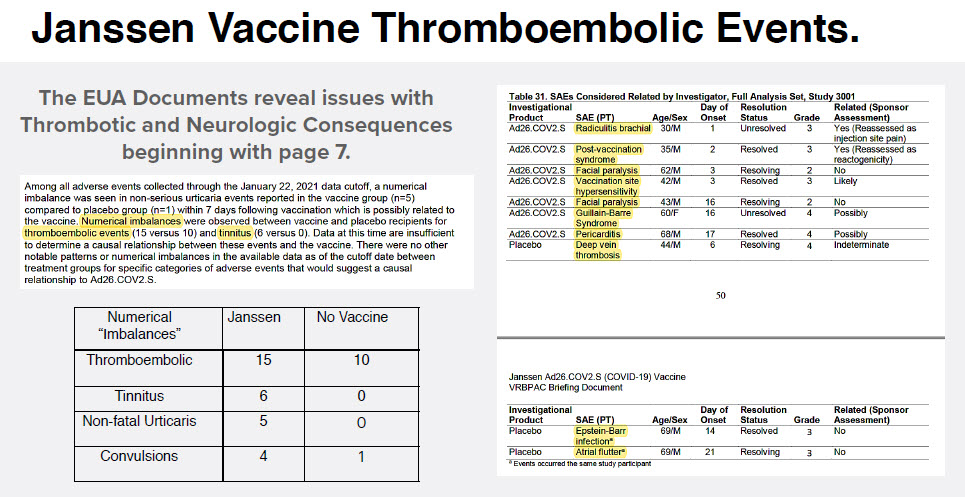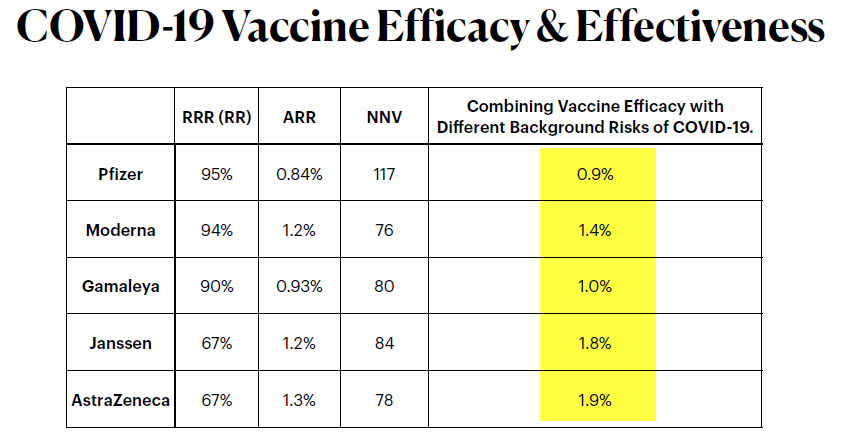 Based Upon the FDA (EUA) Documents:
There is no statistical reduction in COVID rates.
There is no statistical reduction in COVID death rates.
There is an unacceptable VAERS death and adverse event rates. (88)
The vaccine Absolute Risk Reduction (ARR) rate for developing COVID is really only 0.8 to 1.3%. Not the 67 to 95% you've been lead to believe.
The FDA, the Federal Government and the Media failed to do their job. They failed to ask the Scientific Questions that should have been asked.