Drupal Modules for Twitter and other Social Networking Platforms
I have now brought my Drupal sites back to just 1, and converted the rest of my Drupal sites into wordpress. With the 1 Drupal site left, it's a constant headache of weird things going wrong and google not finding the answers for me :)
Anyway, I'm working on that site today and thought I'd check out how the Drupal community is integrating Twitter.. and there wasn't much at all which is a shame.. (luckily for my wordpress sites, the wordpress community have a tonne of twitter plugins), anyway, thought I'd see what else Drupal has to offer in the area of social networking/bookmarking integration, and found the following..
Drupal Modules for Twitter:
This module provides twitter notification for new posts. Each user can use their own twitter account to post updates too, as well as have a custom format string.
http://drupal.org/project/twitter
Avail for Drupal: 5.x 6.x
Drupal Modules for Facebook:
This very simple module is ideal for a single-user, personal site. The fbstatus module fetches your current Facebook status, using an individualized RSS feed provided by Facebook, and provides it as a block that you can display on your site, without entanglement with the RSS aggregator.
Standard Drupal permissions apply, so you can control who sees your status.
http://drupal.org/project/fbstatus
Avail for Drupal: 5.x 6.x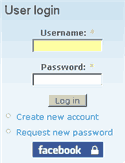 Facebook Auth
This will let you login to a site using your facebook credentials
http://drupal.org/project/facebook_auth
Avail for Drupal: 5.x 6.x
Drupal Modules for Jaiku: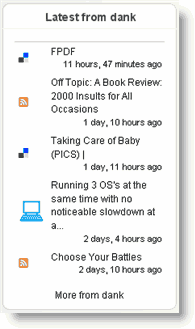 This module allows a Jaiku stream to be cleanly added in a block.
The Full Stream, User Info, and the current presence information are supported.
Jaiku is a microblogging service, similar to Twitter, that was recently acquired by Google. It allows you to post anything in 140 characters or less to a web page on jaiku.com. It's main point over Twitter is it's high level of mobile compatibility.
http://drupal.org/project/jaikublock
Avail for Drupal: 5.x 6.x

Provides means for fetching content from and posting content to the microblogging / presence platform Jaiku.com.
http://drupal.org/project/jaiku
Avail for Drupal: 5.x
Drupal Modules for Ping.fm: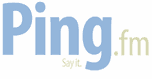 Provides Drupal integration with the web service Ping.fm to make sharing posts on other social networks easy.
Ping.fm supports posting to: Bebo, Blogger, Brightkite, Custom URL (Drupal), Facebook, FriendFeed, hi5, Identi.ca, Jaiku, LinkedIn, LiveJournal, Mashable, MySpace, Plaxo Pulse, Plurk, Pownce, Rejaw, Tumblr, Twitter, WordPress.com, Xanga.
http://drupal.org/project/pingfm
Avail for Drupal: 6.x
Drupal Modules for Social Bookmarking:

The service links module enables admins to add links to a number of social bookmarking sites, blog search sites etc. Includes sites are del.icio.us, Digg, Reddit, ma.gnolia.com, Newsvine, Furl, Google, Yahoo, Technorati and IceRocket.
http://drupal.org/project/service_links
Avail for Drupal: 5.x 6.x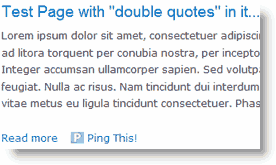 Currently, using the PingThis module, will allow you to add a link to your posts that will give yourself along with visitors to your site the ability to quickly share posts by using Ping.fm.
http://drupal.org/project/pingthis
Avail for Drupal: 6.x

Provides a addthis.com button to let your users share your content to social network sites.
http://drupal.org/project/addthis
Avail for Drupal: 5.x 6.x

This module adds a Digg this button to your nodes. If the story is not yet submitted to Digg a "Digg this story" button is displayed. If the story was already submitted a button showing the number of Diggs you received is displayed.
http://drupal.org/project/diggthis
Avail for Drupal: 5.x 6.x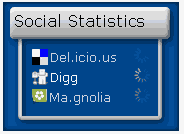 This module provides a core module with an API which other modules can hang off of to provide statistics on any of your favourite social websites. Currently supports: Del.icio.us, Digg, and Ma.gnolia.
http://drupal.org/project/social_statistics
Avail for Drupal: 5.x
Drupal Modules for Lifestreams:
Bring all your activity on the web into Drupal. Activity Stream builds a lifestream for you by aggregating your social activities all in one place. Whether it's bookmarks on Del.icio.us and Ma.gnolia, pictures on Flickr, music on Last.fm, or posts on your blog, anything you create can be gathered into one easy to read stream. The module comes with support for a half dozen popular sites and support for any site that publishes an RSS or Atom feed. Developers can create integrations with any other site using a simple API.
Every item in your stream is a full Drupal node. This means they can be searched, promoted, commented on, and managed just like any other content in Drupal. The output is fully themeable and the default theme uses plenty of classes so you can use CSS to make sure everything fits in with your site.
Each third party site integration is a small Drupal module, so you can easily decide which ones you want to offer and which ones to leave out. Included in the download are modules for Del.icio.us, Digg, Flickr, Last.fm, Twitter, and any other site through a feed.
http://drupal.org/project/activitystream
Avail for Drupal: 5.x 6.x
Other similar Drupal Modules:
The dodge module mimics the Twitter functionality in a very basic way.
Users can publish what they're doing, how they feel, their state (= dodge)…
For each user a for in provided in a new category where he/she can set his state. State can be one of a list of predefined stated (provided by the webmaster) or a state typed in by the user in a free text box.
http://drupal.org/project/dodge
Avail for Drupal: 5.x
OAuth is a complete standard for external API authentication. You might integrate your Drupal site with external data from Google, Flickr, Twitter, Ma.gnolia, Yahoo and other Drupal sites that uses Web Services module. Also you can also let other sites use your site's data, by using Web Services module and OAuth as the authentication method for security.
Imagine that OpenID is like your car key: you have to be at the website to log in. OAuth is like a valet key: you can hand to a website to operate on your behalf, even when you're not there.
http://drupal.org/project/oauth
Avail for Drupal: 6.x
This extensible module will create fields for node content types that can be used to display video, image, and audio files from various third party providers. When entering the content, the user will simply paste the URL or embed code from the third party, and the module will automatically determine which content provider is being used. When displaying the content, the proper embedding format will be used.
The Embedded Image Field module currently supports Flickr, Imageshack, Picassa and Photobucket images.
The Embedded Video Field module already supports YouTube, Google, Blip.TV, Revver, MySpace, MetaCafe, Last.fm, JumpCut, BrightCove, SevenLoad, Spike TV, Daily Motion, Veoh, Vimeo, Tudou, imeem, Guba, and Live Video video formats.
The Embedded Audio Field module supports third party audio content, such as from Odeo, Podcast Alley, and podOmatic.
Embedded Media Import is forimporting photosets, playlists, and the like.
http://drupal.org/project/emfield
Avail for Drupal: 5.x 6.x
Incoming allows you to be alerted when there is a significant change in the amount of traffic coming to your site from an outside source. It's main purpose is to give you a heads up if your site is about to be featured on Digg, Slashdot, or any other high traffic site so you're not caught unprepared.
http://drupal.org/project/incoming
Avail for Drupal: 6.x
Display Technorati, Google Blogsearch and Yahoo! Bloglines results for a node.
http://drupal.org/project/blog_reactions
Avail for Drupal: 5.x 6.x
The Bookmark Us Module allows visitors to quickly and easily bookmark your site, and the current page. Very flexible. Works with IE, Opera, Firefox, Netscape, and other Gecko-based browsers.
http://drupal.org/project/bookmark_us
Avail for Drupal: 5.x 6.x