Déjà vu… Swine Flu [Video]
"The pandemic… that wasn't"
Wow this video collected clips from the Swine Flu days and I'm having massive Déjà vu – are you?
Swine Flu "Pandemic" (2009)
Same Script, Same Tactics, Same Players (01)Same Script, Same Tactics, Same Players
"If at first you don't succeed, try, try again…"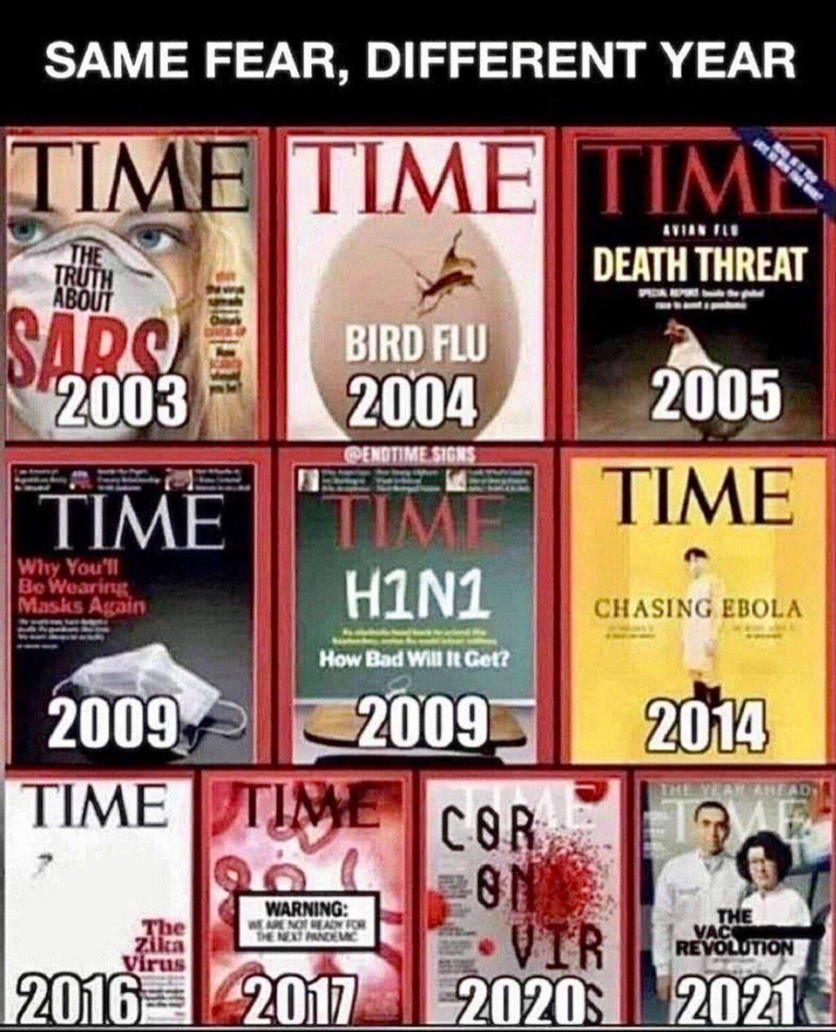 Bill Deagle – Status of H1N1 Virus in Ukraine (2009)
BitChute (Mirror) | Original Link | Download Mp3
This telephone interview is unbelievable, it's like word-for-word what is happening with COVID, but this interview was back in November 2009 talking about the H1N1 "virus". Everything from the corrupt WHO, rigged vaccines, bioweapons – a deliberately released 'virus', genetic-engineering, PCR tests, gene-changes, neurological issues & cancer – an explosion of diseases "caused by the vaccines", suppresses immune system, throwing the whole world into a state of emergency, UN/WHO control, One world government, deliberate world plague, "once a pandemic is declared, this treaty that was signed by all these nations, puts them all under the control of the World Health Organization & the United Nations". "World Health department". "World Environmental taxation". Everything they're doing is wrong. Vitamin D3. They want to reduce & control the population. Control money, travel. They want a flu like the 1918 pandemic. Getting "reinfected". "Everyone is focused on Ukraine whilst another agenda happening". Battle lines being drawn up for World War III. Green power. Factory farming. GMO foods.
I guess H1N1 was the practice run or first attempt at the world takeover that is happening now…
trustWHO Documentary (2018)
Trust WHO – documentary that was available for 7 years about WHO's part in the Swine Flu scandal. Their video was deleted when COVID-19 came to the world. (02)trustWHO Filmmakers Respond to Vimeo Censorship – YouTube
"trustWHO" has been thoroughly researched for 7 years; it has been fact-checked and approved by lawyers, experts in the medical field and even by key executives of the WHO itself.
You can watch the full documentary for free here: Site1 | Site2 | Site3 | Site4 | Site5
Or watch it from $4.99 – $7.99 (USD) on: YouTube | Amazon Prime | Apple iTunes
TrustWHO points out conflicts of interest inside the World Health Organization which relies heavily on funding from the pharmaceutical industry and contributions from other entities, most notably the Bill and Melinda Gates Foundation. The contributors in return dictate the decision making process.
AIDS "Epidemic" 1994
Dr. Robert Wilner Presentation from 1994 Accusing Fauci and Others at NIH of Mass Genocide.
Recorded December 7th 1994 Hollywood Roosevelt Hotel, Greensboro, N.C. (03)Dr. Robert Wilner Presentation from 1994 Accusing Fauci and Others at NIH of Mass Genocide
AIDS "Epidemic"

Site Notifications/Chat: 
Videos: