Update on Home-R (Tour of Progress on my Campervan)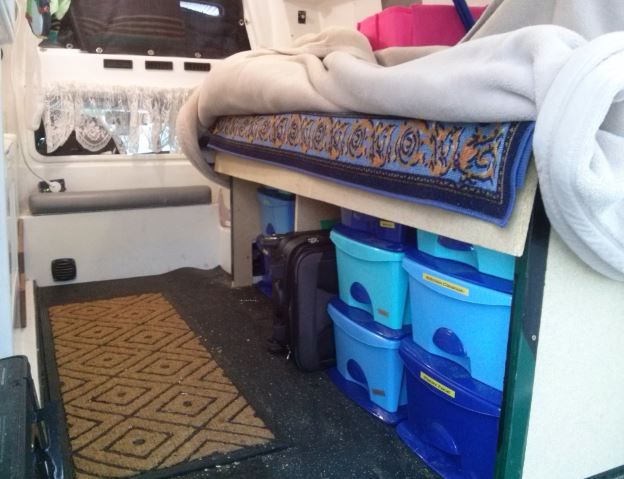 My Journey to a Better Life YouTube Channel

Found my little flip camera so decided to give it a run and do a tour of my van. I now remember why I don't use the flip camera anymore lol.. it sucks.. its small – you can't see what you are filming, and so on… but if you want to see my van in video.. enjoy the "shaky" show and don't get seasick… and my version of Camtasia studio also blacked-out a full minute of filming.. but I've wasted 6 hours trying to render a version that doesn't have "black" spaces and I should've used that time to do other stuff so I'm just going to live with it because it's not good use of my time to keep rendering and watching this video (I'll make a better video when I've done more changes – and I won't use the flipcam next time!)
Since my last post on Homer..
I've removed the carpet, installed some rubber matting, added door mats & a carpet runner:
Bought some grip matting and put it in all the cupboards and ledges (to help things grip instead of slip!), bought a TekTowel to replace my big fluffy towels with one that is large but fits in small spaces and is also quick-drying, and installed a toilet roll holder to hold my microfibre towels.
I now have a bed (…and a long table!… and somewhere to hide my storage!) *Yippee!* – Thanks Tom!
And I've been spending some time converting big things into smaller things so that I can pack as much as possible. Photos below include: Shaving my natural soap bars into smaller single-use soap, converting my sunscreen & suncare items into single-use straws, and I am endlessly converting my herbs, spices, and minerals into "tic tac containers" – of which I need many more tic-tac containers to finish my quest!
I will somehow fit my life into this van… somehow! :/
Site Notifications/Chat: 
Videos: