COVID-19 Stages/Targets (Downloads)
Work-in-progress (Living Document)
Last Updated: July 17, 2021
If you have a suggestion/correction or want to share new research I've missed please contact me.
COVID-19 is complicated as are the various stages of treatments. This is research to understand all the phases as well as the various therapeutic targets.
Stages of COVID-19
Overview of the stages of COVID-19:

Brief rundown of the phases:
My main motivation for these posts is that I don't think anyone needs to live in fear thinking they are defenceless against this invisible enemy or feeling pressured to get a vaccine that has seemingly random life-threatening side-effects, whilst still trying to get answers to their questions and concerns.
We need more time to understand the vaccines, and what we need to know to make them safer, to know who they are safe for, to understand the worrisome emerging data, and get answers to the unknowns.
There are also those that cannot take the vaccines, so we need knowledge on what 'else' we can do to protect ourselves. And, since the vaccines will not stop people from actually getting it, those who get vaccinated also need to know how to protect themselves. To do that, we need a much better understanding of how this virus differs from 'the normal flu'.
This is by no means a full and complete explanation – I may not understand everything there is to know and new information is constantly emerging – but we'll at least have a much more thorough understanding than what we get from the news headlines or social media. I've dedicated all of my time to learning about the vaccines and the virus and to trying to be as informed as I possibly can.
See your trusted health advisor for dosages, also check out FLCCC for the most up-to-date recommendations, and check for any medication interactions on drugs.com.
Useful Downloads for Everyone
For Family & Friends that already trust that I have done intensive non-stop research on this, 20 hour days for months, scouring through the latest studies to understand how the virus infects the body and exactly what we need to know to protect ourselves:
Shopping List
It needs to be updated as it was one of the first documents I did, but if you are overwhelmed with all the information on this site, this is the easiest place to start. It just contains the basic dietary & supplement information like a shopping list.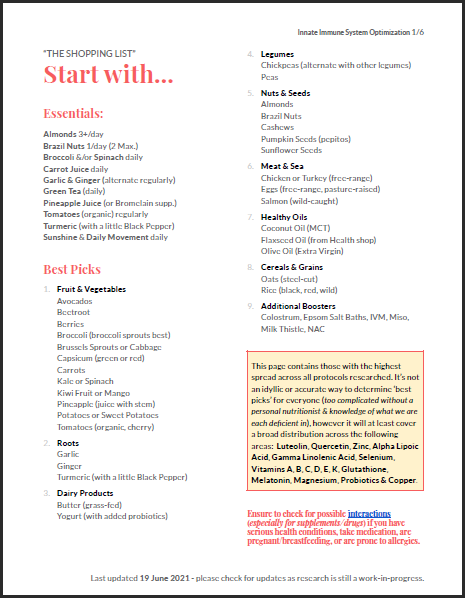 Innate Immune System Optimization
The main reason healthy people and children are less likely to have severe COVID-19 is because their innate immune system functions differently than adults. This is the summary of research in targeting the first-responders / front line defence of the body. This is mostly used for 'life' in general, and before you get symptoms, to build a more robust immune system.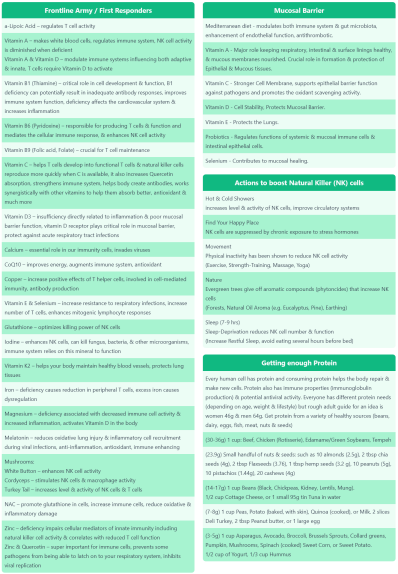 Mediterranean/COVID-19 Diet
A healthy diet will naturally help reduce your chances of having a severe response to the virus (and illness in general). This is a 'cheat sheet" of the healthiest foods to include in your diet.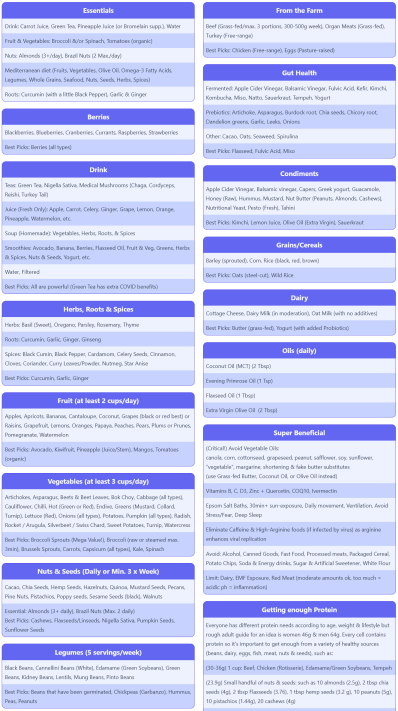 Reduce Viral Load
Might look a little complicated if you haven't spent a few months with your head stuck in COVID-19 literature – but ignore the names (which for the most part are the places the virus targets) and just look what is in the boxes. The more of 'those things' we do, the less the virus can replicate (reducing your viral load will prevent disease severity and spread). I will adjust the shopping list file to be more user-friendly when I get time, but if you start feeling symptoms, this is the most important file to have.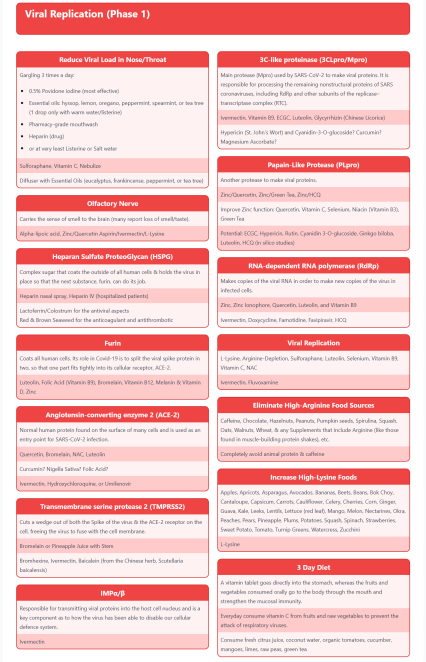 Dietary Sources of Vitamins
Useful for understanding which foods in your diet already contain vitamins that will help decrease virus replication and strengthen the immune system & inspire you with added understanding on how diet contributes to your overall health.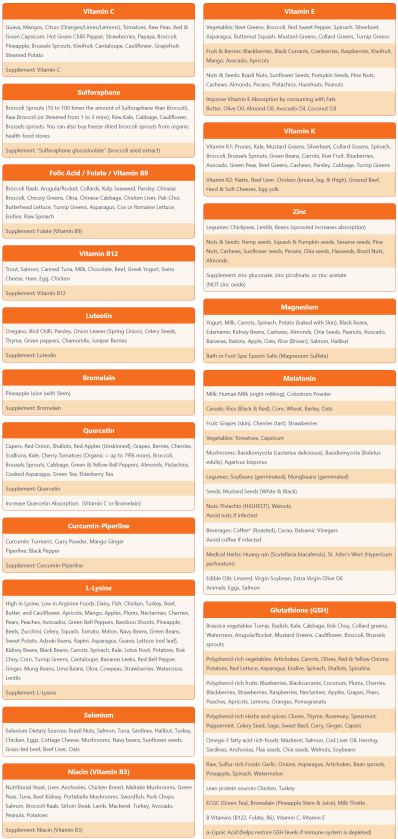 Downloads for Fellow Research Nuts
For those who are like me and don't trust anyone else's research and like to understand and cross-reference and check everything for yourself, you can download some of my research to combine with your own.
(Sadly, I never thought to download all the files I referenced, and mostly referenced directly, but there's still a lot here that will save you a lot of time & I've created a spreadsheet with the full list of references here).
It's also important to note that just because I downloaded the file whilst researching – doesn't mean that I used that file in anything I published, it's just something I happened to download into that folder in this mind-boggling journey of trying to understand.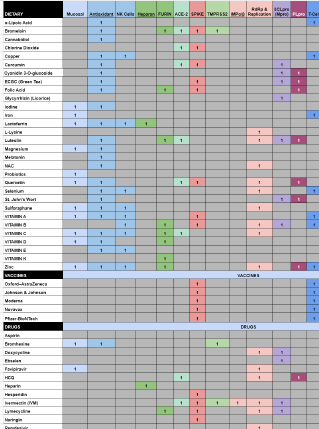 Specific to Treatment
COVID-19 (Different Protocols needed for Different Phases)
Map of Viral Phases, Grid of Targets vs Treatment, Grid of Dietary Targets.
View/Download XLS
COVID-19-GRID+REFS
Some people have requested my messy spreadsheet with the links to the refs. Just know – it's "messy". Not created with any intention of sharing, but since you are doing the same research as I am, it may be useful.
View/Download XLS
Full Treatment Guides put together by others (Folder)
Browse/Download
Ivermectin (Folders)
Browse/Download
Long Covid (Folder)
Browse/Download
Drugs & Non-Dietary Treatments (Folder)
Browse/Download
Supplements & Dietary (Folders)
Browse/Download
Google Drive Tips
Tips to make saving easier.
Choose the little down arrow next to the folder name and select one of the following:
Download as Zip File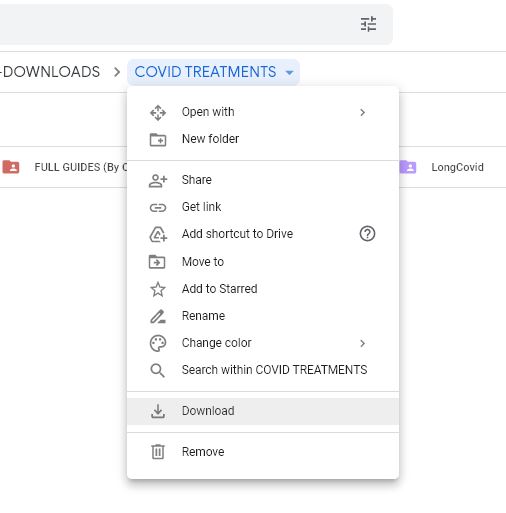 Add Shortcut to your Google Drive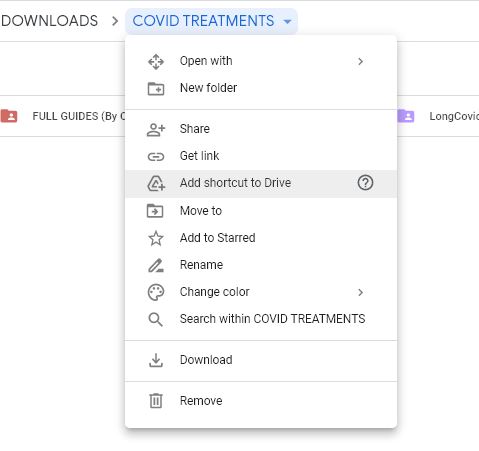 Diagnostic Files (PCR Tests, Cause of Death Reporting, etc.)
| | |
| --- | --- |
| PCR Tests – any files I've downloaded in an attempt to understand PCR-Testing or lab instructions, etc. | Cause of Death – any files I've download in an attempt to understand how they record a COVID death |
| Challenging PCR-Tests – any files I've downloaded in an attempt to understand the problems with PCR-Tests | HIV (Relevant to PCR-Testing) – any files I've downloaded to understand why the same concerns happened during the HIV/AIDS era. |
| Other Diagnostic Files – any other diagnostic files I've downloaded that are not related to PCR (like antibody tests, etc.) | |
SARS-COV-2 & COVID-19 Files
| | |
| --- | --- |
| SARS-CoV-2 Makeup – Any files I've downloaded in an attempt to understand what SARS-CoV-2 is | Variants – Any files I've downloaded in an attempt to understand the elusive 'variants'. |
| Stages of COVID-19 – Any files I've downloaded in an attempt to understand the phases and stages of COVID-19 and how it effects the body and why we choose specific therapeutic targets. | Other – Any other relevant SARS-COV-2 / COVID-19 files such as Asymptomatic, Cytokines, Immunological, Lab-Created, and More |
Vaccines
| | |
| --- | --- |
| Antibody Dependent Enhancement – Any files I've downloaded in an attempt to understand the new concern about Antibody Dependant Enhancement that may worsen the severity of disease. | Natural Infection vs Vaccination – Any files I've downloaded in an attempt to understand this argument. |
| Vaccines – By Brand – Any files I've downloaded in an attempt to understand the specific vaccines or technology. | Concerns and Warnings – Any files I've downloaded that are warning about the vaccines. |
| Government – ABS, CDC, FDA, etc. – Any official documents from governments that I've downloaded in regards to the vaccines. | Misc & Vaccine Guides – Any files I've download that are related to the vaccines but don't cover the above topics. |
| | |
Mapping out the Phases in a Spreadsheet:
(Scroll up/down, left/right for different therapeutics that are implemented at different stages)

Site Notifications/Chat: 
Videos: