Convoy Interviews & Speeches
This is my placeholder for collecting interviews and speeches from the Convoy.
Former VIC Police – Krystle Mitchell
"The government is very happy to have the divide and have us fighting amongst ourselves"
#CanberraConvoy
Download Clip on Telegram:
https://t.me/c19videochat/69
Dr. Roger Hodkinson – To The People #FreedomConvoy2022 (Canada)
Canadian Pathologist Dr. Roger Hodkinson to the Canadian Convoy

To be part of the process that started to bring that about, these truckers are the most-how can I put it politely-they've got gonads bigger than their trucks. It relied on guys with dirty fingernails to move the needle.

Medicine, Politics, Media have failed.

Failed.

We needed Truckers – ordinary guys with Semi's by the thousands to get attention and Hat's Off to you! Because we've failed and you're succeeding.

This is a "No Prisoners" event – this isn't a time for negotiation, no time for dithering Politian's to try and somehow escape the responsibility. No, this is capitulation – take no prisoners time.

Because no one's leaving Ottawa until that happens. Whatever it takes – politely, civil disobedience, no violence at all. We certainly don't want to encourage a January 6th event.

This is a turning point in history – for Canada and for the World and I'm so fortunate to be part of it.
Canberra Convoy Interviews (Al – Physiotherapist)
Al is in Canberra – watch the whole thing, very relatable.
John Larter, Graham Hood, Adam Ooi, Krystle Mitchell
Fullscreen (Rumble) | Download (Telegram) | Download (Krystle Interview)
John Larter, Former Paramedic
00:00 "If AHPRA is given immunity by the Prime Minister for Health Professionals to speak out, this will be over"
00:30 "Public want to hear from Front-line Workers because Doctors, Nurses, Paramedics are not speaking out, because they are scared, the public have been completely misled and don't know how bad it is"
Graham Hood, Former Qantas Pilot
02:34 "There are convoys heading to Canberra from all over the country – everyday Aussies like me"
Adam Ooi: Facebook | YouTube | Full Canberra Footage
03:14 Clips and Summary from Adam Ooi
Krystle Mitchell – Former VIC Police
04:59 "The government is very happy to have the divide and have us fighting amongst ourselves, so they can continue to do what they're doing. We welcome all"
Convoy to Canberra #TheGreatAwakening
Fullscreen | Telegram (Source)
Australian's from all walks of life are making a stand in Canberra and across the country. All are against the mandates that are forcing us into medical procedures, and the huge government overreach that have single-handedly destroyed many Aussie lives.

Not only is our government not being transparent surrounding the "science" and "health advice" but they also are pushing the safety data to be suppressed for the next 75 years. Now they are coming after our kids.

This isn't about our health, and everyday more Aussies are waking up to it. They are desperate to shut us down, but we are many and will not be backing down anytime soon.
Individuals have different reasons for being in Canberra
Everyone is in Canberra standing up for what they believe is right, all with different levels of consciousness and ideas on how this should be resolved as well as different levels of knowledge of how we got to this point and where this is going if we don't stop it now.
A large number of people stand behind Graham Hood and Rod Cullerton to at least stop the coercion and mandates, but there are many more things at stake here and many more reasons to be standing up right now – there's a lot more going on than the public is aware of and the "Hoodie" group seem to be trying to focus on the "collective" immediate needs of the public and what the public would most be aware of – to start with.
There are many individuals though and many different issues this corrupt government corporation are doing illegally without the will or knowledge of the Australian people. They have sold Australia out to globalism, overwritten our constitution, and do not act on behalf of ANY Australian anymore (other than themselves). There's so much to learn and the more you learn, the more you realize just how corrupt and evil it has become.
Here's a list of demands that the "Hoodie" group put together in Canberra:
List of Demands in Canberra Parliament Building today – Feb 8th 2022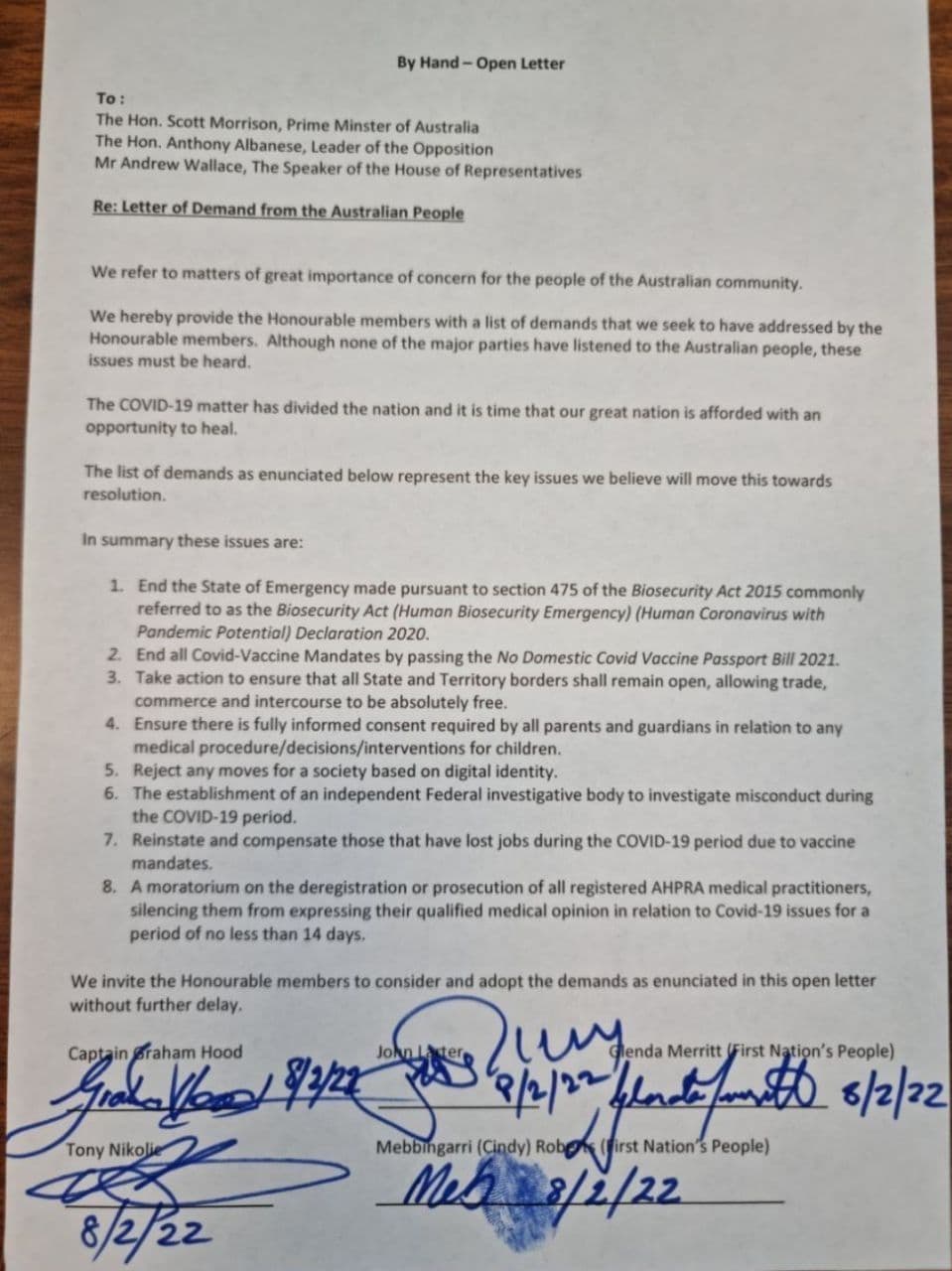 Captain Graham Hood (Former Qantas Pilot)
John Larter (Former Paramedic)
Glenda Merritt (First Nation's People)
Tony Nikolic (Lawyer)
Mebbingarri (Cindy) Roberts (First Nation's People)
Riccardo Bosi – Canberra Speech – Elite's plan
Rumble | Telegram | AustraliaOne
Feb 12 2022 – (Day 13) – In this speech he outlines what the Elite's plan has been all along, and what the game plan is going forward.
Fake-stream media
NT govt would announce hotspots, they would clear out the locals, they would send in the mining exploration teams (minerals, wealth – our wealth), straight after that, lease-applications went in – that's what this is about, how dumb is that, a land grab.
Title Deeds digitized and sold off
They want us gone so they can take it over for themselves.
Divided us by every type to get us to fight each other
Leadership of every aspect of our life is
Politics, Bureaucracy, Judiciary, Military, Constabulary, Academia, Media, Big Biz, Unions, Churches, Mosques, Lodges, Temples, Leadership of all our little tribes are utterly corrupted.
Getting us to fight each other.
When we come together, they would've lost.
"We don't speak tear gas, we don't speak baton, we speak English & French" ~ Protestor to CBC News
Canadian Protestor speaks to Global News reporter..
"You tell them… that there are people here, who are here for the right reasons – to fix Canada, and let me ask you this…
You think the guy up in that tower is here to help Canada or is he here to protect his own personal interest – what do you think? Is he here for me? Because I tell ya…
We came here and we were here for four weeks, and you know why we stayed for four weeks? Because nobody listened and nobody spoke to us. They call it an occupation – the only reason we stayed here that long is because there was no dialogue.
We don't speak tear gas, we don't speak batons, we don't speak horse. We speak English and French.
And I have kids and I just want to – it's not for me, it's for my kids. They're going to segregate my kids from society because I won't get them a QR Code.
You better choose your side of history, sir. Choose your side."
See also:

Site Notifications/Chat: 
Videos: