BufferApp Twitter Scheduling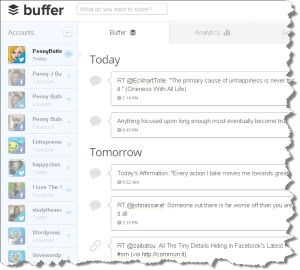 For the past few years, I spent my time working on "other people's" social media sites and because I was trying to get my own business off the ground, I never really found the time to look after my own accounts. There just seemed to always be higher priority things to work on, especially when you are a sole-trader, and don't have anyone else working for you, working alone on other people's campaigns – there is always something more important that I should be working on.
I still had a few that I kept posting to on a semi-regular basis (@StudyTheSecret, @PennyButler, @HappyChes) but I don't have a "smart phone" and so didn't login daily and see what others are up to much.
Anyway, the last few days, even though I still have the same feelings towards Twitter and the overwhelming time it takes to keep up with everything going on, I started to find some "tweet-worthy" news articles, blogs, and quotes again. But I realized that because I don't login much, that I would be silent, then bombard my Twitter account in one go with a bunch of messages. I was also unable to follow anyone that I actually wanted to follow because over the years, I had followed too many and didn't "maintain" it (didn't Unfollow those that had unfollowed me, didn't delete spam accounts, etc).
So I decided to try all the latest Twitter tools out, to see which ones could bring me back to the land of the living and allow me to schedule out my Tweets so that I don't spam the hell out of those who are still following me.
I trialled 6 different sites last night and after a few hours of playing around with them all, I ended up "upgrading" and paying for BufferApp as I found it the most useful.
How I use BufferApp
BufferApp allows me to Schedule and space-out all the great things I find and post them to the right place. For example:
I have 3 different core areas of the things that interest me, but that are separated by different accounts:
1.) Entrepreneurship / Passive income / Lifestyle Design / Business Goals,  etc.
Twitter – @PennyButler
Facebook – @EntrepreneursUnite.org @WebWooky
LinkedIn – @PennyJButler
2.) Law of Attraction / Metaphysics / NLP / Motivation / Mindset / Personal Goals, etc.
Twitter – @PennyButler ,  @StudyTheSecret
Facebook  – App @StudyTheSecret , Facebook Page @LeverageTheSecret, @WebWooky
3.) WordPress  – all things WordPress: Themes, Plugins, Troubleshooting, and things of use to WordPress users
Twitter – @ILoveWordpress, @HappyChes
Facebook – @WordpressPlugins
And then I also have separate accounts for my Businesses .. like @BallaratMarketing @WhiteLabelTraffic, @CustomFBTabs, etc.
A topic of interest for my Ballarat readers, will not be appropriate for my Law of Attraction readers, and vice versa.
With all of these different accounts, with different audiences and interests, that are still 'active', I would like to be able to find relevant sites and "feed" them into the right area. Like, when I'm researching wordpress plugins, I generally see about 10-15 different things that I could share, but I'll usually only share 1 thing so as not to overload my followers – with Buffer, I can add them to a schedule, so that they only go out 1 per day, keeping my FB & Twitter profiles active with relevant content, and not blasting out too many messages at once and then going back to my cave :)
So BufferApp solves this problem.
With BufferApp, I have setup all my different Twitter accounts, Facebook profiles and pages, and LinkedIn profiles and groups, and with each of them, I can set different schedules and timezones.
For example, some of them I will only post "once per day", whereas others I want to post up to 4 times per day.
It was worth upgrading for me because it allowed me to segregate all of my different accounts.