Bartering
This page will be dedicated to things for local bartering. I reside in Warrenheip 7 mins out of Ballarat, and can also take things to my sister's place in Caroline Springs, Melbourne.
Join this Facebook Group to Barter: Bartering and Swapping Ballarat. Or contact me on Facebook (best to go via group though because we're not already friends, I may not see your message).
---
Items & Services I'm interested in:
All types of cleaning services:
Carpet Steam-Cleaning for the lounge-room only (prefer chemical-free or green as possible).
Oven-Cleaning – I don't use it often, but it probably regularly needs a clean, and I'm not up for the task.
Bathroom (Bath) & Ensuite Cleaning
Window Cleaning (apartment)
Car-Clean (inside or out)
Van-Clean (I'm wanting to sell my campervan and it needs to look pretty for sale – inside & out – needs vacuuming of broken-windscreen-glass in the front)
Cat food for 5 stray kittens
There are 3 kittens & 1 mama cat & 1 sister cat that currently live in our apartment block that I feed twice a day.
– Do you have any cat food that your cats won't eat? These strays eat out of the garbage bins to stay alive, other than the cat food I buy for them, and they haven't turned their nose up at the food other cats deny.
– Even better if you want to come and save them. Many have been rescued (there were lots of litters up here), but the last 4 were too smart for the rescuers and they aren't coming back for them.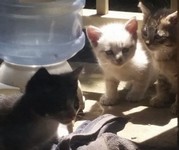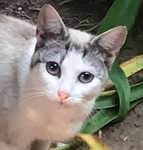 Balcony edible-plants (not seeds). I grow food on the balcony but they didn't last the weather extremes, so I now I have "dirt" instead of established herbs. Also maybe some manure or good soil for planting such things. Prefer small, edible or "useful" plants such as:
– Herbs: Sage, Parsley, Basil, Coriander, Curry
– Other: Chilli, Garlic, Lettuce, Cherry Tomatoes, Spring Onion, Rocket
– Lavender, Medicinal plants, and Edible flowers.
Indoor-plants that look pretty & naturally improve air-quality, such as:
Areca Palm, Elephant Ear Philodendron, Lady Palm, Bamboo Plant, Rubber Plant, Bamboo Palm, Spider Plant, Snake Plant, etc.
Ballarat-Central resident for barter-swaps. As I live in Warrenheip, I'm looking for someone who lives more central where I can drop-off products that I list online for others in Ballarat to pickup.
(Guessing this will only appeal to someone who already regularly has people coming to their house for trades).
Air-Purifiers of any kind, Oxygen concentrators, etc.
Updated GPS Sat-Nav (mine is over a decade old and doesn't have all the new Ballarat suburbs)
Spare NutriNinja Cups / Jugs – that match the 700W version.
Updated Samsung mobile phone (currently have Samsung 5)
Makeup Brush Cleaner
Hair Cut
Reiki
Massage
X-Box Kinect Singing or Dancing games
Fruit or Vegetable boxes – especially
–

Lemons

, Oranges, Limes, Mandarins
– Cucumber, Grapes (with seeds), Watermelon (with seeds),
– Organic Apples, Carrots,

Avocados


– Chilli, Garlic, Onion,

Turmeric

, Ginger,
– Zucchini,

Silverbeet

, Kale,

Beetroot

,

Celery

, Spinach
– Berries, Watermelon
(Only interested in foods I can make fresh juices or smoothies with)
Dried Sage Bundles.
Lavender & Peppermint Essential Oils
Salt Lamps
Non-mainstream ancient or modern spiritual books, especially channelled or non-mainstream Gnostic or related books.
Jane Roberts, Carla Rueckert
Paul Selig, Darryl Anka
Tom Campbell, Gregg Braden, Bruce Lipton
Barbara Marciniak, Laura Knight-Jadczyk, JZ Knight
A Course in Miracles, Akashic Records
Edgar Cayce, Dolores Cannon, Michael Newton
Napoleon Hill, Aldous Huxley
David Icke, David Wilcock
Daniel Quinn, Lee Carroll, Lee Harris, Gary Temple Bodley
Paul McKenna, Dr. Joe Dispenza
any kind of spiritual enlightenment, or even scriptures related to the Gita, Tao, or Mysticism, etc.
IChing books
---
Items I have for Barter:
See Images of all products I'm bartering – click here
See TEXT LIST of all products I'm bartering – click here