Aweber Review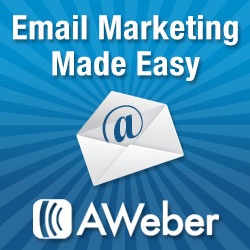 Like Microsoft owns the PC market, Aweber owns the Autoresponder market. You can try and do your online marketing without Aweber, but eventually you will realize that like Microsoft, you will need an Aweber account at some stage – it's inevitable, Resistance is Futile.
Pro's
Multiple Email Marketing Campaigns including
Email Newsletters
Autoresponders
RSS to Email
Works with just about every WordPress opt-in plugin ever created
Works with just about every Membership system ever created
Clients are Familiar with it – this is a big Pro.. most people who have ever subscribed to anything online, has at some stage, opted into Aweber, your customers are now used to knowing what to do.. that they have to check their email and click on the aweber link. I noticed this more dramatically when I used a different system and had to send follow-up permission requests to get them to click the link to get their product/ecourse.
Being able to track exactly who clicked on your links in the email and how many times is very handy for clients
Being able to see who actually "opened" your email is also very handy for clients
RSS to Email Video
[youtube id="Zp6EO_wvaZo" width="600″ height="400″]
Con's
Expensive (in relation to what they offer), but the kicker that got me a grudge against them is that they even charge you for "unsubscribes" – their pricing is $19/month but don't think you are safe at that price, as soon as you get a single digit over their lowest limit, there's an extra $10/month added to your bill.
So many better systems out there, but Aweber is the one that works with every plugin – it's like being held hostage against your will. The developers of all these third-party software and plugins choosing just to make "Aweber" the easy-to-integrate one, and forgetting about making them customizable to "ANY" type of autoresponder/mailing list, means that in order to use all these other awesome products, you need an aweber account, there's just no way around it. "Some" developers are getting the hint and making their software compatible with any service, but most of them stick to Aweber unfortunately.
I wish I could use something else and not have to pay these guys every month, but I like my opt-in plugins and themes too much
A big portion of my clients are small business owners that do not want to pay a monthly fee for email "when Outlook will do", they don't see the "value" in it, it's just that little bit "too much" to justify for an email-a-month. For those that need multiple campaigns, Aweber is great, but for small biz operators who don't have a lot of cashflow, but actually need something like aweber or want to implement at least a monthly campaign, they don't yet see the value in committing to something like Aweber for $19/month. Whether they are right or wrong, it's just what I've observed in my day-to-day business dealings with clients.
Summary
Try as I might to get rid of Aweber (I've had a grudge ever since I saw that they were charging me an extra $10/mo for 2 people who opted out of my list). Unfortunately, I see it as an essential part to most of my online marketing. I would love to be able to use something else, but I feel "stuck" with them due to the fact that so many third-party themes, plugins and software that I rely on, integrate so perfectly with Aweber. It's a hassle-free way of getting your email newsletters & autoresponders. It's the only one that I recommend to clients because it gives the greatest flexibility in terms of whatever extra's they want to get – a membership system, an opt-in plugin, a newsletter, autoresponder, etc. they are not going to have any problems with it. If they didn't charge for people who opted-out I probably wouldn't have the grudge that I have, (I know I can just delete them, but even I have trouble remembering to do that, let alone if I was a busy retail business – I just think it's a sneaky and dirtly little trick to get people to pay more than double for their service)… but still – I tell myself "it's essential Penny so just deal with it – try and embrace it – and move on" :)