How we lost Australia to Foreign Control
Updated:

2 months ago

Reading Time:

40

Minutes

Post Words:

10195

Words

International Treaties & Constructional changes made that have given us up to Foreign Control
How Australia lost its Sovereignty and became slaves to Globalists. The great deception of the NWO.
Living Document: First published: May 12, 2022 | Updated June 19, 2023
This is just my notes – a scrapbook – in an attempt to be less-ignorant. I only discovered most of this during the pandemic, so I'm decades behind those who have researched this more extensively. (The more I look into it, the more I realize how far behind I am, so don't be too harsh on me for my attempt to get my head around it and things I've missed – I'm getting there slowly… lol.)
If you are more up-to-date on all this and notice any errors I've made in my attempt to understand, please reach out to correct me.
Constitution Changes
The Australian Constitution cannot be changed – not a single word – without Referendum.
"Not one word of the Constitution may be altered or changed without the considered-consent of the Australian people, they shall be asked directly in a referendum, before we alter it in any way because it belongs to them – and the Country belongs to them."
A referendum = which a majority of people shall agree, before one word of the document is changed.) Constitution was changed more than 8 times without Referendum that had a massive effect on removing Australia's sovereignty to bring in the New World Order.
International Treaties that have given us up to Foreign Control
The Great Betrayal
(Note for those that stumbled across my blog – I'm still at beginning-stage of investigation, understanding, and seeking verifiable evidence of this – don't take my word of anything on this page without the relevant, verifiable references) – Discernment-needed always! and there's far more knowledgeble sources than me on this… I just want to try and understand it.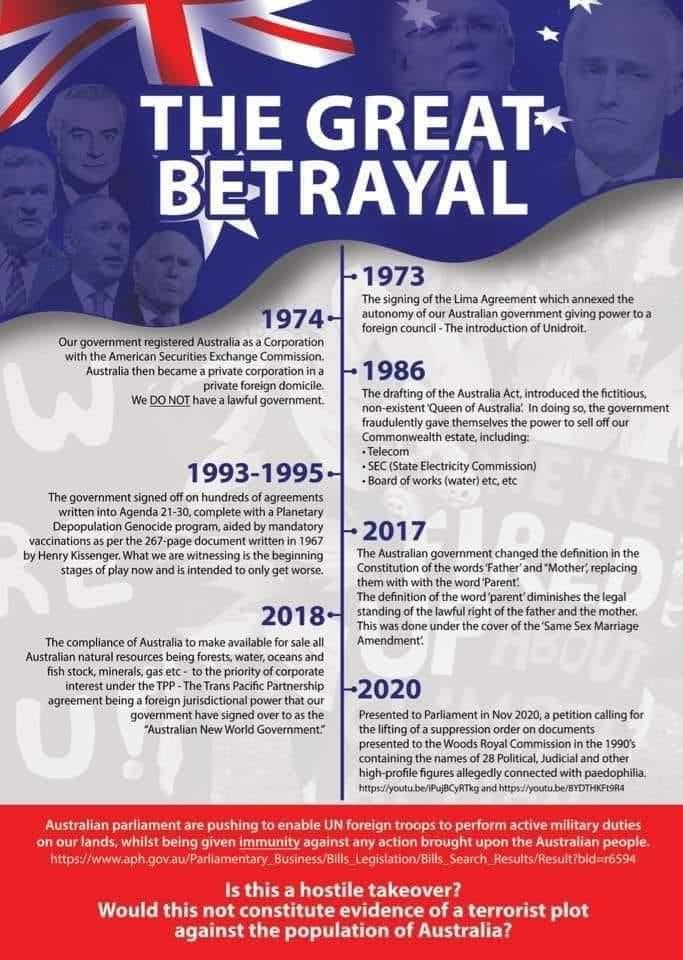 Random notes (out of my own interest as I pour through the history): I'll eventually remove the non-Australian references to the Octopus page I'm working on but today I just want to keep one page open.
1910 – The

Flexner

Report (Rockefeller takes over Medical Academia creating a societal-factory of ignorant doctors & removing natural medicine in place of a commercialized big pharma cartel)
1914 – WWI (1914-18)
1920 – The League of Nations becomes part of international law with Australia as one of the 29 original Member States. Thus Australia's sovereign nation status and political independence was guaranteed in international law under Article X of the League's Covenant.

Sir Geoffrey Butler KBE, MA and Fellow, Librarian and Lecturer in International Law and Diplomacy of Corpus Christi College, Cambridge, author of "A Handbook to the League of Nations" used as a reference to the League by all nations at that time, pronounced in reference to Article I of the Covenant of the League of Nations, "It is arguable that this article is the Covenant's most significant single measure. By it the British Dominions, namely, New Zealand, Australia, South Africa, and Canada, have their independent nationhood established for the first time… … the Dominions will always look to the League of Nations Covenant as their Declaration of Independence. "

1924 – Compulsory voting in Commonwealth elections introduced by wy of a private Members Bill.
1939 – WWII (global war 1939-45)
1945 – Australia was one of the founding members of the United Nations.
1947 – Cold War (1947-1991)
1948 – Following the end of World War II, the international community (through the United Nations) endorsed the Universal Declaration of Human Rights that outlined the human rights of 'all peoples and all nations'.
1948 – Mahatma Gandhi assassinated (activist who led India's independence from British rule)
1954 – First Bilderberg meeting established to 'prevent another world war' / 'fostering dialogue between Europe & North America'. i.e to create intentional powerful connections between countries to have more control and influence.

Co-founded by an Ex-Nazi and Agent of the Vatican.
Every year the most powerful & wealthiest leaders and families, including the major influencers of the financial, political, and media connections, as well as major international corporations are 'selected' to be invited.
It is believed that these meetings shape & influence our world and are suspected as acting as a shadow unelected government.
They have evolved since to meet for yearly discussion of global-policy issues of which all meetings are secret and protected by armed guards.

1959 – Television came to Queensland
1960 – ECHELON – global mass-surveillance program launched (spying on governments, institutions, persons of interest, to absolutely everyone) (Edward Snowden – former NSA/CIA analyst – leaked this information to the world via WikiLeaks in 2013)
1960 – Australian government removed the Governor-General and Commander-in-Chief of the Commonwealth of Australia from representing Her

Most Excellent Majesty

by stealth (without referendum or consultation)
1962 – Vietnam War 1962–75
1966 – Sir Robert Menzies resigned as Australia's Prime Minister and was replaced by Harold Holt.
1966 – Australia changed to a decimal currency. Pounds, shillings and pence were replaced with the new currency – the US-based dollars and cents, with no head of power.
1967 – Australia's (unelected) Prime Minister Harold Holt went for a swim and was never seen again.
1968 – Club of Rome established with 75 prominent industrialists, economists and scientists from 25 nations, many of them drawn from NATO. The Club of Rome
1968 – John Gorton replaced John McEwen and served as Prime Minister from 1968-71
1969 – NASA's moon-landing telecast. Australia played a part in the international (deception?) of the Apollo II images which were relayed "by microwave" purportedly via Australia's giant telescope in Parkes, New South Wales. to ABC studios to Texas for international telecast.
1970 – Metric System Established. Metric Conversion Board established to implement a gradual transfer from imperial to metric weights and measures
1970 – Club of Rome member George C McGhee wanted to create a global matrix approach as a means of bringing people into an enviro-eugenicists mindset globally.
1970 – Club of Rome "Predicament of Mankind"
1971 – William McMahon became (unelected) Prime Minister after Gorton resigned.
1972 – Club of Rome "Limits to Growth"
1972 – Gough Whitlam unlawfully took control of the government
1972 – Gough Whitlamwas elected to be Australia's Prime Minister

(So which is it? Unlawfully took-control or elected? Can't get my head around this yet, so suspect it's some law, act, or change that I've not yet understood)

1972 – Whitlam and the Political Parties changed the Constitution and official Definitions, without a Referendum, to create a private "Australian Commonwealth".

changed the name of the government from the "Parliament of the Commonwealth of Australia", to the "Parliament of Australia"

creating a fake "evil twin" Government – a corporation – creating two duplicates of our Constitution, and copyrighting the new documents to the AUSTRALIAN GOVERNMENT (all caps). Essentially creating their own law & installing their own government
new parliament house was part of this process (1981).

1973 – The Trilateral Commission
1973 – Royal Styles and Titles Act passed by Commonwealth Parliament – reserved for signature by the Queen. This Act removes the status of Queen of the United Kingdom in Australia and substitutes the title "Queen of Australia" effectively removing the Queen from executive power in Australia. The 1973 Act has no power to alter the Constitution as no referendum was held.

The Royal Styles and Titles Act 1973, obliterated the Australian Constitution.

Effectively the Commonwealth of Australia Constitution is a document for dictatorship. For instance, it allows an appointed Governor-General to govern without a parliament and with ministers solely appointed by him/her for as long as the Governor-General may wish. The Governor-General is also commander in chief of the armed forces.

1973 – Gough Whitlam created a fake "Queen of Australia" – a statutory abstract entity – a name on a piece of paper – through the adoption of the Royal & Parliamentary Titles Act 1927 – removing Queen Elizabeth II & replacing the Crown in our Constitution with the Queen of Australia.

1973 – Whitlam removed the Great Seal of Britain and replaced it with the 'Great Seal of Australia'.
1974 – Australia registered as a Corporation on the American Securities Exchange Commission.
1975 – UN Lima Declaration. Australian government signed without referendum or knowledge. Lima declaration became Australia's Formal Trade Policy.
1975 – Malcolm Fraser was installed as Prime Minister 1975-83 after Gough Whitlam was removed from office by the governor-general, Sir John Kerr.

On dismissal of Whitlam government by Governor-General Kerr, Speaker Scholes sought direction from the Queen. The reply confirms she no longer has power in Australia.

1978 – Prime Minister Malcolm Fraser unveiled plans to build a new Parliament House to be opened in 1988, the bicentennial year of European colonisation.
1980 – The New International Economic Order – Implications for Australia
1980 – Prime Minister Malcolm Fraser broke the ground to officially start construction on Capital Hill on 18 September 1980
1981 – The new Parliament House Construction started.

Parliament House is the meeting place for the Parliament of Australia.

1982 – Individuals under the fake-evil-twin government known as the Prime Minister of Australia and the Premiers of the States, with no referendum agreement of the People of the Commonwealth of Australia, formulated the Australia Act 1986.

The Australia Act was designed to break all legislative ties between Britain and Australia.

Apparently that Act was enacted to the fake "Queen of Australia" – the piece of paper

(I'm confused about this allegation, as per 1986 below that shows the Queen signing 'something' that they say is the Australia Act 1986 –

truth and evidence please?

)
Apparently without a referendum, the Australia Act has no authority over the people of the Commonwealth of Australia.

1983 – Robert (Bob) Hawke became Prime Minister of Australia – 1983-91

(interesting – was Leader of the Opposition for only 1 month before becoming prime minister)

1986 – Queen Elizabeth II signs the Proclamation of the Australia Act (Cth), 1986

1986 – The Australia Act is the Constitution of the new (fake) Parliament of Australia, not the Commonwealth of Australia Constitution 1900 of the People.
This act removed the ability of the UK Parliament to make laws for Australia, making Britain a foreign country. This was defined by the High Court in the case Sue v Hill 1999.

1987 – Club of Rome "New World Order"
1987 – UN World Commission on Environment & Development / Brandt Commission Report – definitive program for World Government.
1988 – Australian referendum (Local Government)

The Constitution Alteration (Local Government) Bill 1988, was an unsuccessful proposal to alter the Australian Constitution to recognise local government. It was put to voters for approval in a referendum held on 3 September 1988. (01) 1988 Australian referendum (Local Government)

https://en.wikipedia.org/wiki/1988_Australian_referendum_(Local_Government)

(02) A reply to Local Council threat letter

https://www.larryhannigan.com.au/government-local/19-a-reply-to-local-council-threat-letter/

1991 – Club of Rome "Pollution & Global Warming" narrative created to "unite the world against a common enemy".
1992 – UN Earth Summit attended by Rothschilds, Rockefellers & other planetary leaders who directed the narrative of total population control.
1992 – UN Agenda 21 was birthed out of the UN Earth summit. Global Population Control.
1992 – UN Framework Convention on Climate Change
1992 – Paul Keating signed UN Agenda 21 on behalf of Australia, without Referendum
1992 – Council of Australian Governments (COAG) established in Australia (intergovernmental forum from 1992-2020 comprising the PM, Premiers & Chief Ministers of Australian states and territories). – Replaced by "National Cabinet" at the start of the COVID-19 Pandemic in May 2020.
1994 – United Nations Framework Convention on Climate Change entered into force for Australia 21 March 1994.
1994 – Rwandan genocide & assassination of Rwandan Prime Minister.
1996 – Club of Rome member Mikhail Gorbachev "The environmental crisis will be the international disaster that will unlock the New World Order, One World Government".
1996 – Club of Rome member Ted Turner – "a reduction of 95% of population is ideal".
1998 – Club of Rome member Ted Turner donates $22M to UN programs that stall population growth.
1999 – All 50 US States became independent sovereign territories
2000 – United States of America corporation was created.
2001 – September 11 Attacks on World Trade Center
2001 – "War or Terror" narrative begins, increasing global surveillance.
2001 – War in Afghanistan (US-Britain launched war on Afghanistan 2001-2021)
2001 – NSA creates XKeyscore / TURMOIL to fully-log, track & search internet sessions.
2001 – The Queensland Constitution 2001 became the fundamental law of QLD.
2002 – Queensland became an independent sovereign state & a Corporation.

(and maybe took control of Australia – need to find verified references to this)

15 July 2002, The Corporations (Q) Act 1990 (Q) Reprint No 3 created in QLD a Corporate Government.
Trying to locate this particular act.

The State of Queensland Australia is registered with the US Securities and Exchange Commission.

STATE OF QUEENSLAND AUSTRALIA (CIK 0001244818)
QUEENSLAND TREASURY CORP (CIK 0000852555)
Bank of Queensland Ltd. (CIK 0001444323)

Commonwealth of Australia is registered with the US Securities and Exchange

COMMONWEALTH OF AUSTRALIA (CIK 0000805157) (SEC 333-163307)

Mailing Address / Business Address

1601 MASSACHUSETTS AVE NW
C/O AUSTRALIAN EMBASSY
WASHINGTON DC 20036

Treasury Documents relating to registration with the SEC of the Australian Government as a privately-owned U.S. American company.

State of Victoria – Department of Justice ABN 32 790 228 959

TREASURY CORP OF VICTORIA CIK#: 0000898608 (SEC)

2003 – "The Iraq War" (US invaded Iraq vowing to destroy weapons of mass destruction, and assassinating Saddam Hussein) (2003-2011)
2004 – Water Privatization. John Howard separated land and water to make it a saleable commodity. Against Section 100 of the Australian Constitution.
2007 – PRISM – Global Digital Surveillance program collecting stored internet communications by internet companies such as Google. (program existence leaked by Edward Snowden, former NSA/CIA analyst, 2013)
2008 – Kyoto Protocol entered into force for Australia – 11 March 2008.
2008 – Anna Bligh, instigates forced fluoridation in Queensland. (15 Oct 2008)
2010 – WikiLeaks publishes "Afghan War Diary" – over 391,000 raw intelligence reports gathered between 2004-2010 disclosing US special forces being tasked with capturing/killing a list of insurgent leaders in Afghanistan & Iraq.
2010 – Julian Assange, WikiLeaks, remanded to prison without charge.
2013 – Trans-Pacific Partnership (TPP) (largest agreement of its kind in history – new policing measures, with far-reaching implications for individual rights, civil liberties, publishers, internet service providers and internet privacy, as well as for the creative, intellectual, biological and environmental commons).
2015 – UN Agenda 2030 (eliminate private property rights, forbidding humans to woodlands/wetlands, restrict civil liberties, restricting number of children you can have, restricting water, control over farmland/harvests, etc.)
2016 – UN Paris Accord (Framework for Climate Change)
2016 – Victoria signed up to the UN Strong Cities project (Rockefeller Resilient Cities)
2020 – New National Cabinet announced on 13 March 2020 to replace COAG to "coordinate the response to the COVID-19 pandemic in Australia"
2020 – COAG replaced by National Cabinet on 29 May 2020.
2020 – Doha Entry into force for Australia: 31 Dec 2020.
Club of Rome
1968 Club of Rome: Posts

1970 The Predicament of Mankind PDF (first prospectus of the Club, became roadmap for Limits to Growth & eventually "Sustainable Development").
1972 The Limits to Growth PDF (warning of worldwide overpopulation & the need for sustainable development)
1987 Mikhail Gorbachev, member of Club of Rome, said: "We are moving toward a New World Order, the World of Communism, and we shall never turn off that road."
1991 The First Global Revolution PDF "In searching for a new enemy to unite us, we came up with the idea that pollution, the threat of global warming, water shortages, famine and the like, would fit the bill." (p. 145)
1992 Earth Summit, "The Earth Charter" co-written by Maurice Strong & Mikhail Gorbachev (Club of Rome members), both stating they hoped the document would be adopted as the "new Ten Commandments with Environmentalism as the New One World Religion". (Out of this summit came Agenda 21)
1996 Mikhail Gorbachev, member of Club of Rome, wrote: "The environmental crisis will be the international disaster that will unlock the New World Order, One World Government".
1996 Ted Turner, member of Club of Rome, was quoted as saying "The total population of 250 to 300 million people is ideal. That means a reduction of 95% from present levels would be even more ideal. Anyone who abhors the China One Child Policy is simply a Dumb‐Dumb.". (It was reported in 1998 that his first donation to the UN of $22M went to programs that seek to stall population growth.)
Australia becomes private corporation
1974 Australia registered as a Corporation on the American Securities Exchange Commission becoming a private corporation.
NIEO | Lima | Formal Trade Policy
1974 UN New International Economic Order: Post

1980 The New International Economic Order – Implications for Australia PDF

1975 UN Lima Declaration: Posts(blueprint for the redeployment of tools, jobs and manufacturing to the developing nations leaving countries like Australia short of technology, a manufacturing base and jobs)

Australian Government signed The Lima Declaration without referendum or knowledge to redistribute wealth from Australia to 3rd world countries, which involved outsourcing our manufacturing, agriculture, and ownership of our major infrastructure assets.

1975 Lima/NIEO became the Formal Trade Policy in Australia.
UN Agenda 21 | 2030 | Paris Accord
Trans-Pacific Partnership (TPP)
2013 – Trans-Pacific Partnership (TPP)

The TPP is the largest-ever economic treaty, encompassing nations representing more than 40 per cent of the world's GDP.

The longest section of the Chapter – 'Enforcement' – is devoted to detailing new policing measures, with far-reaching implications for individual rights, civil liberties, publishers, internet service providers and internet privacy, as well as for the creative, intellectual, biological and environmental commons.

Particular measures proposed include supranational litigation tribunals to which sovereign national courts are expected to defer, but which have no human rights safeguards.
The TPP IP Chapter states that these courts can conduct hearings with secret evidence.

The TPP is the largest agreement of its kind in history: a multi-trillion dollar international treaty being negotiated in secret by the US, Japan, Mexico, Canada, Australia, Malaysia, Chile, Singapore, Peru, Vietnam, New Zealand and Brunei.

The treaty aims to create a new international legal regime that will allow transnational corporations to bypass domestic courts, evade environmental protections, police the internet on behalf of the content industry, limit the availability of affordable generic medicines, and drastically curtail each country's legislative sovereignty.
UN Strong Cities
2016 Victoria signed up to the UN strong cities project and joined the Rockefeller 100 Resilient Cities PDF
I know there is a lot more, some posts that I have in drafts I've been working on for over a year! and they still need more research before they are ready to publish. Politics for me is confusing, boring, upsetting, and does my head in – so even though I don't want to be ignorant about it – I want to learn – I think our ignorance is what got is in this position to begin with – I also find it difficult to stay focused when I'm trying to understand it.
Videos about the Australian Betrayal
Useful Websites & Downloads
The pyramid thing. "Them" at the top, "Us" at the bottom. Instead of looking at the pyramid with the point at the top, look down from above the pyramid. That puts "Them" (the 1%) in the middle; surrounded by "Us" (the 99% – billions).

Site Notifications/Chat: 
Videos:
Penny (PennyButler.com)
Penny (PennyButler.com)
Truth-seeker, ever-questioning, ever-learning, ever-researching, ever delving further and deeper, ever trying to 'figure it out'. This site is a legacy of sorts, a place to collect thoughts, notes, book summaries, & random points of interests.