I can't follow over 2000 on the Twitter. Is there a follow limit?
Twitter is trying to combat the Twitter spam problem, so last year introduced a Twitter follow limit, excepting those who have built up their following list to over that, and were not spammers, the "rest" of us can only follow 2000. There is no limit to the amount of followers you can have, only a limit on the amount you can follow. But there's more to it, and a way to combat the limit…
They introduced it to stop people from aggressively following others.. following thousands of people, spamming their message.. creating new accounts, rinse, repeat. etc. There are many Twitter programs around at the moment that allow spammers to create thousands of accounts, and automatically follow thousands of people, including an instant "spam" to DM & Reply, etc.. it's insane, but unfortunately, it's happening. The spammers take advantage of the fact that most of us will reciprocate those who follow us.
Twitter has placed limits on their service, to try and combat this increasingly annoying problem.

Twitter also has the following limits: (source)
1,000 updates per day
1,000 direct messages per day
100 API requests per hour
If you've reached a follow limit, you can help yourself by reducing your following number until it resembles your followers number. Since the follow limit is based on followers/following ratio rather than time, you'll have to un-follow people before you're able to follow again. Follow limits cannot be lifted by Support staff.
Twitter follow limits only kick in after unreciprocated follow attempts reach the thousands. Avoid hitting Twitter limits by not following aggressively– if others see that you've tried to follow 500 people but only 12 are following you, they may not follow you back, and worse, they might block you.
At the time of writing, I have 2,489 followers, and I'm following 2,595 – the fact that people are following me back, and not removing me, means that the limit doesn't "kick in".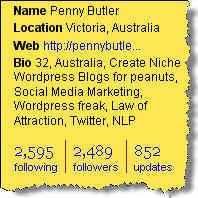 About a month or so ago, I hit the 2000 follow limit. I could no longer follow anymore, without getting the limit error, and it sucked, because if I like a blog post I'm on, I'll follow them on twitter, I can "subscribe" to tweets instead of rss feeds or mailing lists, and I really kind of enjoy the fact that I have a lot less mailing crap coming into my inbox – and if Im interested in it, Ill see it on twitter and look at it from there – and if I miss it because Im asleep – GOOD lol..

The second problem with my limit, is that I like to reciprocate the follow – if someone follows me, I will follow them back – unless they spam me, then I simply unfollow.
So to get passed the limit, I had to go into the various Twitter Housekeeping tools and unfollow people – people who weren't following me back. I didn't want to do that, because I actually enjoyed reading the tweets from those who weren't following me back – but it was a choice I had to make if I wanted to continue to follow new people and reciprocate those who follow me, my choices were:
– unfollow those who aren't following me
– go through each of my following list to see if there are some tweets that I'm less interested in, regardless of whether they follow me or not
– or unfollow those who do follow me.
*waves hands up in despair* :)
So I chose the "easy – less time-consuming way".. unfollowing those who don't follow me back.
Anyway, now that my following/follower ratio is closer – the limit doesn't apply. According to Chris Spagnuolo's blog post, you must bring your Follower count to within 10% of 2,000 to follow more people and once you pass the 2,000 limit, the number of people you follow must always be within 10% of the number of people who are following you (e.g. if you have 4,000 Followers, you can follow up to 4,400 people).
Hope this makes sense and helps someone who has currently reached their limit or is about to. Feel free to comment / add your views or suggestions.
See also:
I can't follow people: follow limits (Twitter Support)