Once a month, gently brush your teeth with bicarb soda. It's abrasive, so to protect your enamel, you don't want to use it more than once a month, but it's good to do because it's great at removing stains, getting into crevices that might be forming into cavities, etc.
If you have damaged teeth or are nervous about damaging your enamel, you don't have to put it direct to your teeth – you can soak your toothbrush in Bicarb water and use it that way – which is a LOT safer on your teeth and still works for cleaning.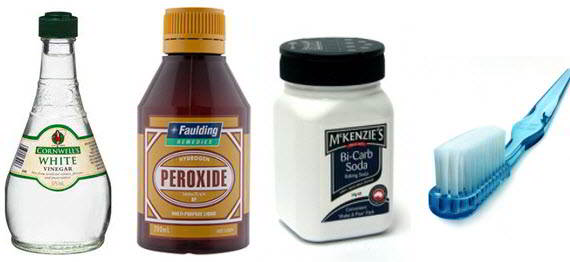 Bicarb = abrasive, whitening, alkaline
Hydrogen Peroxide = whitening
White Vinegar = Fizzes like toothpaste
Water = alkalising and extra protection for enamel from bicarb abrasiveness
Monthly Bicarb Teeth Cleaning
2013-11-20 23:38:19
Ingredients
1 TSP Bicarb Soda
1 Capful 3% Food-grade Hydrogen Peroxide
1 Capful White Vinegar
2 Parts Filtered Water
Instructions
Combine ingredients in a cup.
Dip your toothbrush into solution and brush as normal.
Penny`Pedia http://pennybutler.com/
The following two tabs change content below.
Penny (NaturalHealing.com.au)
Penny has a passion in 'accelerated learning' and a special interest in living an optimal life including health, time, business, goals, mindset and happiness. Penny is a truth-seeker, ever-questioning, ever-learning, ever-researching, ever delving further and further and deeper and deeper down the rabbit hole. This site is a legacy of sorts, a place to collect thoughts, notes, book summaries, & ideas whilst providing a searchable archive to easily lookup and reference. Learn more on the
About page
.
DISCLAIMER: The information on this website is not medical science or medical advice. I do not have any medical training aside from my own research and interest in this area. The information I publish is not intended to diagnose, treat, cure or prevent any disease, disorder, pain, injury, deformity, or physical or mental condition. I just report my own results, understanding & research.
Latest posts by Penny (NaturalHealing.com.au) (see all)