How to Tag a Facebook Fan Page with @Mentions
Following up from a comment from Heather on my previous post: Tag your Facebook Fan Page, Group, or Events by using @Mentions, I decided to create a new quick post specific to Fan Pages.

Like Heather, you may of been trying to Fan other pages from your fan page, but finding that the "Link" doesn't work or even the @Mention doesn't work.
The problem is, that the Fan Page that you wish to Tag, has to reciprocate and Fave "your page" as well in order for your update to appear as a link on their wall.
If you fave them, your post will still link to them (as long as you are also their "Fan"), and appear as a link on your wall, but to get the return link back from their page, they need to fave you too.
So to be clear, you need to:
1.) Become a Fan of their Page

2.) Add their Page to your Pages Fave's

3.) And THEY need to add YOUR page as a Fave

For it to work.
(Easier if you are an Admin of both pages, but very hard if you are not unless they Fave your page, it's pretty useless, excepting for the ease of link from your fan page to theirs.)
To use @Mentions when the above is true, you go to the wall of your Fan page, and start typing in the name of the FanPage prefixing with the @ symbol.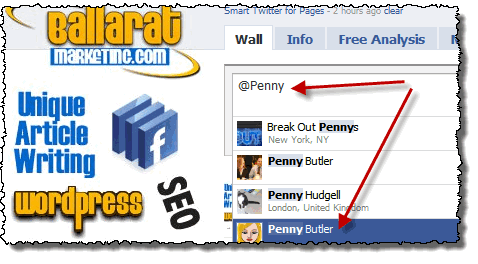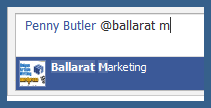 Another thing that might be causing it not to work, is that the "Name" of the Fan Page, may not be what you think it is.
In the above example, when I'm linking to @PennyButler fan page (which is actually http://facebook.com/webwooky) – @WebWooky doesn't work – because the actual name of the page is Penny Butler which is what it was called originally before I changed it. So to mention the "WebWooky" fan page, I have to type @Penny Butler for the mention link to work.

Another reason it may not work is that your privacy settings are set to hide from the public your status updates.
For @Mentions to work on both the Page and your Profile, change that particular Status update to "Everyone" before you share it:

If anyone knows of any other ways for it to work, please feel free to comment, or if you aren't sure what I'm talking about, make another comment lol :)