Spice up your MySpace Bulletins with Photo and Audio Shoutouts
If you're looking for a better way for your bulletins to get noticed on MySpace, then this is the right tool for you!
Well 2 tools really: SnapVine and PhotoShoutout.
First.. about SnapVine..
"Snapvine brings voice and mobility to social networks. Using the snapvine VoicePlayer™, users are able to safely communicate — in their own voices — with their online community. Unlike with other solutions which require expensive handsets and complicated downloads, snapvine's easy-to-use products work on any cell phone, with any carrier. Snapvine is FREE and those leaving messages do not have to be registered with snapvine to do so."
One could think of Snapvine as an online voice recording service that allows mobile phone users to add voice comments to blogs – broadcasting whatever message they would like.
You can post directly to MySpace or Facebook, and it also has automatic integration for: Bebo, Flixster, Tagged, BlackPlanet, myYearbook, Friendster, Hi5, IMVU, Asiantown, Xanga, Vampirefreaks, Live Spaces, Freewebs, Hoverspot, Piczo, MyCrib, Migente, orkut, Vox, LiveJournal, TypePad, Blogger, Multiply, Netvibes, & Pageflakes.
Signup to SnapVine: http://www.snapvine.com
Next.. Photo Shout Out..
Photo Shout Out is a great way of creating a personalized message that combines your voice while attaching them to your favorite pictures and photos.
Just choose a MySpace picture (or log into Photobucket) and record a message with your computer microphone or by dialing a telephone number.
And you can post it directly to your bulletin and automatically notify your friends.
Shouts can be sent to friends as a message, bulletin or comment.
With just a few quick steps, a MySpace user could add an online module to his or her page that allows friends to leave recorded voice comments.
If you want to stand out amongst the crowd.. these 2 tools could really be useful for you, especially on Facebook & MySpace.
Get the Photo Shoutout app on MySpace: http://www.myspace.com/photoshoutout
You can embed your code anywhere:
Example:
Comment | Copy This
This is what it looks like if you post it to your MySpace profile: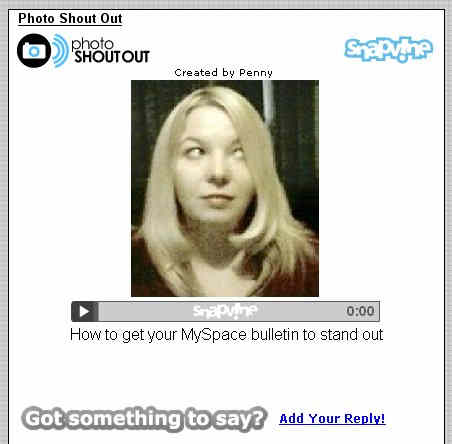 You can also post a cool widget like this to your blog, website, or squeeze pages and they will instantly be updated when you call in your blog or record one from the site!
Er, which for some reason is stuffing up the formatting in this post.. but I've played with it enough for the day.. my sis just had a baby!!! So heading down to Melbourne to see her.. :)