DIY Skin Cleansers from your Kitchen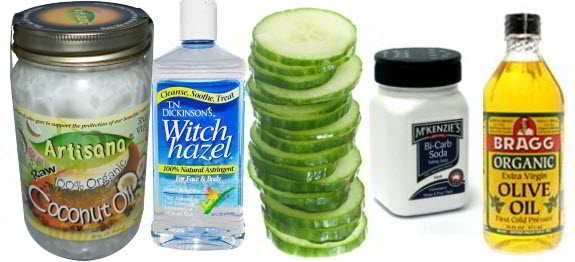 Baking Soda Skin Cleanser
2013-11-19 08:57:20
Serves 1
Ingredients
Pinch Bicarb Baking Soda (not baking powder)
Small Glass of Filtered water
Instructions
Splash or use a spray bottle to apply to face and rinse thoroughly
Notes
* Best done in shower rather than over the sink - although, alternatively you can use a face washer to dip into the solution and wipe gently over your face
* This is the most abrasive option on the list and should not be the "daily" routine. If you do not dilute the baking soda, your skin will be red raw, so please remember to dilute it well. Bicarb soda can clean so many things, including your skin & hair - but I would never use it on my eyes.
Journey to a Better Life http://pennybutler.com/
Olive Oil Skin Cleanser
2013-11-19 09:59:10
Ingredients
Few drops of Extra Virgin Olive Oil (or Jojoba oil)
Instructions
Apply directly to face
Leave for 2 minutes
Wipe face gently clean with warm face washer or cotton pad
Notes
(Option: add a few drops of witch-hazel to turn this into a great eye-makeup remover)
Journey to a Better Life http://pennybutler.com/
Coconut Oil Skin Cleanser
2013-11-19 10:04:42
Ingredients
1 tsp Coconut Oil
Instructions
Apply a small (teaspoon) of coconut oil to your face
Massage around face for up to one minute.
Rinse with water or wipe off with wet facecloth.
Notes
(Coconut oil also doubles as an eye-makeup remover)
If you have cut down on wearing makeup (like we all should) we should only need to wash our face once per week.
Journey to a Better Life http://pennybutler.com/