Set MySpace Username URL and @myspace.com Email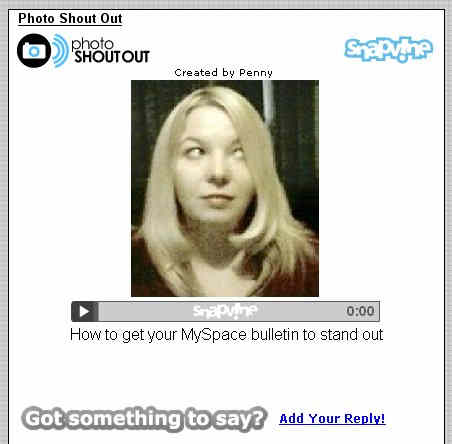 PLEASE READ UPDATE AT THE END OF THIS POST, they have since removed the ability to choose your username – "temporarily"
How to setup your own @myspace.com email address and your vanity url (myspace.com/username).
I recently tried to login to my MySpace profile, only to find it was gone, never to be seen again. I admit, I hardly ever even go to MySpace anymore, but it's one of the places that I automatically send my videos, and when I first started to get into Social Networking, it was the first place I 'setup', so although I'm not too terribly upset about it being deleted, I am annoyed that I've lost my original contacts because some of them don't have Facebook (yet). I am really surprised that it was deleted, I'm not sure why, no emails were sent about it and it certainly wasn't spammy, but there doesn't seem to be a lot I can do about it, the profile is definitely gone and it has no record of my email address. My other concern is, that because it was one of the first places I setup, on every subsequent site that I setup, I also always used to make sure I promoted my 'myspace url', so there is a bunch of links out there pointing to my profile, which is now no longer there – doesn't look so great when social media is the way you earn your income.
So reluctantly and *stamping my feet* I needed to recreate it again, preferably before someone claims my username. Well unfortunately the name is not available and I can't reclaim it (emailed them to see what, if anything I can do about that) but I did find out that they have a new way (at least new to me) of how to choose your vanity username as well as now having the option of a @myspace.com email address.
To Claim your @myspace.com email address and vanity url in the same step:
Click on "Mail"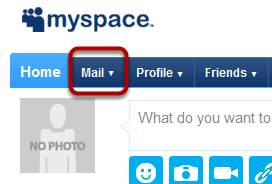 Then "Setup your own @myspace.com email address"

On the top-right of the screen, you'll have the option of setting up your own @myspace.com email address.
Then pick your email address, which will also be your vanity url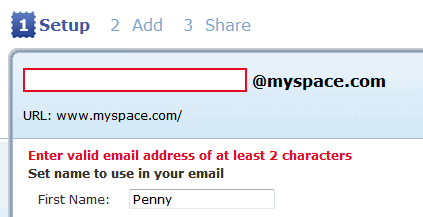 Whatever you choose as your @myspace.com email address, also becomes your vanity url http://www.myspace.com/username
That's it.. except if the bugger is already taken *sigh*..
Anyway, I think MySpace is a dying world except if you are a band.
Want to let out your MySpace frustrations? Feel free to share a whinge with me here :)
Update 18th November, 2010
Apparantly 8 days ago they removed the ability to pick an @myspace.com vanity email/url except when you are creating your account for the first time.. see the following screenshot:

Thanks to Paul who commented to let me know it had changed, I never login to MySpace anymore..