Latest Twitter News from Around the World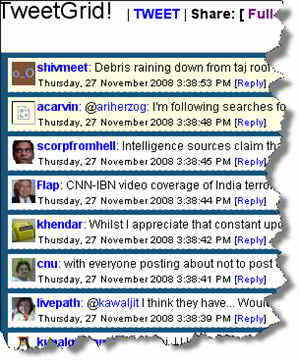 Went on a Twitter News search today, these random twitter articles were all posted with the past few hours… About the Facebook/Twitter No-Deal
What's Facebook Got? And What Is Twitter Worth?
Facebook has been in talks with Twitter, a private micro-blogging start-up (it allows you to easily update your contacts with messages or "tweets" of up to 140 characters). Negotiations put Twitter's value at as much as $500 million. Whether or not this deal goes through, which is looking unlikely at this point, these talks speak volumes about both Twitter and Facebook. … read more…
Facebook targeted Twitter
Social networking company Facebook recently held acquisition talks with Twitter, the micro-blogging company, the Financial Times said. The negotiations, put a valuation of as much as $500 million on Twitter, which has become one of Silicon Valley's most closely watched start-ups, the paper said. … read more…
The fact that Facebook wants to acquire Twitter is not a surprise. Both are hot Web 2.0 companies that have seen meteoric increases in viewership. Facebook, started as a site for college students, has exploded since opening itself to a broader audience. Twitter, the miniblogging site, lets users report their current state of mind or location in 140 words or less. … read more… Twitter & Mumbai Attacks
Mumbai, Twitter, Wikipedia: It doesn't get more mainstream than this
If you're wondering about the reach of Twitter (clocking in at over 3 million users now) consider the tragedy that's happening right now in Mumbai. Apparently the police (and perhaps the attackers) are not only aware of Twitter — it's also part of the problem. The Indian government is asking that the #mumbai hashtag be shut down…. read more…
(NECN: Ted McEnroe) – While the news of the Mumbai attacks has been non-stop across the globe on tradition news network, the volume of the conversation through the microblogging site Twitter has been a deluge. The site has seen 50-100 messages per minute about Mumbai coming through, from Mumbai residents, those glued to the coverage on networks around the world, and those reaching out to locate family and friends who might have near the attacks. … read more…
One good source: the #mumbai hashtag search on Twitter. Indian security forces (Police, NSG, RAF) are actually asking social media (individuals) to not report from the ground about operations in real time since they may compromise the situation (TV signal is currently blacked out as of 22h55)…Amazing times when the people get the news out faster and easier than the big news media…. (not always the best thing, but hey that's true democracy.. ouch) … read more…
But given the horrific events in Mumbai since noon today, below are some related links (with the help of Poynter.org) on the situation. Clearly, an example of net neutrality accentuating our small world. * Twitter: tweets originating from within 15 miles of Mumbai. * NDTV.com is broadcasting live here * Sajaforum.org (South Asian Journalists Association) is, as of this writing, holding live discussion webcasts on their site every 12 hours. * Flickr: Vinu has uploaded photos from an attack scene. … read more…
Forget CNN, which so far has few details of the ongoing attacks in Mumbai, India that have left at least 80 dead (Update: they're starting to catch up now). People are giving first hand reports of what they're seeing directly on Twitter. Flickr is another important information resources – images are here. …read more…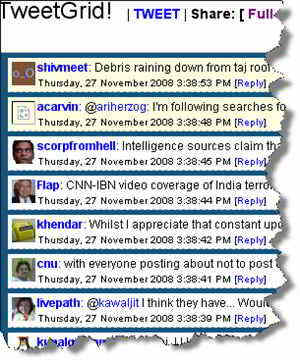 …read more… Twitter Sites, Software, and Tools
Video-sharing site Ffwd now has links into Twitter. When you share a video on the site, or even just watch one, the service can optionally blast your activity to your Twitter followers. There's also a new bookmarklet that makes it easy to share any video link on Twitter without actually going to the Ffwd site itself. … read more…
The one I've been testing out for the last few days is Mr. Tweet. The way it works is that you follow Mr. Tweet's company Twitter account (@MrTweet), and it sends a link to a personalized report that it has generated for you. The report shows you meta-data about other users, like how often they post Twitter messages (called "tweets"), how likely they are to follow people who follow them, and more. In one part of the site, you can see rankings showing who "influential" Twitters are, partially based on whether they're tweeting about the same topics as you, and also if they have a lot of followers. … read more…
I have been long looking for a solution to insert html signatures into my Gmail that could enable me to add images as well, So finally Folks at Wisestamp have worked out to help people put html signatures to Gmail with a firefox extension , It also supports Yahoo and Hotmail. Some of its features are that you can personalize your signature by adding your Pic or your logo, You can easily link to your social networks profiles like twitter, LinkedIn and Flickr etc … read more… Twitter & SMS fees
Just this week, I was applauding Twitter for rejecting an offer from Facebook. One reason I noted was that Twitter's SMS text feature makes alerts from twittering (tweeting?) news outlets such as ZDNet even more valuable. Now, that feature seems headed for the history books as wireless carriers impose fee hikes on sites like Twitter that send outbound SMS messages… read more… Twitter on ThanksGiving & Christmas
Twitter – 1.When you forward articles you found on Twitter, tell them that. 2.Tell them how your Twitter contacts answered a question you had. 3.Have them look over your shoulder when you use Twitter, to see the type of conversations you have. They'll be shocked, it's not all about people posting about brushing their teeth. 4.If you have enough followers, ask your followers to say hello to the friend who is interested in Twitter … read more…
Tweetsgiving: What are You Thankful For?
Tweetsgiving is run by a legitimate non-profit, so if you want to participate, simply tweet something your thankful for with the #tweetsgiving hash-tag, and donate in honor of that which you're thankful. … read more…
We're looking for Twitterers to file instant shopping updates throughout [Black Friday], and we'll post them on Syracuse.com. The tweets can be found at www.syracuse.com/twitter. Tell us where the bargains are found, who's out of stock, who has stock, how long the lines are, even what you have for lunch. … read more… Twitter Chatter Pro:
Our resident student blogger, Zack Whittaker, asked a question this morning that caught my eye: "Twitter: is there any point?" My answer, as a growing devotee of Twitter and other bits of social media is, "Of course there's a point!" Even for Ed Tech, I maintain that Twitter, and Twitter-like services, can have a lot of value. Imagine during a lecture a Twitter feed from the class so that questions and clarifications can be posted in real time? … read more… Con:
Also, I refuse to get a Twitter. I get that it's there for people to log those weird little stray thoughts that "twitter" through your brain, but… you really don't want to know what kind of randomness I think. Also, Some people use it as a play-by-play of their daily lives, and I'm not narcissistic enough to think people want to hear about that. … read more… Please comment if you found this useful and I'll do them more often. If you find this article useful, please share your thoughts & suggestions – I've never posted this type of article before and I want to know whether it's something worth doing every now and then? I love keeping up with Twitter news and what people's thoughts are out there, but not sure if it's worth posting the snippets of news feeds here or not. Would it be better if there were screenshots of the website thumbnails? Prefer to have just certain twitter topics? etc, happy to hear your feedback :)