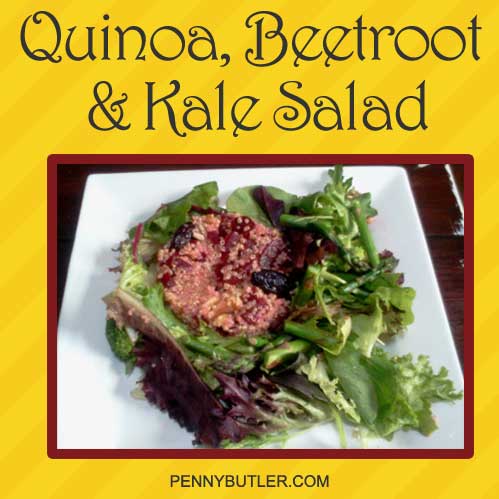 Quinoa, Beetroot, and Kale Salad
2013-11-25 10:29:14
Serves 1
Ingredients
1/4 Cup Quinoa
1 Beets
1-2 Kale Leaves
1 Carrot
1 Cup Baby Spinach & / or Rocket (Arugula)
Instructions
Soak Quinoa in a bowl of purified water
Shred Beets, Kale, and Carrot
Rinse, then Cook Quinoa as per directions (20 minutes usually) and leave to cool
Mix Beets, Kale, Carrot with Quinoa
Serve on a bed of Baby Spinach &/or Rocket (Arugula)
Notes
*Mixed lettuce or any lettuce can be used in place of spinach or rocket.
Penny`Pedia http://pennybutler.com/
Why these ingredients
Aside from tasting well together, the health benefits of these ingredients are:
Quinoa
Beetroot
Kale
Carrot
Spinach
Rocket
Modified Versions:
Quinoa, Beetroot, Olives, Broccoli, Asparagus, Mixed Salad: (Today's Lunch)
I put fresh olives in everything when I have it on-hand, even when it doesn't really go :)
With Veggie Burger: (Today's Dinner)
Left-over Quinoa, Cubed Beets,

Sunflower Seeds

, Sundried Tomatoes, Fresh Olives, Asparagus, Mixed Lettuce (Red Oak, Green Oak, Rocket, Spinach) & a Veggie burger
Sources/References:
---
The following two tabs change content below.
Penny (NaturalHealing.com.au)
Penny has a passion in 'accelerated learning' and a special interest in living an optimal life including health, time, business, goals, mindset and happiness. Penny is a truth-seeker, ever-questioning, ever-learning, ever-researching, ever delving further and further and deeper and deeper down the rabbit hole. This site is a legacy of sorts, a place to collect thoughts, notes, book summaries, & ideas whilst providing a searchable archive to easily lookup and reference. Learn more on the
About page
.
DISCLAIMER: The information on this website is not medical science or medical advice. I do not have any medical training aside from my own research and interest in this area. The information I publish is not intended to diagnose, treat, cure or prevent any disease, disorder, pain, injury, deformity, or physical or mental condition. I just report my own results, understanding & research.
Latest posts by Penny (NaturalHealing.com.au) (see all)