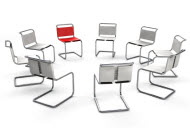 Entrepreneurs Unite! Hot Seat segment.
Every month we will chat to find out more about one or more of our valued site members. A friendly interview that will ask various questions and hopefully give members a better insight into what you are doing and if there is any way they can help, as well as talk about challenges and successes. The hot seat will be either by audio (skype recording) or recorded live webinar depending on the member's comfort zone. The 4 main questions will be:
What are you working on?
What's working for you?
What do you need help with?
Your goal for the next week
But we'll let the interview go wherever it ends up going. Just like a normal phone conversation with a friend. Interviewees can relax: To keep members anxiety down, we will have a free-flowing conversation but may edit-out some parts if something accidentally "slips-out" such as your big idea or personal family secret that you were trying to conceal or if you stumble on your words, accidentally swear, etc. Before the recording goes live, we can edit out anything that you didn't mean to say. (Idea inspired & adapted from a suggestion on the Podasting: Podcast Like a Radio DJ podcast.)
The following two tabs change content below.
Penny has a passion in 'accelerated learning' and a special interest in living an optimal life including health, time, business, goals, mindset and happiness. Penny is a truth-seeker, ever-questioning, ever-learning, ever-researching, ever delving further and further and deeper and deeper down the rabbit hole. This site is a legacy of sorts, a place to collect thoughts, notes, book summaries, whilst providing a searchable archive to easily lookup and reference. Learn more on the
About page
.
Latest posts by Penny Butler (see all)