New Facebook Fan Page to Twitter Application
New Facebook Fan Page to Twitter: Facebook.com Application

http://www.facebook.com/twitter/
Thanks to @HowDoIMarketMyBiz 's Facebook page for posting about this.. I've now setup all my Facebook Pages to Tweet to it's relevant Twitter Account.
This is Facebook's new Fan Page Twitter application – when you post an update or anything to your Fan Page (Status Updates, Photos, Links, Notes, Events, etc) it will automatically update your Twitter account – with a link back to your Fan Page! Pretty Amazing really! Only one I've ever seen that links people back to your fan page.
If you know of any other Facebook Fan Page applications, plugins, and widgets, please post a comment and share with the rest of us.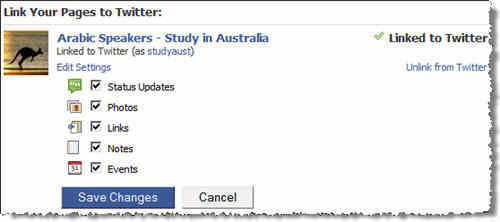 My Facebok page: ArabStudyAustralia is now linked to http://twitter.com/studyaust
My Facebook page: WordPressPlugins is now linked to http://twitter.com/ilovewordpress

My Facebook page: WebWooky is now linked to http://twitter.com/happyches