I keep finding myself making the same salad over and over again. It's nothing special, it's just really healthy and I just end up making it almost the same, every single day. You'd think I'd get bored, but even when I think "oh crap, not again"… when I eat it, it's always absolutely delicious and I really love it.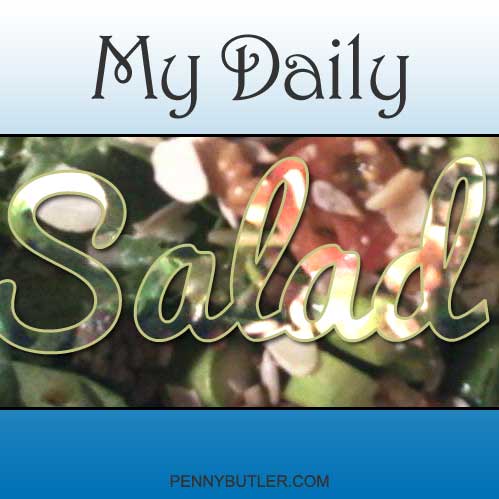 Yep, I know it won't win any awards, and I wouldn't make it for other people, but this is the same salad that I make for my lunch (and dinner's lately), over and over again, for the past few months.
Daily Salad
2013-11-26 13:12:16
Serves 1
Ingredients
Veggie Burger, Anchovies, Tuna, or Quinoa
Fresh Olives, Sundried Tomatoes or Cherry Tomato
Broccoli &/or Cauliflower
Shaved Parmesan (sometimes) or Nutritional Yeast (sometimes)
Asparagus or Kale
Mixed Lettuce (Red Oak, Green Oak, Endive, Rocket, Baby Spinach, Cos)
Walnuts, crumbled
Sunflower Seeds &/or Pumpkin Seeds
Almonds (shaved or whole) or Coconut Shavings
1 Brazil Nut
Salad Dressing
1 Capful Apple Cider Vinegar
1 Capful Balsamic Vinegar
1 Capful Olive Oil (sometimes)
1 TBSP Flaxseed Meal or 1 tsp Cracked Pepper
Directions
Wash, Cut, Mix, Eat.
Salad Dressing Directions
Mix in a small bowl (or small jar) first before pouring on salad.
Great Tip
If I'm having Avocado, I squish it into the salad, and it gives a delicious 'creamy' texture.
Penny`Pedia http://pennybutler.com/
Why these ingredients?
Mixed Lettuce (Red Oak, Green Oak, Endive,

Rocket

, Baby Spinach, Cos) – I eat the lettuce just because I know I should be eating salad everyday, but there are only health benefits for all the different types that goes into the mix.
Tuna – I have a small can of tuna about twice a month. I am torn about this. On the one hand, it's supposed to be good for brain function, better clarity, better memory, etc. On the other hand, I'm having it out of a can, which is full of mercury, and our oceans are now so polluted that I wonder whether it's worth the risk. I am allergic to most seafood, Tuna, Shark, Seaweed and Anchovies are the only 'seafood' that I don't seem to have a reaction to, so my options are limited.
Veggie Burger – at least one a day
Anchovies – very rarely have this but starting to explore anchovies as an alternative to tuna. Adds a strong flavour to the salad which changes it up a bit. Contains iron, omega-3 fatty acids,

magnesium

,

calcium

and phosphorus.

Quinoa

– complete protein containing all 9 essential amino acids, fibre, iron, lysine, magnesium, riboflavin b3,

manganese

Fresh

Olives

– anti-inflammatory, anti-oxidant, anti-cancer, anti-allergy
Sundried Tomatoes – vitamin K, potassium, copper, and manganese (in moderation as also contains sodium & sugar)
Cherry Tomato

Broccoli

&

Cauliflower

– glucosinolates, vitamin C, vitamin K, isothiocyanates (inhibit growth of cancer)
Shaved

Parmesan

Asparagus – vitamin K, vitamin A, folate, iron, vitamin B1 & B2, vitamin C, beta-carotene, vitamin E, and the minerals

zinc

, manganese, and

selenium

(antioxidant & anti-inflammatory)

Kale

– carotenes, vitamin c, vitamin B6, manganese, copper, iron, calcium, vitamin B1 & B2, vitamin E, calcium, chlorophyll

Walnuts

, crumbled

Sunflower Seeds

Almonds

– shaved or whole
1 Brazil Nut
Salad Dressing;
1 Capful

Apple Cider Vinegar


1 Capful Balsamic Vinegar
1 Capful Olive Oil (sometimes)
1 TBSP

Flaxseed Meal

or 1 tsp Cracked Pepper
The following two tabs change content below.
Penny (NaturalHealing.com.au)
Penny has a passion in 'accelerated learning' and a special interest in living an optimal life including health, time, business, goals, mindset and happiness. Penny is a truth-seeker, ever-questioning, ever-learning, ever-researching, ever delving further and further and deeper and deeper down the rabbit hole. This site is a legacy of sorts, a place to collect thoughts, notes, book summaries, & ideas whilst providing a searchable archive to easily lookup and reference. Learn more on the
About page
.
DISCLAIMER: The information on this website is not medical science or medical advice. I do not have any medical training aside from my own research and interest in this area. The information I publish is not intended to diagnose, treat, cure or prevent any disease, disorder, pain, injury, deformity, or physical or mental condition. I just report my own results, understanding & research.
Latest posts by Penny (NaturalHealing.com.au) (see all)