My Daily Staple Salad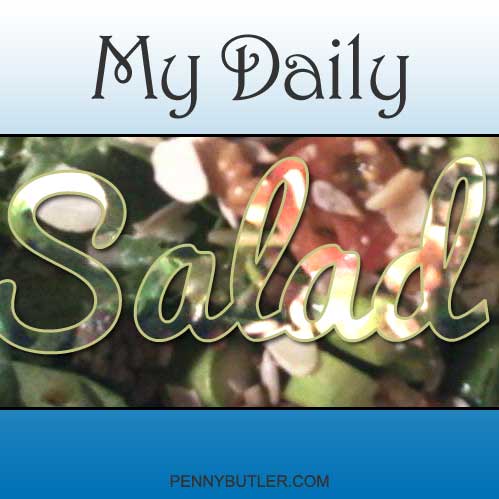 I keep finding myself making the same salad over and over again. It's nothing special, it's just really healthy and I just end up making it almost the same, every single day. You'd think I'd get bored, but even when I think "oh crap, not again"… when I eat it, it's always absolutely delicious and I really love it.
Yep, I know it won't win any awards, and I wouldn't make it for other people, but this is the same salad that I make for my lunch (and dinner's lately), over and over again, for the past few months.
[yumprint-recipe id='29']
Why these ingredients?
Mixed Lettuce (Red Oak, Green Oak, Endive,

Rocket

, Baby Spinach, Cos) – I eat the lettuce just because I know I should be eating salad everyday, but there are only health benefits for all the different types that goes into the mix.
Tuna – I have a small can of tuna about twice a month. I am torn about this. On the one hand, it's supposed to be good for brain function, better clarity, better memory, etc. On the other hand, I'm having it out of a can, which is full of mercury, and our oceans are now so polluted that I wonder whether it's worth the risk. I am allergic to most seafood, Tuna, Shark, Seaweed and Anchovies are the only 'seafood' that I don't seem to have a reaction to, so my options are limited.
Veggie Burger – at least one a day
Anchovies – very rarely have this but starting to explore anchovies as an alternative to tuna. Adds a strong flavour to the salad which changes it up a bit. Contains iron, omega-3 fatty acids,

magnesium

,

calcium

and phosphorus.

Quinoa

– complete protein containing all 9 essential amino acids, fibre, iron, lysine, magnesium, riboflavin b3,

manganese

Fresh

Olives

– anti-inflammatory, anti-oxidant, anti-cancer, anti-allergy
Sundried Tomatoes – vitamin K, potassium, copper, and manganese (in moderation as also contains sodium & sugar)
Cherry Tomato

Broccoli

&

Cauliflower

– glucosinolates, vitamin C, vitamin K, isothiocyanates (inhibit growth of cancer)
Shaved

Parmesan

Asparagus – vitamin K, vitamin A, folate, iron, vitamin B1 & B2, vitamin C, beta-carotene, vitamin E, and the minerals

zinc

, manganese, and

selenium

(antioxidant & anti-inflammatory)
Kale – carotenes, vitamin c, vitamin B6, manganese, copper, iron, calcium, vitamin B1 & B2, vitamin E, calcium, chlorophyll

Walnuts

, crumbled

Sunflower Seeds

Almonds

– shaved or whole
1 Brazil Nut
Salad Dressing;
1 Capful

Apple Cider Vinegar


1 Capful Balsamic Vinegar
1 Capful Olive Oil (sometimes)
1 TBSP

Flaxseed Meal

or 1 tsp Cracked Pepper